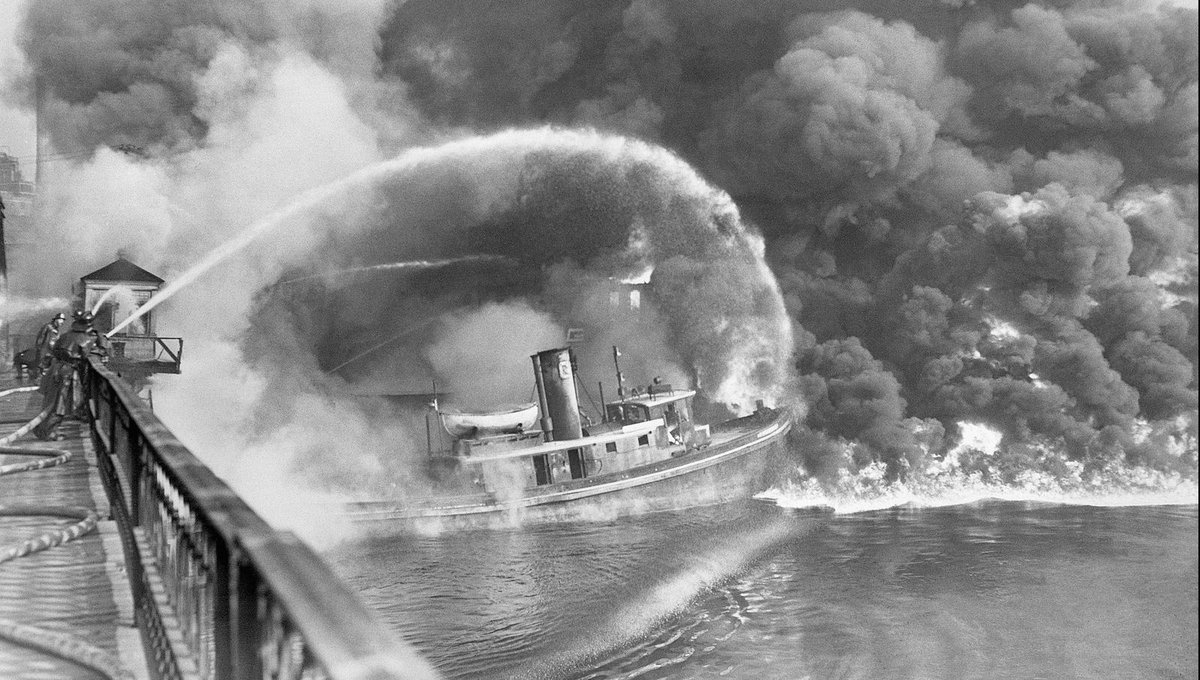 It's summer and Donald John Trump is still our president.
ITEM 1: 50 years ago today, the Cleveland Fire Department put out a debris fire atop the Cuyahoga River. The river didn't burn, but a legend was born. The truth is always the first casualty of war.
ITEM 2:
The Associated Press reported
, "A North Carolina soldier who was declared dead in the Korean War more than 60 years ago was remembered in a ceremony at the State Capitol.
"Pfc. William Hoover Jones was honored on Friday. Gov. Roy Cooper laid a wreath in his memory and present his family with the U.S. and North Carolina flags were flown over the State Capitol. Both flags flew at half-staff from sunup to sundown on Friday."
Private First Class Jones was an African American soldier. Because of this, he would not have been welcomed at the state capitol when he died, except as a janitor or busboy in the kitchen.
Kim Jong Un sent the remains of American soldiers as a gesture of goodwill. While peace negotiations have had a setback since, Hoover Jones gives us hope for making peace in Korea. His burial also shows us how far we have come toward making peace in our own land.
ITEM 3:
Bloomberg reported
, "A divided U.S. Supreme Court made it easier for landowners to sue for compensation when a government regulation reduces the value of their property, overturning a decades-old precedent that had limited lawsuits in federal court.
"Voting 5-4 along ideological lines, the court said Friday that property owners could go straight to a federal judge without first seeking compensation through state proceedings. The decision reversed a 1985 Supreme Court ruling, prompting a sharp dissent from the court's liberal wing.
"Writing for the majority, Chief Justice John Roberts said the 1985 ruling placed an unjustifiable burden on property owners, preventing many of them from ever reaching federal court. That's because resolution of a state court proceeding generally precludes any federal lawsuit over the constitutional ban on government taking of private property without just compensation, Roberts said."
Now do Kelo.
And by do, I mean undo.
ITEM 4:
Celine Ryan reported
, "A year after students began a petition to remove the traditional California "mission bell" from campus, the University of California Santa Cruz has capitulated to demands, announcing Friday that the bell will be removed.
"California mission bells mark the path of the historic El Camino Real, the 700-mile trail that connected the 21 California Spanish missions. The bells are a common way of recognizing state history and have marked the route of the El Camino Real since 1906. Hundreds of them line the trail to this day.
"However, in UCSC's announcement of its decision, the university emphasized that the bells are 'viewed by many populations as a symbol of racism and dehumanization of their ancestors.'"
Their ancestors? They were from Milwaukee.
What next? Rename the town Lewinskystad because it was originally named for a saint?
ITEM 5:
The Associated Press reported
, "Inside an Indiana aquafarming complex, thousands of salmon eggs genetically modified to grow faster than normal are hatching into tiny fish. After growing to roughly 10 pounds in indoor tanks, they could be served in restaurants by late next year.
"The salmon produced by AquaBounty are the first genetically modified animals approved for human consumption in the U.S. They represent one way companies are pushing to transform the plants and animals we eat, even as consumer advocacy groups call for greater caution.
"AquaBounty hasn't sold any fish in the U.S. yet, but it says its salmon may first turn up in places like restaurants or university cafeterias, which would decide whether to tell diners that the fish are genetically modified."
Captain D's, please, get this salmon. Science gives us cheap, clean food.
ITEM 6:
USA Today reported
, "A test conducted by California nonprofit Center for Environmental Health finds that two bottled water brands — Peñafiel, owned by Keurig Dr. Pepper and Starkey, owned by Whole Foods — contain levels of arsenic that are higher than tap water, violating state guidelines as a result.
"High levels of arsenic, California law states, can cause reproductive harm and cancer. Products that violate recommended state levels of arsenic have to be labeled with a warning."
I get that arsenic is bad. But when did California law become science?
ITEM 7:
Cassandra Pollock reported
, "Gov. Greg Abbott announced Friday that the state will deploy 1,000 troops from the Texas National Guard to the U.S.-Mexico border to aid the federal government with border security efforts."
He's the most Texan governor of Texas since Sam Houston.
ITEM 8:
The Chicago Tribune reported
, "In a surprise move, a Cook County judge ordered the appointment of a special prosecutor Friday to investigate the controversial decision to drop all charges against Jussie Smollett. Judge Michael Toomin ruled that State's Attorney Kim Foxx had the right to withdraw from the prosecution but could not legally appoint her top deputy to handle the case in her place.
"The special prosecutor could end up charging Smollett, Toomin said, and if the investigation uncovers suspicion of wrongdoing by others, additional charges could be brought. Toomin made the decision even though the county's inspector general's office is already investigating the decision by State's Attorney Kim Foxx's office to look into the controversy. Foxx herself, however, agreed to that probe."
The Smollett case is a test of celebrity justice in which the famous walk.
ITEM 9:
Malachi Barrett reported
, "Michigan automakers, parts suppliers and advanced manufacturers have worked hard to innovate, Peters said, but need a strategy backed by policy guidelines and federal investment to remain world leaders in manufacturing."
Government can no more create jobs than it can control the weather. Lower taxes, fewer regulations, and fair trade are the keys, not another bureaucracy.
ITEM 10:
Jessica Campisi reported
, "A student accused of opening fire at a Colorado school reportedly told investigators that he targeted peers who made fun of him for his gender identity, court documents show.
"Alec McKinney, 16, and Devon Erickson, 18, allegedly decided to carry out the shooting after exchanging messages on social media the day before the May 7 attack at STEM School Highlands Ranch near Denver, the documents show.
"The shooting resulted in the death of 18-year-old Kendrick Ray Castillo; eight others were injured."
Had the victims been transgendered and the shooter straight, the story would not have died nationally the next day.
ITEM 11:
Brian Min reported
, "Earlier this month an anarchist group that consists of UT Austin students called the Autonomous Student Network shared a tweet threatening to dox students who considered joining the Young Conservatives of Texas and Turning Point USA during freshman orientation."
This is intimidation. Perhaps the anarchists need doxxing first.
ITEM 12: Peggy Noonan wrote, "It was four years ago this week, June 16, 2015, and a great professional gift was given me. I had just watched Donald Trump's announcement speech and was pondering its impact. This guy isn't going to be president; we've been reading about his tabloid antics for 30 years. But he'll have some impact, some support. Who? How much?
"At this point my phone rang. It was my elder sister Cookie, formerly of Staten Island, N.Y., now living down South, a person who's lived a hard life and gotten through it with a spirit she does not fully see or credit. She's not particularly political, not at all partisan.
"She didn't even say hello. She just said, 'I loooooove him.'
"I was startled. Who?
"'Donald Trump. Did you see it?' She'd watched the announcement live. 'He's going to win.'
"Cookie had voted for Barack Obama in 2008 and told me he would win, so I knew I was hearing something...."
Fire Peggy. Hire Cookie.
ITEM 13:
Veronica Stracqualursi and Zachary Cohen reported
, "A group of US senators, including the vice chair of the Senate Intelligence committee, received a classified briefing Wednesday about a series of reported encounters by the US Navy with unidentified aircraft, according to a congressional aide."
If they are an intelligent life form, they will steer clear of this crazy planet.
ITEM 14:
KTVU reported
, "San Francisco school board considers covering up mural that some find offensive and racist."
But people pooping on the sidewalks does not bother them.
ITEM 15:
June 21, 2019
Amend the 22nd Amendment, adding the words: "except Donald John Trump."