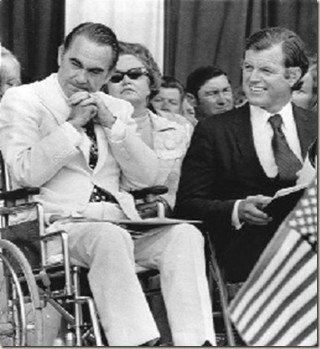 From the Civil War through the 1990s, Democrats controlled the 11 Confederate states. Not until 1994 did Republicans have a majority of the congressmen from those states, and that was 30 years after passage of the 1964 Civil Rights Act. State legislatures fell later.
For years, though, Democrats have peddled the lie that the segregationists flipped parties in 1964. They remained loyal Democrats.
Now Joe Biden is embracing his inner white supremacist. News One reported, "Joe Biden Fondly Recalls The 'Civility' Of Pro-Segregation Senators."
Sure, they denied black people the vote, forced them to sit in the back of the bus, and would not let them in their restaurants, bathrooms, or hotels, but by golly those klansmen in the Senate were gentlemen.
Biden joined the Senate in 1973.
He said
, "Well guess what? At least there was some civility. We got things done. We didn't agree on much of anything. We got things done. We got it finished. But today, you look at the other side and you're the enemy. Not the opposition, the enemy. We don't talk to each other anymore."
Of course they got things done. Democrats overwhelmingly controlled the House and the Senate thanks in large part to those segregationists.
Kleagle Bob Byrd was the Democrat leader in the 1980s. Hillary kissed his ring when she entered the Senate in 2001.
I am glad to see Biden come out of the closet.
The Atlanta Journal-Constitution stuck up for Biden.
It said
, "First, when Biden came to the Senate in 1973, Southern Democrats still ruled the chamber. Eastland was chairman of the Senate Judiciary Committee. Talmadge was chairman of the Senate Agriculture Committee. Getting along with those whose racial attitudes were different from yours was a requirement of the climate, the realpolitik of the day.
"Secondly, neither human beings nor the political systems they create are binary creatures with on-off, yes-no switches. Desegregation in the South was a process that spanned decades. It is not yet complete – ask Stacey Abrams."
So Joe is not the only one defending the indefensible.
He already is Sleepy, Creepy, Gropey, Dopey and Doc (he promised to cure cancer as president).
Let's add Bigot to the list.