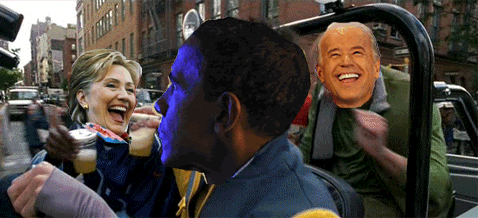 Remember how Democrats smoked Republicans in 2016?
Hahaha. That is what they thought they would do. They were Trumped.
This time they see the handwriting on the wall.
Things are not going well for the Democrat Party, which means our world is a better, safer and saner place today.
The joyless and futile quest for the presidency has begun for Democrats.
The Democrat presidential candidates spent two nights debating on national TV and there is a sense of desperation.
Glenn Reynolds quoted a Facebook friend, who posted
, "My biggest takeaway from the candidates in the Dem debates is there doesn't seem to be any joy in any of them. They all seem to live in a perpetual state of anger, resentment and envy that absolutely poisons their lives. Those aren't attractive qualities in political candidates. Say what you want about Trump but he rarely looks like he's not having a good time. Optimism can be both attractive and contagious."
Kamala Harris won the debates by telling Biden that while he partied with Dixiecrats, she was in the second class to integrate schools in Berkeley, California.
That was a lie, of course.
The Education Realist wrote
, "She was not the second class to be integrated at Berkeley public schools. The Berkeley school district, like most districts in California since Mendez vs Westminister, enrolled by neighborhood. Berkeley High School had always been integrated because it was the only high school in the district. After nearly a decade of black community pressure, junior high schools had been integrated in 1964. Berkeley High had tremendous racial tensions throughout the sixties, caused not by white segregationists but demands by emboldened black radicals. (I'm not saying that's a bad thing)."
She was born in 1964.
But in politics often it is he who lies last who wins. In this case, she.
The war among the Democrats is on.
The Washington Examiner reported
, "Alexandria Ocasio-Cortez's chief of staff deleted a tweet that compared Democrats belonging to the Blue Dog Caucus to the white, southern Democrats of a bygone era.
"'Instead of 'fiscally conservative but socially liberal,' let's call the New Democrats and Blue Dog Caucus the 'New Southern Democrats.' They certainly seem hell bent to do to black and brown people today what the old Southern Democrats did the '40s,'" Saikat Chakrabarti tweeted."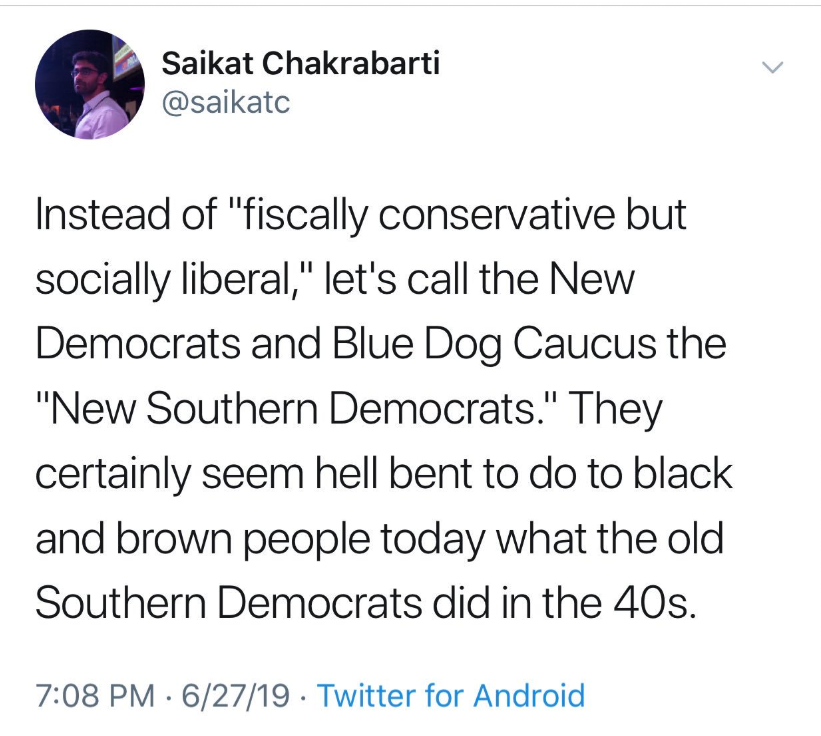 I have said that Alexandria Ocasio-Cortez is the soul of the Democrat Party. By that I mean she is a child of academia and victimhood. She's Hispanic! She graduated fourth in her class at Boston U! She's entitled! Why isn't she 50 points ahead?
Daddy Demographics got her in while Mommy College fed her a steady stream of half-baked ideas. Reparations! Medicare For All! Reconquista! Seriously, why isn't she 50 points ahead?
You can see her frustration. The patriarchy has kept "her people" down all those years (in Westchester County) and now it is her turn to rule because she is so smart and all. Did I mention she was fourth in her class at Boston U? Why isn't she 50 points ahead?
On Thursday, to get home for the holiday, Pelosi caved to Republicans and Senate Democrats, and passed an emergency funding bill to provide relief to those children put in Obama's cages. Alexandria Ocasio-Cortez voted against rolling over. Hence her chief-of-staff's tweet.
She has to work with blue dogs. Hence her chief-of-staff's delete.
The old guard of Democrats at CNN counter-attacked with Jake Tapper asking her
, "If you opposed Senate bill and you also opposed the House bill, I'm wondering what it is that you're willing to support that could pass in either the House or the Senate?"
And he asked, "By opposing both bills, aren't you just ultimately depriving these kids of housing facilities they need?"
And he asked, "Using that definition there were also concentration camps under Obama and under Bill Clinton. That's in the story you retweeted. So did you call them concentration camps at the time, when Obama was president?"
The old Democrats in Congress want to throw her under the bus. But that could tip their bus over.
The media is mimicking their party's civil war with Stephen Colbert attacking Chuck Todd's debate performance.
News Busters reported that Colbert said on his show
, "Halfway through, there was a personnel switch with Rachel Maddow playing the part of Lester Holt and Chuck Todd playing the part of a guy who really likes the sound of his own voice."
Colbert wanted the candidates to give longer answers and explanations of their wondrously naive ideas. Todd cutting them off did them a favor.
The reason things are not going well for Democrats is that they learned not at a thing from 2016. They still underestimate him.
Democrats thought they would be rid of President Trump by now, but not only did the Mueller Report exonerate him but it immunized him as well.
Women no longer can cry ME TOO and dominate the news for a week.
The Democrat Party is cracking up. The old leaders hang on. The young leaders are idiots. The party's rhetoric is shrill.
That which did not destroy The Donald has made him stronger. The emergency border funding may be the first of a year of legislative victories heading into next summer's conventions because entrenched senators and congressmen have the survival skills of a chameleon. They realize their party's going to nominate a lunatic lefty for president. In 30 Trump states, they want no part of that.