When he was with the Washington Post, Chris Cillizza used to do a loser-of-the-week column. He is now a
nattering nabob of negativism
nodding on CNN. It's a living.
I'm retired. Every day is a miracle. I am blessed and I count my blessings. Let us look at who won this week in Washington.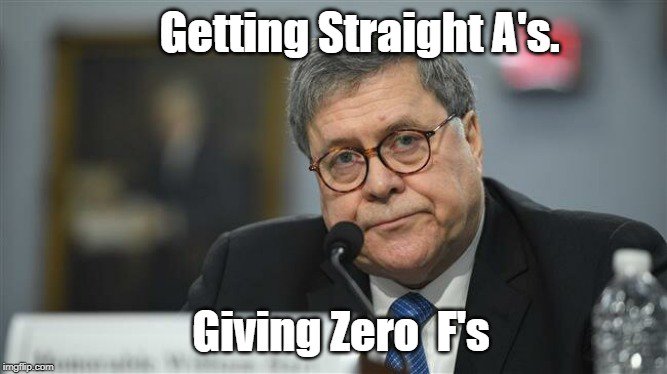 No contest. Attorney General Bill Barr won.
The promo for a new movie ("Getting Straight A's. Giving Zero F's") best describes Barr's attitude now that the Mueller Report officially clears our president of the Russian conspiracy nonsense.
His appearance before the Senate Judiciary Committee was a magnificent moment. The attempted coup by Obama, the FBI, and CNN failed. Now Barr will mete out punishment.
After his hearing, Adam Schiff called him the second most dangerous man in America, a nod to the fact that Barr serves at the will and pleasure of President Donald John Trump, who is also the happiest man in the whole USA.
David Harsanyi wrote
, "By accurately conveying that the investigation had exonerated Trump and his administration of criminal conspiracy or coordination with the Russians, two years of ostensibly serious reporting was exposed as little more than resistance fan fiction. Rather than take a moment's self-reflection about how their actions had caused unprecedented political chaos, undermined trust in the electoral system and crowded out legitimate coverage of the presidency, the entire collusion industry just moved its frenzied focus onto obstruction."
Since the witch hunt began two years ago, there has been a lot of quoting of Stalin's secret police chief, Lavrentiy Beria, who said, "Show me the man, and I'll show you the crime."
Once again, Democrats have proved themselves to be lousy as communists. We showed them the man, where is the crime?
No crime, no obstruction.
But what made Bill Barr the week's big winner was his refusal to let Democrats and their minions in the media set the agenda.
He blew them off. He waved the back of his hand at them.
Barr is not worried, but they should be.
He made it clear at the committee hearing that he will get to the bottom of the falsehoods in the FISA warrants, the spying by Obama on The Donald, and the FBI attempt to infiltrate the Trump Campaign.
And after the Senate hearing, Barr skipped a request to appear before a House committee.
These are the best eight years of my life because we finally are standing up to the bullies in Washington. Barr's defiance encourages others to walk away.