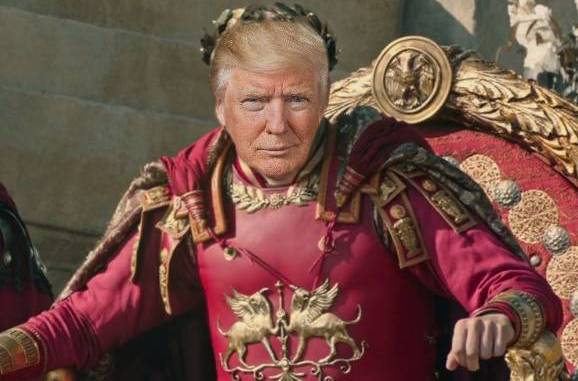 The Game of Robes is on.
After somehow managing to draw nothing but Obama judges to hear their frivolous lawsuits, Democrats finally drew a Trump judge.
The Washington Post is not pleased.
It reported, "A U.S. judge on Thursday sharply challenged a House lawsuit to block construction of President Trump's border wall after a senior Justice Department attorney said Congress cannot sue to enforce its constitutional power of the purse and that courts should stay out of political disputes between branches of government.
"The Democratic-led House filed suit in Washington on April 5 to prevent work after Speaker Nancy Pelosi (D-Calif.) accused the administration of 'stealing from appropriated funds' by seeking to transfer $6.7 billion more for the effort than the $1.375 billion Congress approved, a shift of money from other projects lawmakers authorized.
"Trump declared a national emergency in February to redirect mostly military-designated funding for the wall along the U.S.-Mexico border after losing a grueling two-month fight over fully paying for it that prompted a government shutdown.
"But over nearly three hours of arguments, U.S. District Judge Trevor N. McFadden of the District said there were few cases to guide how courts should rule on a major test of the constitutional separation of powers, and pressed House general counsel Douglas Letter to point to historical precedent allowing one chamber of Congress to sue the president to settle political differences.
"Whether the House has legal standing to sue is 'problematic' and a 'significant issue in this case,' said McFadden, citing the bedrock legal requirement that a party prove it is being harmed and show that only a court can address it. 'Courts are not there to adjudicate just interesting constitutional or political questions between the branches,' he added later."
Standing.
Maybe a lawyer can straighten me out on this, but isn't standing pretty basic?
If you don't have standing -- the ability to file a lawsuit -- aren't you just wasting the court's time?
And isn't filing a suit where you do not have standing the definition of a frivolous lawsuit?
Perhaps President Donald John Trump can sue Congress for legal fees, like he did Stormy Daniels.
And use the money to build the wall.