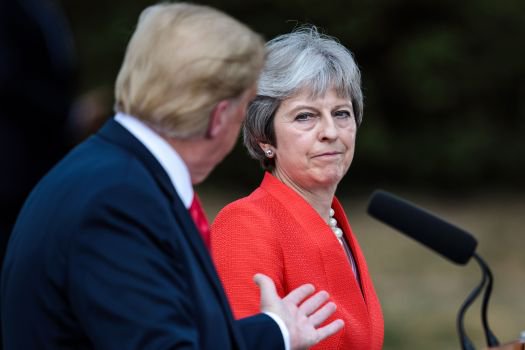 British Prime Minister Theresa May said President Donald Trump gave her advice on how to Brexit. She ignored him.
May told the BBC last July
, "He told me I should sue the E.U. — not go into negotiations. Sue them. Actually, no, we're going into negotiations with them."
And nearly 11 months later, the negotiations have gone nowhere, and May is crying like a baby as she must resign as PM. Her resignation is June 7 so it will not overshadow the commemoration of the 75th anniversary of D-Day.
Meanwhile, Donald John Trump is still president despite May's government colluding with Obama to spy on and attempt to frame President Trump.
President Trump publicly endorsed May's intra-party rival Boris Johnson for PM last July. Awkward, but at least the president did not use American spies against her.
President Trump told The Sun, "I would have done it much differently. I actually told Theresa May how to do it, but she didn't listen to me."
He added: "The deal she is striking is a much different deal than the one people voted on."
Failure has consequences, but actually May succeeded. Her job was to delay Brexit until such a time as the British would give up on it. The leaders of most Western nations do not act in the best interests of their nations.
Newsweek reported
, "Nigel Farage and Boris Johnson: Donald Trump's Friends Are About to Dominate British Politics."
Certainly they cannot do worse than Crybaby Theresa.