A reader pointed out to me the Trumpiest moment in Attorney General Bill Barr's cross-examination by the Senate Judiciary Committee on Wednesday. Barr put in his place Dick Blumenthal,
D-Stolen Valor
.
Via Thomas Lifson, the transcript
.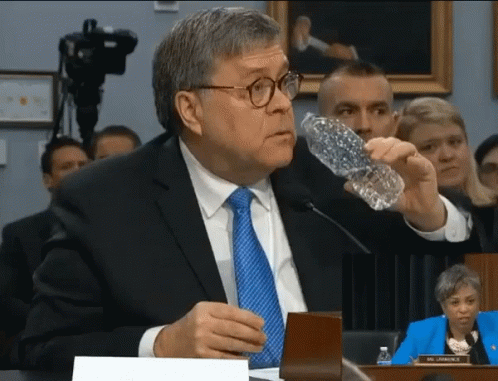 Blumenthal: "Did you make a memorandum of your conversation?"
Barr: "No, I didn't."
Blumenthal: "Did anyone, either you or anyone on your staff, memorialize your conversation with Robert Mueller?"
Barr: "Yes."
Blumenthal: "May we have those notes?"
Barr: "No."
Blumenthal: "Why not?"
Barr: "Why should you have them?"
This reminded me of the fight scene in "Blazing Saddles," when Slim Pickens tells Dom DeLuise (who played a sissy movie director): "Piss on you, I'm working for Mel Brooks!"
And piss on Democrats. Barr is working for President Donald John Trump.
That is how it works.
Congress has oversight of the president, but Cabinet members and everyone on down serves at the will and pleasure of the president, who is elected by the states through the Electoral College.
I would like to hope that I cleared up the confusion, but that is not my hope because confused Democrats entertain me. They are still stunned by the 2016 election, which shows how much we got it right.
"Why should you have them?"
That is a good question that they cannot answer.
He could have been a nice guy and released the notes, but why? When was Washington ever nice to us?