I told the first dozen readers, hey, he is already on the list. Then it dawned on me. I love watching the miserable Creepy Porn Lawyer suffer for lying about My President.
So kick back, and enjoy watching Creepy Porn Lawyer get his a second time.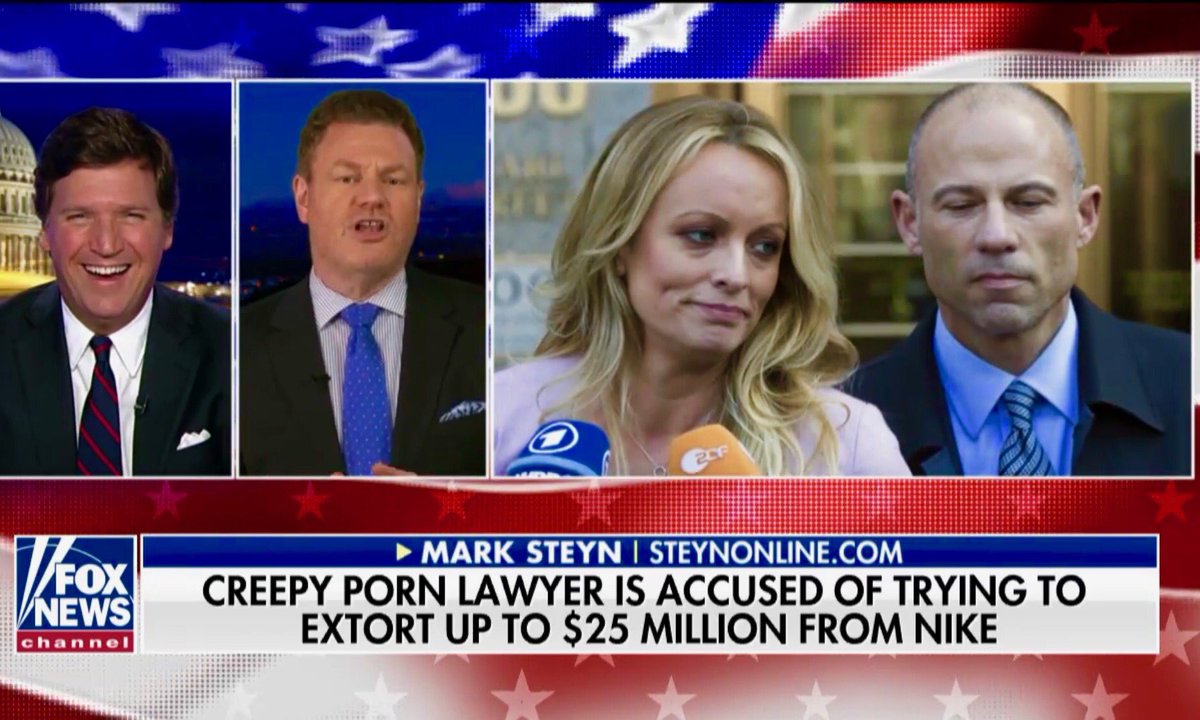 Last year, Creepy Porn Lawyer was living large. During the campaign a horsefaced hooker extorted a settlement from The Donald over an unverified claim that he had slept with her.
She then hired Creepy Porn Lawyer to overturn her nondisclosure agreement so she could make mo' money off a book deal and the like.
The media made Creepy Porn Lawyer a star. CNN had him on roughly 60 times in the spring of 2018. The network will put anyone on as long as they hate President Trump.
Exactly one year ago today,
the Washington Post published
, "Michael Avenatti, the adrenaline-fueled lawyer taking on President Trump."
The first two paragraphs of the story were a red flag that should have warned real journalists, but the ones in Washington are mainly fakes and flakes.
The story said, "In the small hours on the morning of his 41st birthday, lawyer Michael Avenatti lay restless at his home in Newport Beach, California. He was waiting on an email, and it finally arrived, with brain-rattling force, around 5:30 a.m.
"A court in New Jersey had reversed a $41 million verdict he'd won against the accounting giant KPMG in a case involving allegations of massive auditing fraud. Avenatti, who thought of himself as the KPMG Killer, had missed the earlier-than-expected birth of his first daughter while doing depositions in the case on the opposite coast; he'd burned through $3 million in out-of-pocket expenses, and his firm stood to gain somewhere in the neighborhood of $16 million in legal fees."
And yet, there he was in his luxury apartment in Central Park six years later. His home was in California.
The story said, "Brian Panish, a prominent plaintiffs attorney who has worked on cases with Avenatti, compares his former colleague to William Ginsburg, Monica Lewinsky's attorney famous for appearing on all the Sunday talk shows on the same day during President Bill Clinton's White House-intern sex scandal. It spawned the term 'the full Ginsburg.'
The lawyer told the newspaper, "Avenatti knows how to deal with the media. He seems to like it. You're going to have to rename it -- there's no more full Ginsburg, it's the full Avenatti."
The full Avenatti now is going on TV, pretending to run for president, bilking your partners, and soon it may include going to prison for extortion.
Zero Hedge reported on May 11, 2018,
the first crack in Creepy Poorn Lawyer's ship
: "After appearing on CNN 59 times to claim the moral high ground over President Trump's alleged decade-old affair with Daniels, skeletons in Avenatti's closet are now beginning to pour out.
"Questions have emerged over who's funding Avenatti, how he was privy to Trump attorney Michael Cohen's bank records -- and how exactly did he obtain banking transactions for two men also named Michael Cohen, who he wrongly accused in a seven-page dossier released this week.
"Other questions have come to light over a bankrupt coffee chain Avenatti left in smoldering ashes with $5 million in unpaid taxes to the IRS, an alleged $160,000 owed for unpaid coffee, and over 45 lawsuits filed in connection with the failed venture."
On October 22
, Business Insider reported, "Michael Avenatti, the attorney for porn star Stormy Daniels, was fined $4.85 million on Monday for failing to pay a former colleague at his California law firm on the same day that his firm was evicted from its Orange County offices in a separate trial.
"A Los Angeles court ruled that the firm, Eagan Avenatti, owes Jason Frank and others, including the Internal Revenue Service, millions of dollars. Frank, Avenatti's former colleague, also won a $10 million judgment against the firm in a bankruptcy court case in May."
In May.
Hmm.
Maybe if Creepy Porn Lawyer spent more time tending business and less time hating President Trump on TV, he could have saved his company.
On November 14,
the Washington Times reported
, "Michael Avenatti arrested on felony domestic violence charges."
Prosecutors, however,
dropped the case last month
.
Then came his libel lawsuit against President Trump for calling horse face "horse face."
NPR reported on December 11
, "Adult film star Stormy Daniels, who says she had a sexual encounter with Donald Trump more than a decade ago, has been ordered to pay him nearly $293,000 for attorneys' fees and another $1,000 in sanctions after her defamation suit was dismissed."
Leave it to Donald Trump to really be the guy who can truly say the whore paid him!
Or will. He has a judgment, not the money.
Which leads us to today. Just before a scheduled news conference in which he was going to blast Nike, federal agents arrested Creepy Porn Lawyer for attempting to extort money from Nike.
Court papers say he told Nike lawyers during a conference call Wednesday
, "I'll go take $10 billion off your client's market cap … I'm not f–king around."
Hahaha.
Oh it is beautiful to watch a liberal get hoisted on his own petard. Ka-boom.
He's already on the
Trumpenfreude List
, but once is not enough for some of these people.
Never feud with Donald John Trump, OK? I write that as a friend.