In his 1974 Rumble in the Jungle match against George Foreman, Muhammad Ali used the rope-a-dope strategy in which Foreman wore himself out with punches to Ali, who then in the eighth round knocked out Foreman -- a 4-to-1 favorite.
President Donald John Trump roped the dopes in the media and Democrat Party.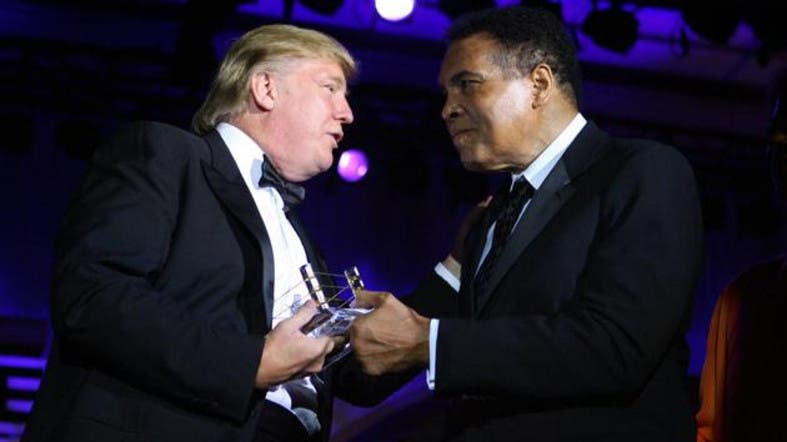 For two years, President Trump has withstood the flurries of punches aimed at him. Like George Foreman, Democrats mainly hit air and the times they hit him did not hurt.
Really. Consider Stormy Daniels, the porn star hooker.
One year ago,
National Religious Broadcasters president Jerry Johnson told CBN News
, "Christians want the president to be pastoral. We like that but that isn't really the job assignment. People knew the accusations against the president before he was elected and they said, 'Actually, we care about security. Actually, we care about the economy.'"
As long as the base sticks with President Trump, he should be safe next year. After all, in 2016, he took more states than either Bush 43 or Barack Hussein Obama ever did.
The real news is two years of Russian Collusion talk and Bungling Bob Mueller's fishing expedition and witch hunt has roped the Never Trump dopes.
CNN had to admit on Wednesday
, "Support for impeachment falls among Democrats."
Its own poll showed this.
CNN reported, "The decline -- from 43% in favor in December to 36% now -- stems largely from a change in Democratic views on impeaching the President. In December, 80% of self-identified Democrats said they were in favor of impeachment -- that now stands at 68%, a 12-point dip. Among independents and Republicans, support for impeachment has fallen 3 points over the same time."
That oddly enough is less than the 41% of the likely voters in 1998 that CNN said favored impeaching Bill Clinton. The 36% today is the same
as the 36% overall found in that 1998 poll
.
And remember, Clinton's job approval was 65% in the same poll.
Trump's job approval was
43% in this new poll
.
This bodes well for Republicans in the next two presidential elections. Re-electing President Trump despite Democrat hostility means in 2024, a more popular Vice President Mike Pence may have an easier path to victory.
But man plans, God laughs.
I have said Democrats cannot win the White House until they get over the 2016 election. Today, all they have is hate. They better find something to love next year, or another 30-state win will be the minimum for President Trump.