When Nancy tried to cancel President Donald John Trump's State of the Union speech, I thought it's petty.
Today, while she and her cronies were aboard an Air Force bus headed for a military flight to Europe, the Commander-in-Chief cancelled the flight.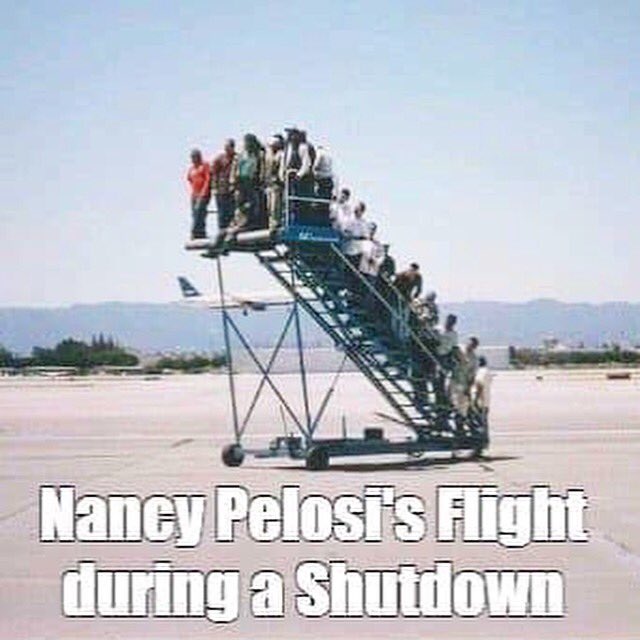 It's funny. It's walking-into-the-door funny. It's The Three Stooges Meet the Marx Brothers funny. It's society woman-meets-pie-with-her-face funny.
A woman elected from some gerrymandered district in San Francisco challenged the Leader of the Free World.
He left her on the bus.
He physically grounded her.
His message was simply, "Due to the shutdown, I am sorry to inform you that your trip to Brussels, Egypt and Afghanistan has been postponed. We will reschedule this seven-day excursion when the Shutdown is over. In light of the 800,000 great American workers not receiving pay, I am sure you would agree that postponing this public relations event is totally appropriate. I also feel that, during this period, it would be better if you were in Washington negotiating with me and joining the Strong Border Security movement to end the Shutdown. Obviously, if you would like to make your journey by flying commercial that would certainly be you prerogative.
"I look forward to seeing you soon and even more forward to watching our open and dangerous Southern Border finally receive the attention, funding, and security it so desperately deserves!"
The master just served her.
She tried to stop him from meeting a constitutional obligation.
He stopped a "public relations event."
Pelosi spokesman Drew Hammill tweeted, "The purpose of the trip was to express appreciation and thanks to our men and women in uniform for their service and dedication, and to obtain critical national security and intelligence briefings from those on the front lines."
In other words, a public relations event.
The Washington Post wrote, "Trump didn't explain what authority he has to cancel Pelosi's trip, but it would likely require the use of military aircraft controlled by his administration. He said Pelosi could fly commercial if she wanted to go forward with the visit."
Article II, Section 2, says, "1: The President shall be Commander in Chief of the Army and Navy of the United States..."
What part of commander-in-chief do they not understand?
The tit for tat showed who's the boss. She tried to one-up him, only to be stomped because his office is far more important than hers.
This is cat and mouse.
President Trump is the cat, and contrary to every cartoon you ever saw as a kid, the cat always wins.
Me: "Conan Trump, what is best in life?"
Conan Trump: "To watch your enemies stuck in the bus on the tarmac."
🚨 REAL PHOTO 🚨

(Not a meme or photoshop)

The US military returning a massive pile of travel bags congressional Democrats wanted to bring abroad after

@realDonaldTrump

canceled Pelosi's trip as Commander-in-Chief.

The bags were left unceremoniously on carts at their offices:

pic.twitter.com/3ejek66rtO

— Benny (@bennyjohnson) January 18, 2019