CNBC reported
, "Since first threatening a government shutdown last month in his battle with Congress over border wall funding, President Donald Trump has leaned heavily on Twitter to rally support among his followers. So far, the strategy seems to be working. That, however, doesn't bode well for a quick resolution to the standoff."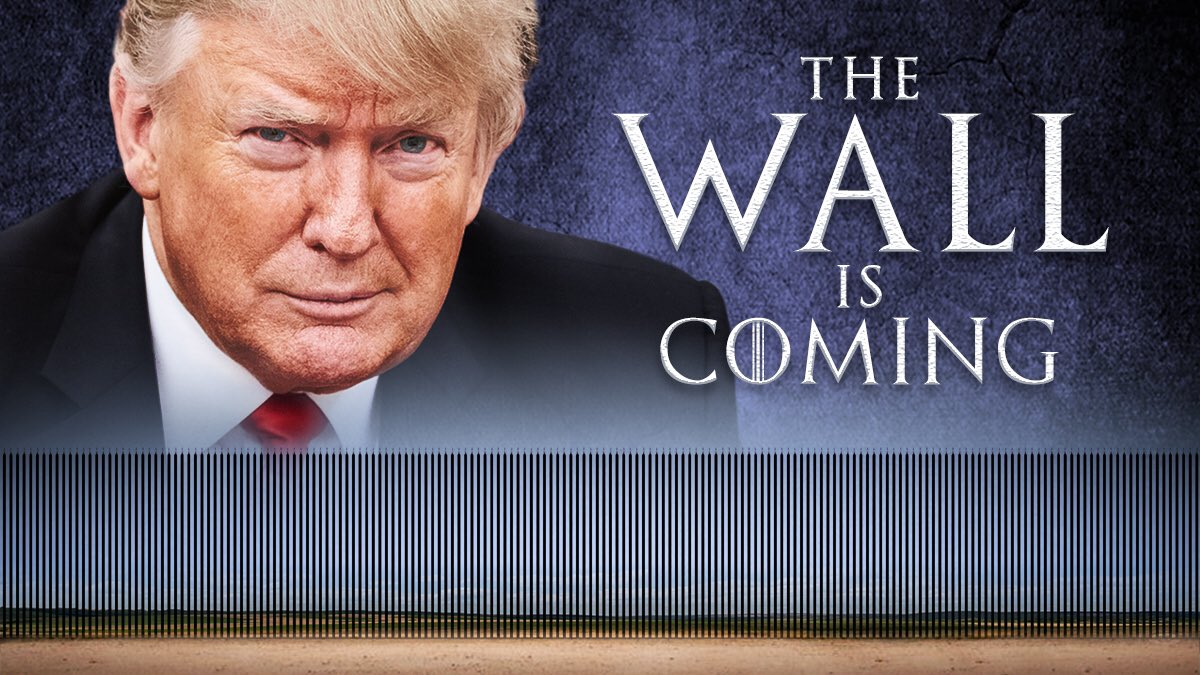 Who wants a quick resolution?
The divide is real. Two-thirds of the country got screwed by bad trade deals, junk science environmentalism, and illegal aliens over the last 30 years. If it takes months to get the wall, then months it is.
Clinton said he supported a wall. Bush 43 said he supported a wall. Obama said he supported a wall.
Congress even authorized a wall in 2006.
Hello?
Where is the wall?
Show me the wall.
I don't see a wall. Do you? Maybe it is next to the weapons of mass destruction and the doctor you can keep. But that depends on the meaning of is.
CNBC reported, "With a partial government shutdown now in its third week, the White House signaled on Sunday that talks to reopen the federal government could produce a deal that sees Trump moving away from his demand that a proposed barrier along the U.S. border with Mexico be a concrete wall.
"The possible concession, which comes days after Trump had floated a barrier of steel rather than a concrete wall, came even as a White House official warned that the shutdown, could 'drag on a lot longer.'"
So?
President Trump is using Twitter to talk directly to a public that is willing to hurt DC to get what the rest of America wants.
A wall.
CNBC reported, "As the standoff drags on, Trump has tried to take maximum advantage of the political upheaval to rally support from his followers for his signature 2016 campaign issue. Based on a CNBC review of his wall-related tweets, the effort is paying off.
"As the Dec. 22 shutdown loomed, Trump linked President Barack Obama's policy toward Iran with the ongoing battle over border security in a tweet.
"That post generated more than 60,000 retweets, one of the president's biggest wall-related tweets, according to an analysis of his feed by CNBC."
The people elected Donald John Trump president to get a (Rashida Tlaib word) wall. Focus groups and polls won't change that.
The most important part of the Constitution is the preamble: "We the People of the United States, in Order to form a more perfect Union, establish Justice, insure domestic Tranquility, provide for the common defence, promote the general Welfare, and secure the Blessings of Liberty to ourselves and our Posterity, do ordain and establish this Constitution for the United States of America."
Let me highlight one provision of this contract:
provide for the common defence
.
When you do not secure the border, you are not keeping up your end of the bargain.
Thus, we the people really don't care if the trash is picked up at the national mall or if our refund checks are delayed. DC has dilly-dallyed on this wall for three presidencies now covering 24 years.
Build it. We waited long enough.