The "learn to code" putdown for lefty journalists losing their jobs is so simple to understand, even a reporter for NBC News should get it.
Alas, Ben Collins failed to do his homework and blew it.
He tweeted, "Zoe Beery at Study Hall asked me why Learn To Code is such an effective meme for both the far-right and regular conservative media. It's a perfect memetic storm: an ingenious cover story of highlighting journalistic softness with Learn To Code, then expected cruelty underneath..."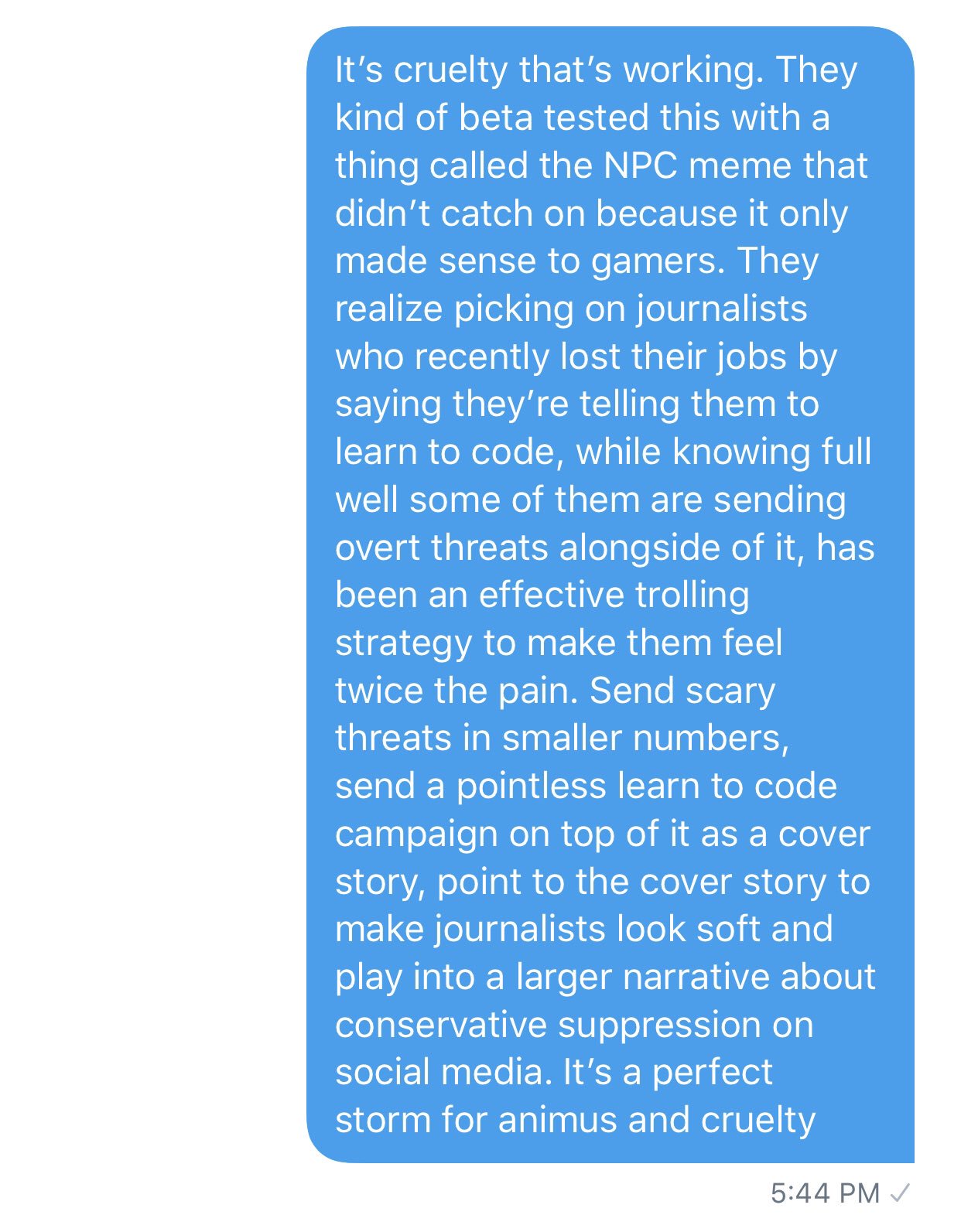 She also asked me why nobody else is writing about it or writing explainers in mainstream circles, despite its 2016-esque pervasiveness this weekend. My guess is fear? You invite the cover story (learn to code!) plus the underlying point of it (death threats) if you do.
Anyways, game recognize game: this is a super effective meme to scare off journalism, because you're guaranteed death threats if you detail it. It's on journalists to step up and explain the guts of it to average users, even if it's gonna be a long week when you do.
Poppycock.
Telling some Marxist journalist who got laid off to Learn To Code is not a death threat.
The phrase is a reminder that journalists promoted Hillary's lazy response to coal miners losing their jobs because of the daft theory of global warming.
She wanted coal miners -- who are highly trained at working heavy equipment -- to learn to code because working with the brain is better than working with brawn, right?
But coal miners already use their brains at work. The days of pick axe and shovel are long gone -- almost by a century.
They are sharp people. A fellow going into coal mining at 18 instead of college will make at least $30,000 a year to start and $60,000 a year in four years, without the $100,000 college loan debt.
Oh he likely will have a huge debt. It's called a mortgage. If you have ever driven through a place where coal miners live, you will see nice houses, big trucks, ATVs, pools, boats and a bunch of other stuff no journalist can afford.
The mockery is aimed at journalists, not the people who code. They are fine people doing work that frankly I cannot do. I tried my hand at FORTRAN back in the day. No thank you.
Of course, there is no room in civilized society for death threats. I am appalled by them, be the victim a journalist or a 16-year-old kid unfairly maligned by journalists.
Learn To Code has nothing to do with death threats. In fact, mocking a person is the opposite of a threat.
The irony is that Ben Collins in his "explainer" missed the point of Learn To Code entirely.