I believe the kids at Covington Catholic High should sue the social network giants Facebook and Twitter for publishing death threats and the like.
Call it the Revenge of Info Wars, Milo Yiannopoulos and all conservatives.
You see, by censoring conservative tweets on Facebook and Twitter, these multi-national corporations became publishers and not impartial web platforms -- especially since death threats are against their rules but they allowed these tweets anyway.
You allow them, you own them.
The kids at Covington Catholic High went from the Cincinnati area to Washington to protest abortion. At the Lincoln Memorial, Nathan Phillips and others confronted them.
The New York Times and other Fake News operations libeled them by portraying them as rich white kids mocking an ancient Indian veteran. The opposite was true.
The outrage conformists attacked the boys on Facebook and Twitter.
Indeed, someone named Jack Morrissey called for putting them in wood chipper.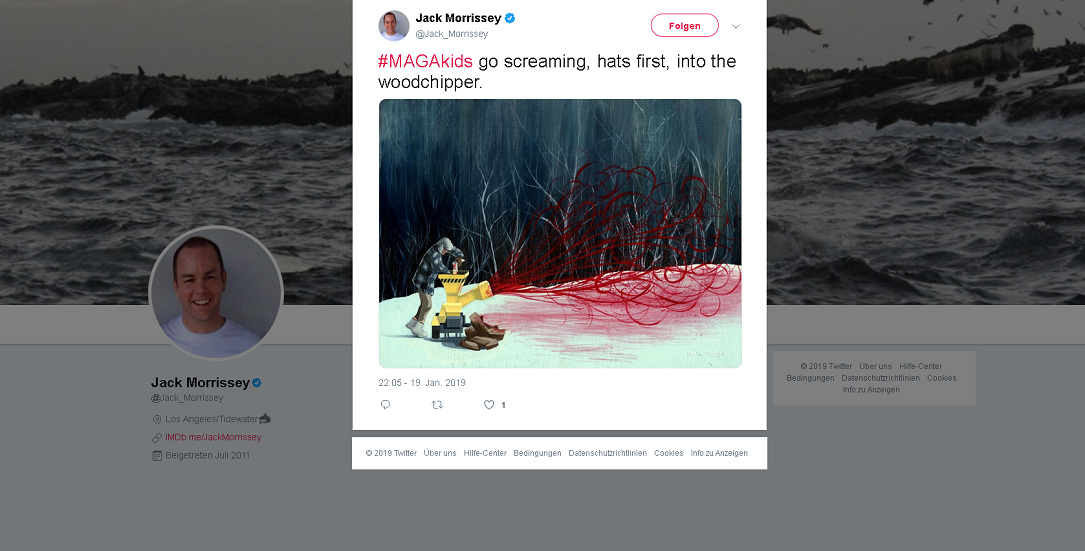 His account remains open, unlike Info Wars -- who threatened no one. Ditto Yiannopoulos.
A jury could very easily surmise that Morrissey's threat represents Official Twitter Policy because it has censored tweets and banned the tweeters of less threatening posts.
Gateway Pundit reported
, "Los Angeles DJ Calls For Covington Catholic School to be Burned Down – With Kids Locked Inside – TWITTER SAYS HE DIDN'T VIOLATE RULES."
I am pretty sure other examples abound.
Chief Fulla Bull has no money. Suing him would be an exercise in futility.
However, Facebook and Twitter are loaded. They make money off free content. By not accepting all content and by establishing rules that are not evenly enforced, they set themselves up for a lawsuit.
In a post on August 25, 2018, "
Twitter approves sex tweets, bans conservative ones
," I tried to warn them.
I wrote, "You see, that is the thing about censorship that these computer scientists don't get. Once you start, you cannot stop.
"Twitter now owns every tweet on its site. That means if someone is libeled and bothers to sue, his lawyer is going after the publisher: Twitter."
But I am no lawyer.
We shall see if any lawyers step up to challenge Facebook and Twitter using this argument.
Meanwhile, in news of fools who rush in,
Media-ite reported
, "Journalists and Celebs Rush to Delete Tweets Slamming MAGA-Hat Kids."
If it looks too good to be true, it is.
(Comment from Facebook on my post: "Can you say 'Gawker'?")
UPDATE:
Thanks for the plug, Glenn Reynolds
. Let's git 'r' done.