I guess that means they are not missing any more, but 19,000 formerly missing texts was too long for the headline.
To put that in perspective,
marketer Heidi Cohen wrote in 2015
, "US teens send an average of 30 texts per day. Teen girls send an average of 40 texts per day and older teen girls send an average of 50 texts per day."
These federal agents were texting like two teenage girls, swapping 100 texts a day for six months straight.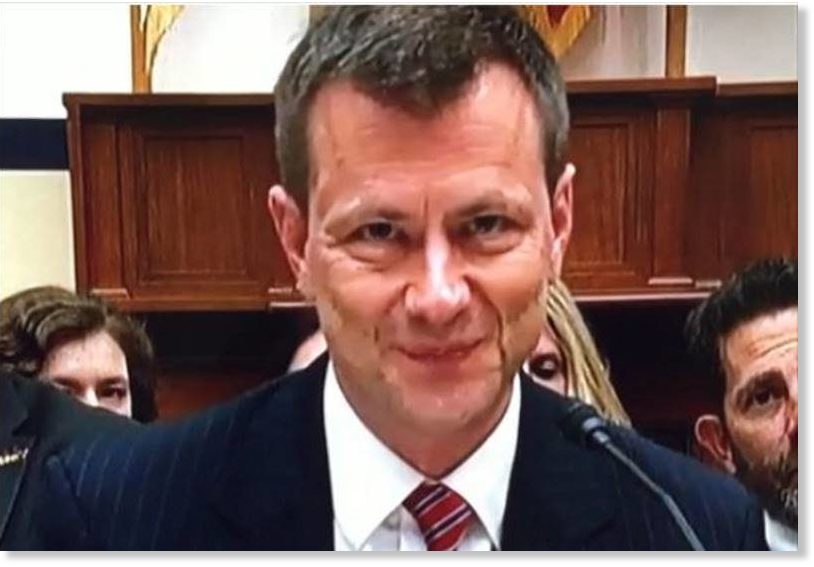 Strzok is kind of girlie man, isn't he? Pee Wee Herman without the bowtie.
The two had a lot of time on their hands, didn't they?
"The Department of Justice Office of the Inspector General initiated this investigation upon being notified of a gap in text message data collection during the period December 15, 2016 through May 17, 2017, from Federal Bureau of Investigation mobile devices assigned to FBI employees Peter Strzok and Lisa Page relevant to a matter being investigated by the OIG's Oversight and Review Division," the department said in a press release.
"The OIG forensically recovered thousands of text messages from FBI mobile devices issued to Strzok and Page through its multiple extraction efforts. Approximately 9,311 text messages were recovered from Strzok's S5 [Samsung]. Approximately 10,760 text messages were recovered from Page's S5."
These federal employees on company time using company equipment sat around mocking our duly elected president.
That is unAmerican and I suspect common among FBI agents because look how comfortable they were texting like teenage girls.
And I also suspect the FBI is not the only agency where employees commonly mock the president. In so doing, they mock the American people.
Ending Civil Service might remind them who the boss is.
Till then, if the text message includes an emoji or an OMG, it is not an official message and should not be sent.
###