NPCs are computer-generated non-player characters in video games. They are programmed to react certain ways and to say certain things because they are not human.
Social justice warriors, too, are programmed.
Posters at 4 Chan and later
Reddit_The_Donald
began posting memes to mock the SJWs as NPCs with usually expressionless gray faces.
They opened NPC accounts at Twitter mocking SJW-speak, knowing Twitter would ban them.
And Twitter did ban them under a new rule against "de-humanizing people." The ban did not apply to Louis Farrakhan when he tweeted Jews are termites because only a racist would ask why, that's why.
No one takes NPC accounts seriously. You would have to be a redheaded knucklehead to believe the NPCs are serious.
All this led to a New York Times story.
The New York Times reported, "There is NPC Wojak — a crudely drawn, gray cartoon avatar with a pointy nose and a blank face.
"NPC Wojak is a variation of Wojak, an old cartoon (also known as feels guy) that has become a kind of collective mascot for the far-right commenters online. In recent weeks, users on 4chan and Reddit have made all kinds of memes featuring NPC Wojak."
Far-right.
Ever notice how the media drops far-right like John Denver kept repeating "far out" on that old Tonight Show episode from the 1970s. You cannot be right of center. You must be far-right. I wonder if it is programmed into their computers to substitute far-right for right.
We will know for certain when ESPN starts referring to far-right fielders.
The New York Times story was a hoot. It claimed these NPC memes may interfere with the election.
Oh my. Only the media is allowed to do that, right?
I mean, far-right?
The New York Times reported, to the relief of everyone in Western Civilization that the NPC memes will not -- repeat, NOT -- interfere with the election. The story said, "Evidence suggests that these are mostly just attention-starved gamers looking to impress one another by 'triggering the libs' with edgy memes. But not everyone gets the joke. State officials are already worried that voters will be fooled by deliberate social media campaigns that contain incorrect voting information. Similar types of disinformation spread on social media in 2016, which makes companies like Twitter nervous."
Attention-starved gamers.
Um, the memes are posted anonymously for the most part. I noticed a byline on the story.
It never occurred to the writer that maybe they are just having fun by goofing on liberal talking points uttered by people who take politics way too seriously.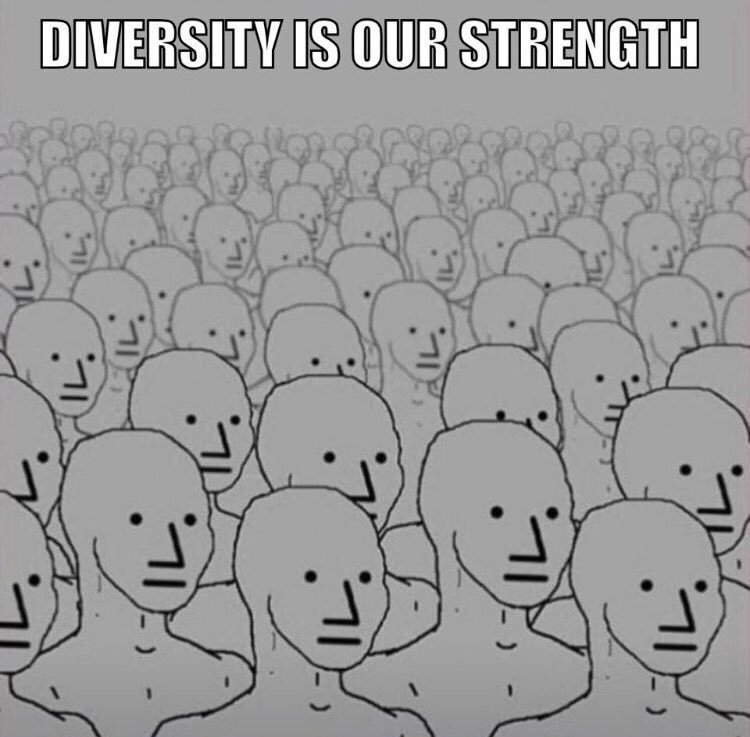 The Left is a humorless lot. The problem with the NPC Meme is it is too darned accurate.
Meanwhile, at a Bernie Sanders rally...
Photo taken by Aaron Jones. Please visit his blog.
###