"Water, water everywhere, not a drop to regulate." -- the Rime of the Ancient Bureaucrat.
It was an odd photo that the Environmental Protection Agency released. EPA Administrator Scott Pruitt is seated at the Resolute Desk signing something while President Trump "looks on," as the cliche goes.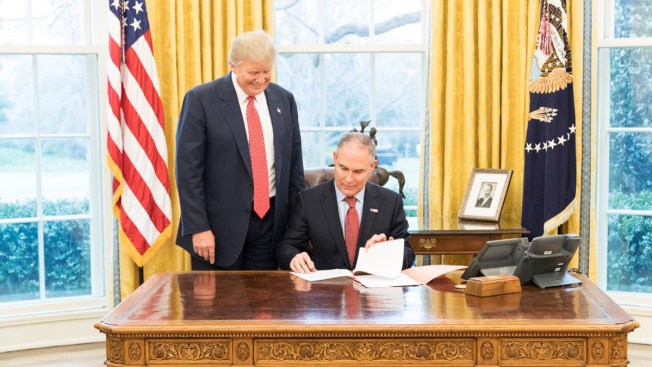 This Take Your Appointee to Work Day moment underscored the importance of rolling back the unconstitutional "WOTUS" rule which enables the federal bureaucracy to regulate every puddle in America.
Obama came up with this rule in 2015, bestowing upon water the same honor we give presidents (POTUS) and first ladies (FLOTUS) as "Waters of the United States."
Other molecules are jealous.
The target is farmers. American farmers feed the world. We export food. Socialists rule by starvation. (Ukraine, China, North Korea...) And so in the name of preserving wetlands, the bureaucracy is controlling water.
Unconstitutionally.
The Constitution allows Congress to regulate navigable rivers. By definition, this excludes wetlands.
"The controversial Waters of the U.S. rule, implemented in 2015 by the Environmental Protection Agency, received another setback when a U.S. District Court in Georgia issued a preliminary injunction that prevents the rule from being implemented in 13 states,"
Burt Rutherford reported on Wednesday
.
"The Georgia injunction is the second time a federal court has ruled against WOTUS. The first decision came shortly after WOTUS came into effect. A North Dakota court issued an injunction in 2015 that prevented the rule from being implemented in 11 states. With those two court rulings in place, nearly half the country — 24 states — are protected from WOTUS.
"The states protected by 2015 North Dakota decision are: Alaska, Arizona, Arkansas, Colorado, Idaho, Missouri, Montana, Nebraska, Nevada, New Mexico, North Dakota, South Dakota, Wyoming.
"The states protected in Georgia decision: Alabama, Florida, Georgia, Indiana, Kansas, Kentucky, North Carolina, South Carolina, Utah, West Virginia, Wisconsin."
Pruitt told farmers in Lincoln, Nebraska, this week that his new WOTUS rule will treat framers like partners, not adversaries.
"The voice of farmers and ranchers across this country should be heard loud and clear because you're our first environmentalists, you're our first conservationists,"
he said
.
I would like to get the EPA out of the wetland protection racket altogether.
But I will settle for this.
For now.
###
Please enjoy my books in paperback and on Kindle.
Trump the Press
covers the nomination.
Trump the Establishment
covers the election.
Fake News Follies of 2017
covers his first year as president.
For autographed copies, write me at
DonSurber@gmail.com