So the great big scoop by Greg Jaffe and Philip Rucker of the Washington Post is that President Trump wants to have a major military parade in Washington on Memorial Day (May 28) or Independence Day (July 4). The Pentagon wants one to celebrate the 100th anniversary of the Armistice that ended World War I.
Why not have parades on all three dates?
— Jeryl Bier (@JerylBier) February 7, 2018
The Post quoted "a military official who spoke on the condition of anonymity because the planning discussions are supposed to remain confidential," who said, "The marching orders were: I want a parade like the one in France. This is being worked at the highest levels of the military."
While the Washington Post repeatedly said the president was inspired by the Bastille Day parade he saw last summer, I am pretty sure Trump was in a parade or two when he was a captain (class president) at the New York Military Academy.
Still, given that our troops are leaving Iraq after helping to vanquish the Islamic State, a parade acknowledging this in conjunction with other military holidays would be nice.
But the haters immediately mocked the president. Jeryl Bier, a stringer for the Weekly Standard, tweeted, "Our military is invaluable and I respect the military tremendously, and this is dumb."
The only thing that is dumb about this is how Bier's hate fogs his brain.
NPR illustrated its report with a video
, "Military Parade in Moscow. May 9, 2017. Moscow Victory Parade."
Funny how anti-Russian the left has become since the Soviet Union ended.
ABC News reported
, "It's unclear how much it might cost to bring vehicles and aircraft to Washington."
Yes, flying aircraft 10 miles from Joint Base Andrews in Camp Springs, Maryland, and driving in from Fort Meade will cost thousands of dollars, which of course will break our $4 trillion or so federal budget.
Over at National Review, Kevin Williamson portrayed the president as Trump Jong Un, writing, "Long obsessed with North Korean–style (he would say French) shows of military splendor, President Trump has ordered the Pentagon to get ready to roll tanks down the streets of Washington, D.C."
Yes, because only North Korea has military parades. I am glad to see that National Review is an equal idiocy employer.
"We have more important things to do than to focus on a damn parade," retired Army Lt. Gen. Mick Bednarek, told Politico. "It detracts from all we are doing."
And yet parade fields are common on Army posts around the world.
Indeed, General Bednarek had a little ceremony when he took command of the First Army in April 2011
.
I guess the First Army had nothing better to do that day but march for their new commander.
This parade of anti-parade stories is more Trump hate, and yes, military generals are not immune to the nonsensical, drooling anger that rages inside a Trumpophobe.
Military parades are common in Washington.
And some gave tanks
. Barack Obama's Pentagon held plenty of them.
Obama's Inauguration, 2013.
Rehearsing on October 5, 2012.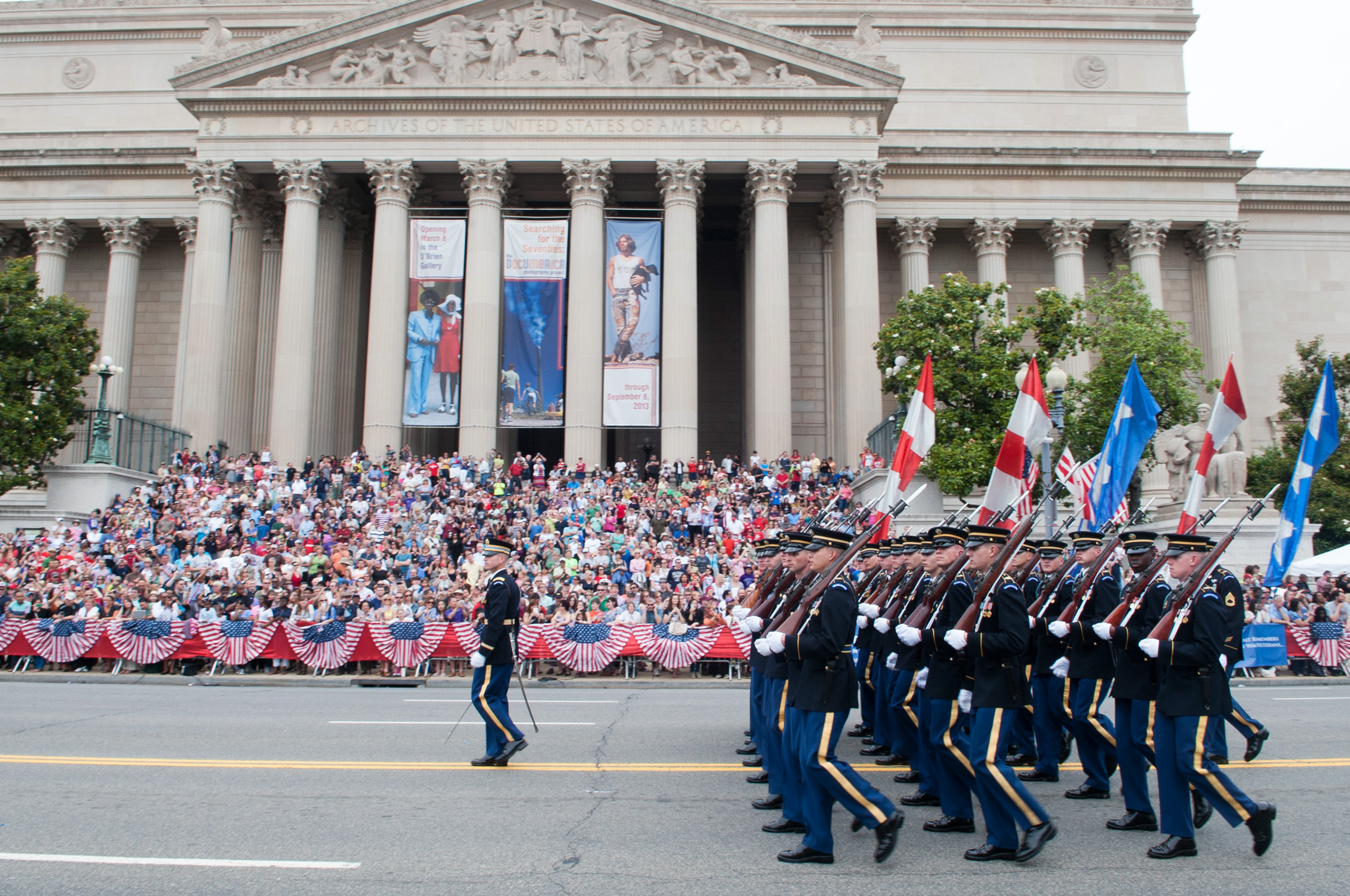 Memorial Day 2015.
President George Walker Bush held them.
Inauguration Day 2005.
JFK held them.
Inauguration Day 1961.
I cannot recall one president who did not have a military parade.
Suddenly, military parades are wrong because President Trump is holding them?
We have the dumbest media on Earth.
@@@
"Fake News Follies of 2017" is
available on Kindle
and
in paperback
.
Autographed copies are available. Email me at
DonSurber@GMail.com
for details. I am including a "director's cut." I'll email you back the original Chapter 1 that I cut because while the chapter was amusing, it really had nothing to do with the "Fake News Follies of 2017."
Ben Garrison did the cover and I am so happy with it. I told him what the book was about, sent him a copy of the manuscript, and he came up with a perfect cover. I am so pleased.