President Trump just did something no other president nor the Founding Fathers could pull off.
He negotiated a major piece of legislation right before the nation's unblinking eyes, live and in living color.
He brought reporters and cameras in to watch an hour of negotiating between him and 22 members of Congress.
This was unprecedented.
Unpresidential, some may say.
For a fellow who is supposed to be so authoritarian -- so unconstitutional -- so oppressive, President Trump sure was being open.
The press yammers about transparency and accountability.
They could not handle real transparency.
He knew they could not. That is why he did it.
There before the eyes of everyone Trump showed who is president and who ultimately decides whether we grant amnesty to a million people who should not be here out of the estimated 12 million illegal aliens who also should not be here.
From NBC, which thinks Oprah should be president
:
A bipartisan meeting between President Donald Trump and members of Congress on Tuesday appears to have moved negotiations forward, however slightly, on how to address the fate of undocumented immigrants under the DACA program.
Members of both parties and the White House said they agreed that the four issues to be addressed initially include DACA, border security, changes to family-based migration, also known as chain migration, and an end to the visa lottery system, a development that could help narrow the parameters of an otherwise wide-ranging and contentious set of issues around immigration.
But while some progress was made about the scope of the debate, there was no agreement reached on any of the tricky details, only broad sentiments from both sides about the need to solve the DACA issue.
Donald Trump clearly was in charge of the meeting.
Many of the big-shot members of Congress seemed meek while Trump appeared to be all Trumpy and in control.
From NBC:
"We'll do DACA. Then we can start comprehensive immigration reform the next afternoon," Trump said as television cameras rolled on the first 55 minutes of the 2 1/2 hour meeting, which featured members of Congress talking to the president about where they stood on the issue. It was a rare, extended look inside a policy discussion between the president and lawmakers.
"I'll take the heat off the Democrats and Republicans," Trump said. "I will."
The flakes on the right -- Ann Coulter, for example -- were quick to say Trump sold out. They say that all the time. It's something they have predicted all along.
Afterward, an actual Flake -- Jeff -- tried to spin the meeting.
"I didn't go in with any hope with anything. With 22 people in the room you don't negotiate, but there were a few encouraging things," Flake told NBC News afterward. He said Trump showed "quite a bit of flexibility when the cameras weren't there in terms of what we do in this phase and in the next phase, and an acknowledgment that a lot of things we want to do are going to be part of a comprehensive bill but not now," he added.
Democrats had hoped to keep the discussions as narrow as possible to immediately create a bill that would address DACA and some components of border security. Trump gave a March 5 deadline for Congress to act, before all DACA recipients' legal status expires. More than 1,000 people a day are losing their protected status.
The clock is ticking.
Trump doesn't need a deal.
They do.
He got what he wanted out of the meeting: a photo op that shows Trump -- not Congress -- is in charge.
Optics matter.
Think not?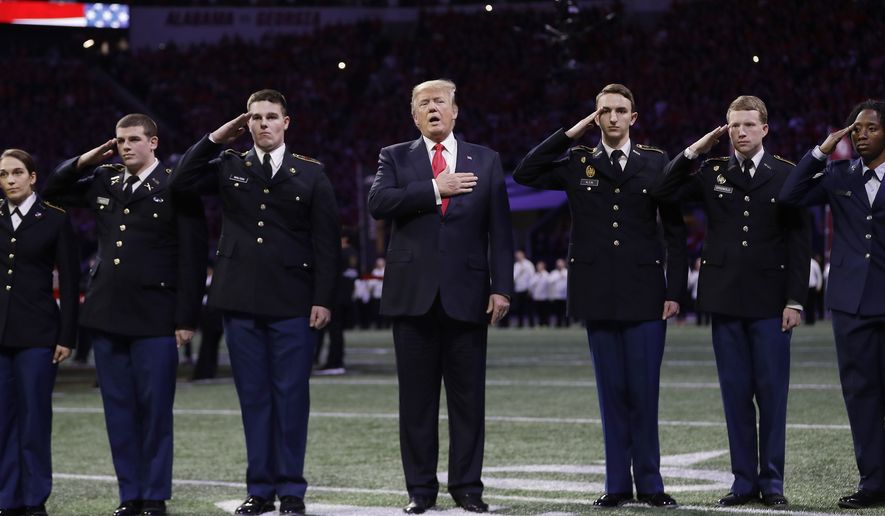 Trump won that college football championship last night merely by stepping on the field.
@@@
Please enjoy my two books about the press and how it missed the rise of Donald Trump.
The first was "
Trump the Press
," which covered his nomination.
The second was "
Trump the Establishment
," which covered his election.
To order autographed copies, write
DonSurber@GMail.com
.
Friend me on
Facebook
.
Follow me on
Twitter
.
As always, Make America Great Again.