All eyes were on President Donald John Trump as he arrived at the World Economic Summit.
America leads from the front again.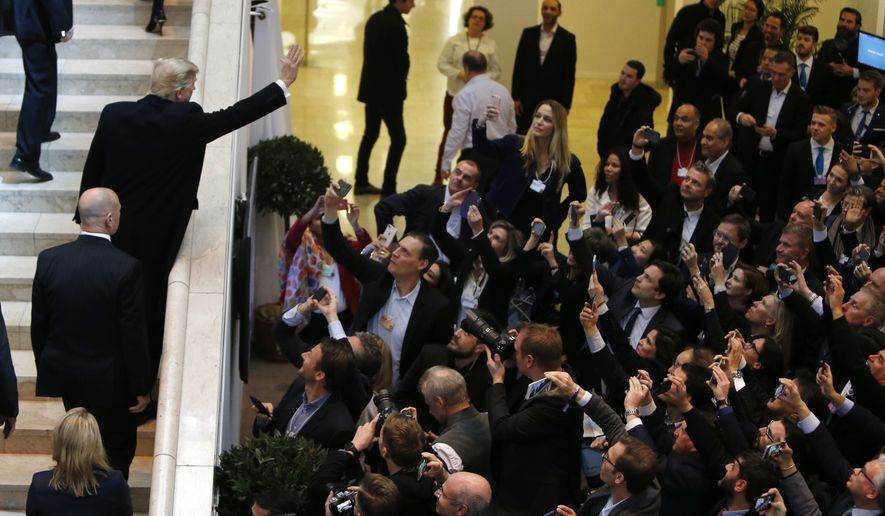 The Islamic State is evaporating.
Kim Jong Un is making nice.
The world economy is booming.
"Attendees held up their cellphones and swarmed toward Mr. Trump as he entered the conference hall. Asked by reporters if he hoped to be received warmly at the forum, Mr. Trump gestured to the crowd following him and said, 'I already am. Take a look — you tell me,'"
the Washington Times reported
.
"Asked about his message to the world's financial and political leaders, Mr. Trump said, 'Peace and prosperity.'"
Even CNN had to admit that "Trump Gets Rock-Star Treatment at Davos."
The rest of the mainstream media fumed. So, to distract attention from Trump's triumph, the New York Times made up a story and placed it as its lead story on Page One today: "
Trump Ordered Mueller Fired, but Backed Off When White House Counsel Threatened to Quit
."
It was a lie, an outrageous Fake News fabrication that cited no one on the record.
The person the Times asserts that threatened the president -- Donald F. McGahn II, the White House counsel -- was not quoted or apparently given a chance to respond to this story.
This is not journalism.
This is fiction.
Anonymous sources are unacceptable as sources. Until someone is willing to state on the record that something is true all you are doing is rumor-mongering -- something Pope Francis denounced recently as a sin.
I don't care if you are the New York Times. The rules apply to all, equally.
Today, Trump called the Times out.
"Fake news, folks. Fake news. Typical New York Times fake stories,"
Trump told reporters
.
Trump has said many times that the leaks are real, the news is fake.
I would add, the media no longer cares.
"In 2017, the media and Democratic Party officials defined Fake News as websites that look like news sites but disseminate information that is false or misleading. They included satirical sites," I wrote to begin Fake News Follies of 2017, which I plan to publish next week.
"President Trump and his supporters defined Fake News as news organizations that deliberately disseminated false stories. They did not include satirical sites.
"I define Fake News as the fog of war. In 2017, much of the political media chose to go to war with Donald John Trump. They did not choose wisely."
The press is a mess.
Most journalists no longer share American values with their viewers, listeners, and readers. They try to condense the Constitution into the First Amendment, and then only acknowledge free speech and a free press.
The journalists covering the president often show a contempt for him that exceeds partisanship. Katy Tur who covered his election for NBC openly admits she is revolted by him. Her reward was an anchorship on MSNBC.
This is not right. We deserve a press worthy of a great nation -- not some second-rate propaganda peddling one expects in a Third World country.
@@@
Please enjoy my two books about the press and how it missed the rise of Donald Trump.
The first was "
Trump the Press
," which covered his nomination.
The second was "
Trump the Establishment
," which covered his election.
To order autographed copies, write
DonSurber@GMail.com
.
Friend me on
Facebook
.
Follow me on
Twitter
.
As always, Make America Great Again.