H. Brandt Ayers is a self-righteous Southern liberal. He spent his life moralizing from his perch in Anniston, Alabama, where for decades he published the Anniston Star.
He won that job in the oldest of newspaper traditions -- by being the son of the previous publisher.
Retired, he still wrote columns published by other newspapers near and far.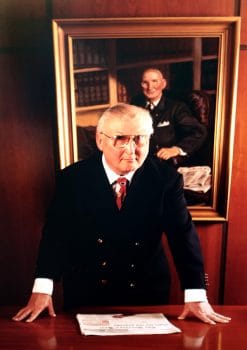 Oh how he railed against President Donald John Trump last year.
On August 27, Ayers wrote
:
Trump breaches moral line
[SNIP]
​Donald Trump abandoned any claim to the moral authority of the presidency when, in a heated press briefing after Charlottesville, he breached a line drawn by the Almighty to separate good from evil.
​With fire in his eyes, his voice trembling with anger, he crossed to the evil side of the line, doubling down in his assertion that there were "some very fine people" among the neo-Nazi, white-supremacist mob with swastika tattoos, waving flags of the Third Reich, shouting Nazi slogans and anti-Jewish epithets, that there was a moral equivalent between them and the townspeople and University of Virginia students protesting against the barbarian invasion.
​He is a deeply wounded man, sitting isolated in his empty, oval shell, abandoned by the people he admired the most, the chief executives of our great corporations, contradicted by the joint chiefs of our armed forces and the leaders of the nation's artistic genius.
The president had the audacity to say:
"We condemn in the strongest possible terms this egregious display of hatred, bigotry and violence on many sides, on many sides. It's been going on for a long time in our country. Not Donald Trump, not Barack Obama, this has been going on for a long, long time. It has no place in America. What is vital now is a swift restoration of law and order and the protection of innocent lives. No citizen should ever fear for their safety and security in our society. And no child should ever be afraid to go outside and play or be with their parents and have a good time,"
He said "on many sides"!
Oh my dear. Why it was like he was blaming the neo-Nazis, and the police who failed to protect those with the free speech permit, and the fascist Antifa protesters.
Months later, the police chief resigned in disgrace after a citizens group reviewing the protest in Charlottesville found police deliberately allowed the two sides to fight it out.
But what are facts when you are trying to lead those deplorable Alabamian deplorables down the path of tolerance and multi-culturalism?
Of course, white privilege does not get any whiter or more privileged than to inherit a small-town newspaper in the 1960s.
But I digress.
This paragon of Southern liberalism made the news today in his own newspaper
:
A former Anniston Star reporter says that H. Brandt Ayers, chairman of the company that publishes the paper, sexually assaulted her in the 1970s in The Star's newsroom.
Veronica Pike Kennedy says Ayers, then the newspaper's publisher, spanked her against her will in an incident on a Saturday, when Ayers and Kennedy were among the few workers in the building.
"I was still determined to be a reporter after that," Kennedy said. "But I hated Brandy Ayers with every cell in my body."
In response to inquiries from The Star on Monday morning, Ayers issued a statement.
"As a very young man with more authority than judgment, I did some things I regret," Ayers said in the statement. "At my advanced age I wish I could relive those days again, knowing the seriousness of my position and with the accumulated judgment that goes with age."
Two other women who worked at The Star at the time told similar stories of spankings by the Star publisher, though each declined to have their names published, citing repercussions the revelations might have for their careers and family members.
Very young man?
Ayers was in his 40s.
I welcome him to the Trump Effect Club -- poor souls and institutions that put the curse on themselves by feuding with The Donald.
The Trump Effect List:
1. Casey Affleck.
February 2017
: "Casey Affleck Slams Trump Administration's 'Abhorrent' Policies in Spirit Awards Speech."
November 2017
: "Thousands Sign Petition To Keep Casey Affleck From Presenting At Oscars."
2. H. Brandt Ayers
2017
: "Trump breaches moral line."
2018
: "Anniston Star's ex-publisher spanked female employees in the 1970s, reports say."
3. Alec Baldwin.
2016
: "Alec Baldwin totally nailed Trump on the 'SNL' premiere."
2017
: "Alec Baldwin Admits He's 'Bullied Women,' Calls for a Change in Hollywood."
4. LaVar Ball.
November 2017
: "LaVar Ball Is Feuding with Donald Trump Over His Son's Release From China."
December 2017
: "LaVar Ball sends his sons to play in LITHUANIA after pulling them both out of school in the United States after UCLA-Trump row."
5. Hillary Clinton:
2016
: "Clinton has 90 percent chance of winning."
2017
: "Hillary, I love you. But please go away."
6. George Clooney.
2016
: "Clooney's Vow: Trump Will Not Be President; See Trump's Response."
2017
: "Clooney's 'Suburbicon' tanks, 'Saw' sequel No. 1 with $16.3M."
7. John Conyers.
2016
: "Rep. John Conyers: Donald Trump Is the Next Richard Nixon."
2017
: "Rep. John Conyers Jr. resigns over sexual harassment allegations."
8. David Corn.
2016
: "MSNBC's David Corn destroys Ann Coulter for defending Trump's decision not to release tax returns."
2017
: "David Corn investigated for inappropriate workplace behavior."
9. Bill Cosby.
2011
: "During an appearance on the 'Today Show,' Bill Cosby slammed Donald Trump's political aspirations, telling him to 'run or shut up'."
2017
: "Bill Cosby trying to take out $30M loan to pay mounting legal bills."
10. Lena Dunham.
2016
: "Lena Dunham: I'll move to Canada if Trump is president."
2017
: "Lena Dunham Apologizes for Defending Girls Writer Accused of Rape."
11. Eminem.
October 2017
: "Eminem unleashes on Trump: The 11 fiercest lines."
November 2017
: "Eminem is SKEWERED on social media after his bizarre performance on SNL."
Bonus
: "Rapper Eminem 'extremely angry' that Trump didn't respond to castigating freestyle rap."
12. Al Franken.
2016
: "Al Franken Hilariously Mocks Donald Trump."
2017
: "Al Franken to Resign From Senate Amid Harassment Allegations."
13. GQ.
2016
: "If You Vote For Trump, Then Screw You."
2017
: "Layoffs Hit GQ as Condé Nast Cuts Continue."
14. Kathy Griffin.
2016
: "Kathy Griffin Thinks Comedy Should Go All Out on 'President Piece of Shit' Donald Trump."
2017
: "CNN fires Kathy Griffin."
15. Alcee Hastings.
2016
: "Democratic congressman calls Donald Trump 'pile of excrement'."
2017
: "Taxpayers paid $220K to settle sexual harassment case involving Hastings."
16. Stephen Henderson.
2016
: "Henderson: Vote for Trump was a consent, purposeful or not, to bigotry."
2017
: "Free Press' Stephen Henderson terminated for misconduct."
17. Megyn Kelly.
2016
: "GOP Debate: Donald Trump's 'Spat' With Megyn Kelly Is Sexism."
2017
: "Megyn Kelly drags down 'Today' ratings."
18. Garrison Keillor.
2016
: "So, he won. The nation takes a deep breath. Raw ego and proud illiteracy have won out and a severely learning-disabled man with a real character problem will be president. We are so exhausted from thinking about this election, millions of people will take up leaf-raking and garage cleaning with intense pleasure. We liberal elitists are wrecks. The Trumpers had a whale of a good time, waving their signs, jeering at the media, beating up protesters, chanting 'Lock her up' — we elitists just stood and clapped. Nobody chanted 'Stronger Together.' It just doesn't chant."
2017
: "Minnesota Public Radio Fires Garrison Keillor Over Allegations of Improper Conduct."
19. Shia LaBeouf.
January 2017
: "Shia Labeouf Verbally and Physically Assaults Trump Supporter."
April 2017
: "Shia LaBeouf Thriller 'Man Down' Sells Just One Ticket at U.K. Box Office."
20. Ryan Lizza,
2016
: "Trump Gets Ready to Be a Bad Loser."
2017
: "New Yorker Fires Star Reporter Ryan Lizza Over 'Improper Sexual Conduct'."
21. Louis C.K.
2016
: "Louis C.K. Compares Donald Trump to Hitler: 'He's an Insane Bigot'."
2017
: "FX fires Louis C.K. after comic confirms sexual misconduct claims."
22. Macy's.
2015
: "Macy's Drops Donald Trump's Fashion Line Over Immigrant Remarks."
2017
: "Macy's Announces Store Closings for 2017."
23. Rose McGowan.
2016
: "Rose McGowan Blasts Donald Trump, Murdochs, Networks in Open Letter: 'You Are Causing a Worldwide Sickness.'"
2017
: "Rose McGowan arrested for felony possession of a controlled substance."
24. Alyssa Milano.
March 2017
: "Alyssa Milano on Trump: 'Removing him will be up to' women."
June 2017
: "Anti-Trumper Alyssa Milano is broke as a joke, didn't pay taxes and stiffed her employees."
25. Ed Murray.
2016
: Democratic "Seattle mayor decries Trump, says immigrants welcome."
2017
: "Seattle Mayor Resigns After Multiple Sexual Abuse Allegations."
26. Rupert Myers.
January 2017
: "British GQ writer: Could Obama 'murder Trump and Pence' then pardon himself?"
October 2017
: "Male feminist writer fired by GQ Magazine after woman accuses him of sexual assault."
27. NFL.
September 2017
: "After Trump Blasts N.F.L., Players Kneel and Lock Arms in Solidarity."
November 2017
: "NFL TV Partners Set To Lose Up To $500 Million On Ratings Decline."
28. Barack Obama.
During the campaign, Trump tweeted, "President Obama will go down as perhaps the worst president in the history of the United States!"
Obama went on Jimmy Kimmel's show, read the tweet, and replied
, "At least I'll go down as a president."
Fifteen days later, we elected Trump as Obama's successor.
29. Rosie O'Donnell.
1996
: "Queen of Nice Can Rosie O'Donnell Clean Up Trash TV?"
2017
: "Rosie O'Donnell Admits: 'I Spend 90% Of My Hours Tweeting Hatred' At Trump."
30. Tony Podesta.
2010
: "Tony Podesta, Superlobbyist."
2017
: "Tony Podesta stepping down from lobbying giant amid Mueller probe."
31. Brett Ratner.
June 2017
: "Brett Ratner Regrets Not Naming 'Tower Heist' After Trump."
November 2017
: "Six women accuse filmmaker Brett Ratner of sexual harassment or misconduct."
32. Eric Schmidt.
January 2017
: "Google's Eric Schmidt: Trump Administration Will Do Evil Things."
December 2017
: "Former Google CEO Eric Schmidt is stepping down as Alphabet's executive chairman."
33. Arnold Schwarzenegger.
2016
: "Arnold Schwarzenegger: 'I Will Not Vote for the Republican Candidate for President.'"
2017
: "He won't be back: Schwarzenegger's Terminator franchise terminated."
2017
: "Arnold Schwarzenegger's Legend of Conan Isn't Happening."
2017
: "Donald Trump Says Arnold Schwarzenegger Fired From 'Celebrity Apprentice.'"
34. Andy Signore.
June 2017
: "I am so damn sick of bully @realDonaldTrump taking words out of context to act out his agenda of fear, corruption & bigotry. #NotMyPresident."
October 2017
: "'Honest Trailers' Creator Andy Signore Fired for 'Egregious and Intolerable' Sexual Behavior."
35. John Skipper.
October 2017
: "Report: ESPN's John Skipper Attacks President Trump, Fox News, and Clay Travis, in Private Employee Meeting."
December 2017
: "John Skipper's resignation caps a tumultuous year at ESPN."
36. Tavis Smiley.
2016
: "Tavis Smiley: BFOTs (Black Friends of Trump) Are Normalizing Racism."
2017
: "PBS Suspends Tavis Smiley For Allegedly Forcing Women and Men to Have Sex With Him to Keep Their Jobs."
37. Kevin Spacey.
2016
: "Kevin Spacey mocks Donald Trump and calls him a 'disease' at Cannes."
2017
: "Actor Anthony Rapp: Kevin Spacey Made A Sexual Advance Toward Me When I Was 14."
38. Alwaleed Bin Talal.
2016
: "Billionaire Saudi Prince Alwaleed Bin Talal Trolls Trump: 'I Bailed You Out Twice'."
2017
: "Billionaire Saudi Prince Alwaleed Bin Talal arrested in corruption crackdown."
39. George Takei.
2016
: "George Takei: Trump's Muslim registry is 'prelude to internment'."
2017
: "George Takei's Facebook empire strains under sexual harassment allegations."
40. Teen Vogue.
2016
: "Donald Trump Is Gaslighting America."
2017
: "Teen Vogue is going to cease printing."
41. Harvey Weinstein.
2016
: "Harvey Weinstein says Trump 'appeals to the worst in us'."
2017
: "Harvey Weinstein Is Fired After Sexual Harassment Reports."
42. Brian Williams.
2012
: "Donald Trump has driven well past the last exit to relevance and veered into something closer to irresponsible."
2015
: "Brian Williams Demoted to MSNBC Breaking News Anchor."
@@@
Please enjoy my two books about the press and how it missed the rise of Donald Trump.
The first was "
Trump the Press
," which covered his nomination.
The second was "
Trump the Establishment
," which covered his election.
To order autographed copies, write
DonSurber@GMail.com
.
Friend me on
Facebook
.
Follow me on
Twitter
.