"It seems incredible that only five out of 150 front-page articles that The New York Times ran over the last, most critical months of the election, attempted to compare the candidate's policies, while only 10 described the policies of either candidate in any detail."
-- Columbia Journalism Review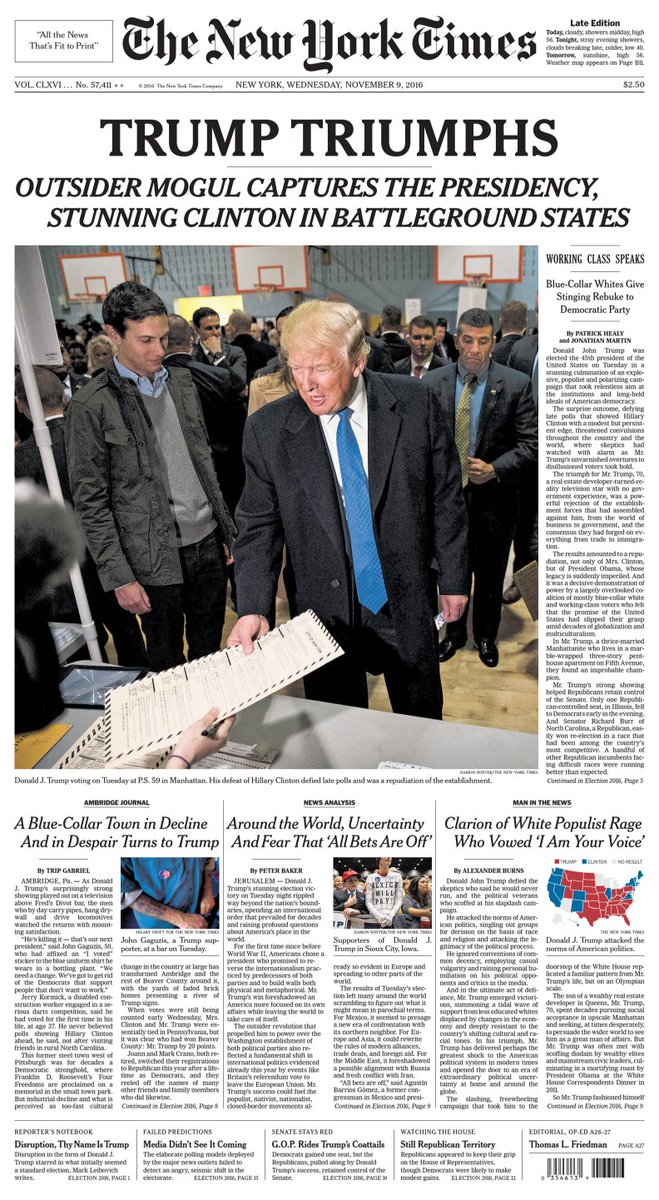 Now what is this nonsense about how important and vital the press is?
The most upscale and elite newspaper in America devoted most of its front-page coverage of the presidential race to gossip, smears, and gaffes.
Only five times in two months (maybe longer) did the New York Times bother to compare President Trump's policy proposals to Hillary's.
From the Columbia Journalism Review
:
Of the 150 front-page articles that discussed the campaign in some way, we classified slightly over half (80) as Campaign Miscellaneous. Slightly over a third (54) were Personal/Scandal, with 29 focused on Trump and 25 on Clinton.
Finally, just over 10 percent (16) of articles discussed Policy, of which six had no details, four provided details on Trump's policy only, one on Clinton's policy only, and five made some comparison between the two candidates' policies.
The results for the full corpus were similar: Of the 1,433 articles that mentioned Trump or Clinton, 291 were devoted to scandals or other personal matters while only 70 mentioned policy, and of these only 60 mentioned any details of either candidate's positions.
In other words, comparing the two datasets, the number of Personal/Scandal stories for every Policy story ranged from 3.4 (for front-page stories) to 4.2. Further restricting to Policy stories that contained some detail about at least one candidate's positions, these ratios rise to 5.5 and 4.85, respectively.
It was an ideas election.
The press tried to make it about personalities.
And the third-rate coverage continues.
Consider this story from the New York Times:
Congressional Democrats Left Out of White House Hanukkah Party
Wow.
239 members of the House and the Senate were barred from celebrating Hanukkah at the White House.
Paragraph Eleven
:
This year, officials slashed the size of the annual reception, inviting around 300 guests to one soiree instead of hosting 1,700 over two parties as in the past.
Misleading does not begin to describe this Fake News.
It's all Fake News.
America deserves a better press than this.
@@@
Please enjoy my two books about the press and how it missed the rise of Donald Trump.
The first was "
Trump the Press
," which covered his nomination.
The second was "
Trump the Establishment
," which covered his election.
To order autographed copies, write
DonSurber@GMail.com
.
Friend me on
Facebook
.
Follow me on
Twitter
.
As always, Make America Great Again.