My MAGA review, day by day by month, continues.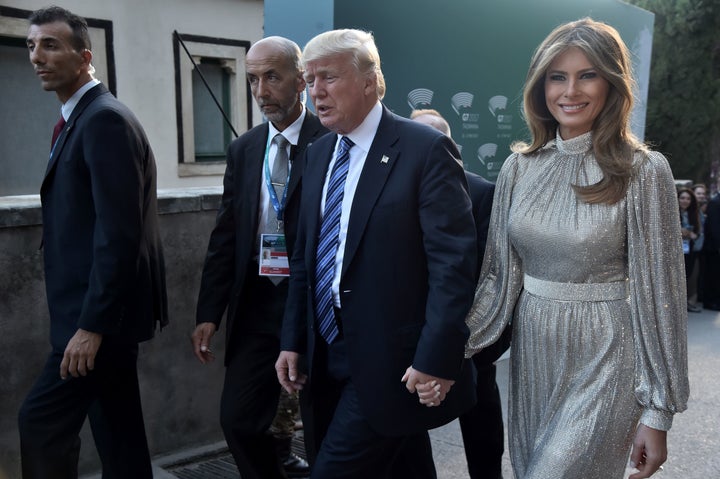 November 1
: "Jake Tapper, of CNN, Defends 'Allahu Akbar' as 'Beautiful' After New York City Terror Attack."
Ah yes, that old Joe Cocker song, "You Are So Allahu Akbar to Me."
And who can forget the Stephen Foster song, "Allahu Akbar Dreamer"?
Or Ray Charles singing "America, the Allahu Akbar"?
EVIL.
November 2
: "Mother Jones magazine's editor and chief executive acknowledged on Thursday that they investigated Washington bureau chief David Corn for inappropriate workplace behavior three years ago, warning him about touching female staffers and insensitive descriptions of sexual violence, and would now probe the allegations further in light of two emails written by former staffers in 2014 and 2015."
Corn was the only reporter to report on the Russian dossier in 2016. Maybe if he spent more time reporting and less time trying to cop feels, Corn wouldn't fall for Fake News.
GOOD.
November 3
: "The new GOP tax overhaul would strip illegal immigrants of the ability to claim several major tax credits, saving the government $23.1 billion over the next decade, according to the bill's authors."
Now we know what the DREAMers dream of: Sponging off the taxpayers.
GOOD.
November 4
: "Manufacturing employment rose by 24,000 in October, with job gains in computer and electronic products (+5,000) and chemicals (+4,000). Employment in fabricated metals continued to trend up (+4,000). Manufacturing has added 156,000 jobs since a recent employment low in November 2016."
Those jobs ain't coming back.
GOOD.
November 5
: "BOWLING GREEN, Ky. — Sen. Rand Paul is recovering from five broken ribs and bruises to his lungs, and it is unclear when he will return to Washington, aides said Sunday, signaling that injuries he sustained Friday are far more severe than initially thought."
Second time in five months a Democrat attacked and hospitalized a Republican member of Congress. The party of the Confederacy, the Klan, and Bull Connor continues its violent legacy in the 21st century.
EVIL.
November 6
: "With the tacit support of President Trump, King Salman of Saudi Arabia and his powerful son launched an unprecedented purge of their own family over the weekend. The major targets were royal brethren who controlled money, the media, or the military."
In an alternate universe where the press is not out to get Trump, the headline was, "Saudis crack down on bribery and corruption."
GOOD.
November 7
: "Today, the National Day for the Victims of Communism, marks 100 years since the Bolshevik Revolution took place in Russia. The Bolshevik Revolution gave rise to the Soviet Union and its dark decades of oppressive communism, a political philosophy incompatible with liberty, prosperity, and the dignity of human life."
Ronald Reagan smiles and shouts "hoo-rah!"
GOOD.
November 8
: "An Air Force Academy cadet candidate once thought the victim of racial slurs at the preparatory school on campus was actually the vandal who scrawled the threatening messages across the note boards outside his room and the dwellings of classmates."
Not named or shamed.
As long as hoaxes go unpunished, we will get more -- and don't for a moment think those falsely accused of racism are not noticing.
EVIL.
November 9
: "Woman says Roy Moore initiated sexual encounter when she was 14, he was 32."
Lies that would bring a good man down -- courtesy of a Low Energy Jeb campaign official.
EVIL.
November 10
: "China Energy Investment Corporation Limited has signed an agreement with the West Virginia Dept. of Commerce on an $83.7 billion plan to invest in shale gas development and chemical manufacturing projects in West Virginia."
That was from WSAZ in West Virginia. The national media was too busy reporting on koi fish and other Fake News about Trump's trip to Asia to bother with real news.
GOOD.
November 11
: "Kyle Duncan, President Donald Trump's nominee for the Fifth Circuit Court of Appeals, is receiving strong support from national pro-life groups. Notably, Duncan, a lawyer from Louisiana, represented Hobby Lobby at the U.S. Supreme Court when the Obama administration tried to force the Christian business owners to cover drugs that may cause abortions in their employee health plans."
Won a case before the Supreme Court. I think he knows his way around a courtroom.
GOOD.
November 12
: "Boys should be free to wear tutus and tiaras, says Church of England."
Deuteronomy 22:5: "A woman shall not wear a man's garment, nor shall a man put on a woman's cloak, for whoever does these things is an abomination to the Lord your God."
Oh, what does the Bible know about religion.
EVIL.
November 13
: "Sessions directs prosecutors to 'evaluate certain issues' involving Uranium One and Clinton, leaves door open on special counsel."
Lock her up.
GOOD.
November 14
: "LiAngelo Ball, brother of the Lakers' Lonzo Ball and son of the inimitable LaVar Ball, is the most widely known of the three UCLA basketball players arrested last week on charges of shoplifting from a Louis Vuitton store in Hangzhou, China. Ball and his teammates have finally been released by authorities — and, whether ESPN likes it or not, they've got President Trump to thank for it."
LaVar Ball refused to thank the president, igniting a dumb feud that resulted in his son playing in Lithuania.
The big losers are the shopkeepers in Vilnius.
GOOD.
November 15
: "Democratic Sen. Patrick Leahy (Vt.) on Wednesday grilled Texas Supreme Court Justice Don Willett over a tweet he sent in 2015 saying he would support a constitutional right to marry bacon."
The longest serving Democrat in the Senate always asks the pertinent questions. But why is he
laridum
ophobic?
November 16:
EVIL.
November 17
: "I must have missed the Drudge Report links to this story, but General Mattis last week told NATO, '95% of the territory once held by ISIS is now liberated and our partners continue to secure more each day'."
The news was all about Al Franken and Roy Moore that day. Someday, we will get a news media that covers actual news.
GOOD.
November 18
: "North Korean defector had 27 centimeter parasitic worm in his stomach."
He was an elite soldier. Imagine the slop they feed the rest of the country.
EVIL.
November 19
: "President Robert Mugabe's own party voted to oust him as its leader on Sunday, a day after thousands of Zimbabweans took to the streets to celebrate his stunning fall from power after a military takeover."
About 30 years too late.
GOOD.
November 20
: Salena Zito:
Bad news travels fast. Good news, meanwhile, doesn't seem to travel at all.
Last weekend in Beijing, as part of his 12-day trip to Asia, President Trump announced that the US and China had signed an $83.7 billion memorandum of understanding to create a number of petrochemical projects in West Virginia over the next 20 years.
If the agreement holds tight, it is an economic game changer for the state.
Zito, a reporter disguised as a columnist -- in a world where so many columnists try to pass themselves off as reporters.
GOOD.
November 21
: "Justice Department accuses university of failing to cooperate in investigation of whether its admission policies discriminate against Asian-Americans."
50 years ago, the Ivy League capped the number of Jews it would accept. I guess Harvard hates minorities that are smarter than their legacy WASPs.
GOOD.
November 22
: "A Washington Post columnist said White House press secretary Sarah Huckabee Sanders humiliates the media on a daily basis."
The wounds are self-inflicted. She just points them out.
GOOD.
November 23
: "Trump's Thanksgiving message to troops: 'We're really winning'."
The Hill found a retired three-stare general to call that insulting.
GOOD.
November 24
: "Diplomats Sound the Alarm as They Are Pushed Out in Droves."
Why, it is as if an elected president thinks he is in charge of the government.
GOOD.
November 25
: "As he investigates Trump's aides, special counsel's record shows surprising flaws."
Taxpayers had to shell out $5.8 million in 2008 after Robert Mueller's seven-year investigation of the anthrax letters followed -- and harassed -- the wrong guy.
EVIL.
November 26
: "Susan Sarandon: 'I thought Hillary was very dangerous. If she'd won, we'd be at war'."
And yet the actress did not support Donald Trump. Maybe another war would be good for the anti-war business.
EVIL.
November 27
: "First Lady Melania Trump Unveils Christmas at the White House 2017."
Christ is back. Mao is out.
GOOD.
November 28
: "Federal judge rules that Trump's choice can remain at head of consumer watchdog bureau."
Why, it is as if an elected president thinks he is in charge of the government.
GOOD.
November 29
: Garrison Keillor wrote a column in the Washington Post that morning: "Al Franken should resign? That's absurd."
That afternoon, public radio fired Keillor for sexual harassment.
GOOD.
November 30
: "Four men accuse Bryon Hefner, the husband of Massachusetts state Senate President Stan Rosenberg (D), of sexually assaulting and harassing them, the Boston Globe reports."
#MeToo is not just for #SheToos.
EVIL.
Final score: GOOD 20, EVIL 10.
Previously, "
2017, Greatest Year in American History: January.
"
"
2017, Greatest Year in American History: February
."
"
2017, Greatest Year in American History: March
."
"
2017, Greatest Year in American History: April
."
"
2017, Greatest Year in American History: May
."
"
2017, Greatest Year in American History: June
."
"
2017, Greatest Year in American History: July.
"
"
2017, Greatest Year in American History: August
."
@@@
Please enjoy my two books about the press and how it missed the rise of Donald Trump.
The first was "
Trump the Press
," which covered his nomination.
The second was "
Trump the Establishment
," which covered his election.
To order autographed copies, write
DonSurber@GMail.com
.
Friend me on
Facebook
.
Follow me on
Twitter
.
As always, Make America Great Again.