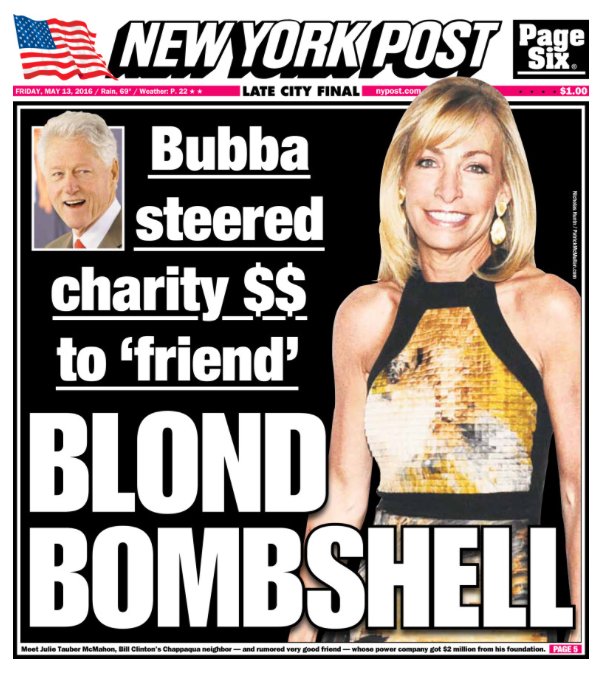 When we learned that Bill Clinton's son-in-law turned a $25 million hedge fund into pocket change, I teased on Twitter that I hoped he blew the money on something useful like hookers and blow. Turns out the 42nd president may be doing some of that with his Clinton Foundation "charity," which shook down Saudis and other foreigners to fund Hillary's presidential campaign in exile until she officially entered the race and collected bribes -- uh, donations -- last year.
From the New York Post
:
Bill Clinton's foundation doled out $2 million to a power company partly owned by a wealthy blond divorcée about whom questions have been raised as to whether she is the frequent visitor to his home nicknamed "Energizer."
The "commitment" to Julie Tauber McMahon's firm from the Clinton Global Initiative was placed on its 2010 conference agenda at Clinton's urging, the Wall Street Journal reported on Thursday.
The initiative "commits $2 million to support the work of Energy Pioneer Solutions, a company founded to deliver energy savings to communities in rural America," said a 2010 statement from the charity.
Clinton even went to bat for the company when it came to lobbying for federal funds. He helped steer an $812,000 federal grant to it by endorsing the funds via then-Energy Secretary Steven Chu, the Journal said.
McMahon owns 29 percent of Energy Pioneer Solutions, which was given the money to make people's homes more energy-efficient.
Global warming is a scan to give billions to these little Energizer Bunnys.
Monica's mistake was in not setting up some shell corporation to receive federal "grants" -- handouts.
This election is not about three seats on the Supreme Court.
It's about ending the throwing of the nation's money on all these creepy hookers. Take out the sex. Change it to golfing buddy. What Clinton did for her would be the same. If Hillary gets elected, the Clintons will loot the Treasury like the Goodfellas looted that restaurant they took over and later torched.