Infrastructure is a primary function of government. From the transcontinental railroad to the interstate highway system -- and stops in between such as the Panama Canal, Hoover Dam, and the Saint Lawrence Seaway -- the United States government has been been a major player in developing transportation and other public works.
I wrote that last December.
Still true today. President Trump signed an executive order on Tuesday to push these improvements forward.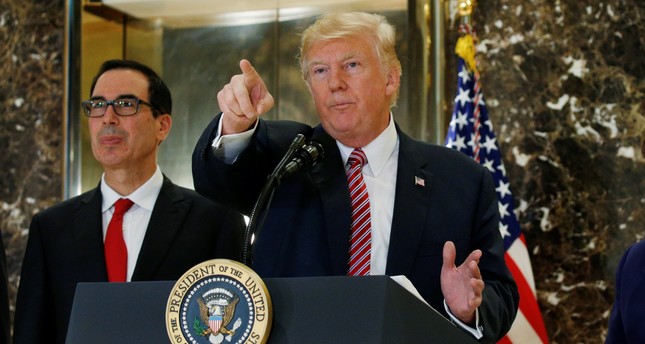 The media wanted to talk about a hit-and-run in Virginia over the weekend.
Trump's order will streamline the permitting process, moving public works projects forward.
From the White House
:
With regulatory red tape to jump through, major infrastructure projects are held up for years at significant cost to our economy.
According to a 2014 Government Accountability Office (GAO) report, it takes 7 years on average for a complex highway project to go through the entire environmental review process.
According to the National Association of Environmental Professionals, a single agency can take 3.7 to 5 years on average to complete an environmental review.
One study has found that the average delay of six years for major infrastructure projects costs the U.S. economy trillions.
President Trump is a developer. He knows you have to get permits. He knows there is a need for inspections and building codes. But he also knows time is money and the process needs to be speeded up.
Trump told the press:
This overregulated permitting process is a massive, self-inflicted wound on our country. It's disgraceful. Denying our people much needed investments in their community. And I just want to show you this, because it was just shown to me. I think I'm going to show it to the media, both real and fake media, by the way. This is what it takes to get something approved today.
Elaine, you see that. So this is what it takes, permitting process flow chart. That's a flowchart. So that can go out to 20 years. This shows about 10. But that can go out to about 20 years to get something approved.
This is for a highway. I have seen a highway recently in a certain state. I won't mention its name. It is 17 years. I could have built it for $4 or $5 million without the permitting process. It costs hundreds of millions of dollars, but it took 17 years to get it approved and many, many, many, many pages of environmental impact studies.
This what we will bring it down to. This is less than two years. This is going to happen quickly. That's what I'm signing today. This will be less than two years for a highway. So it's going to be quick. It's going to be a very streamlined process.
And by the way, if it doesn't meet environmental safeguards, we are not going to approve it. Very simple. We are not going to approve it. Maybe this one will say, let's throw the other one away.
Would anybody like it from the media? Would anybody like that long, beautiful chart? You can have it. So my executive order also requires agencies to work together efficiently by requiring one lead agency for each major infrastructure project. It also holds agencies accountable if they fail to streamline their review process.
So each agency is accountable. We're going to get infrastructure built quickly, inexpensively, relatively speaking. And the permitting process will go very, very quickly. No longer will we tolerate one job killing delay after another.
No longer will we accept a broken system that benefits consultants and lobbyists at the expense of hard-working Americans.
The press ignored this, and asked him about Charlottesville.
We have some terrible airports. Comparing JFK or the Dallas international airport to Seoul is embarrassing.
Depending where you live, we need highways, sewers, water plants, and bridges. We also need a wall. Most of all, we need a government that helps get things done, instead of one that delays progress.
***
Please enjoy my books on how the press bungled the 2016 election.
Caution: Readers occasionally may laugh out loud at the media as they read this account of Trump's election.
It is available
on Kindle
, and
in paperback
.
Caution: Readers occasionally may laugh out loud at the media as they read this account of Trump's nomination.
It is available
on Kindle
, and
in paperback
.
Autographed copies of both books are available by writing me at
DonSurber@GMail.com
Please follow me on
Twitter
.
Friend me on Facebook.