No nation has sent more men to defend the liberty of other nations (such as Austria, France, and America) and yet has enjoyed so little freedom in its history than Poland.
Which is why I am overjoyed to see the Poles embrace our president and first lady on their trip to the G20 summit.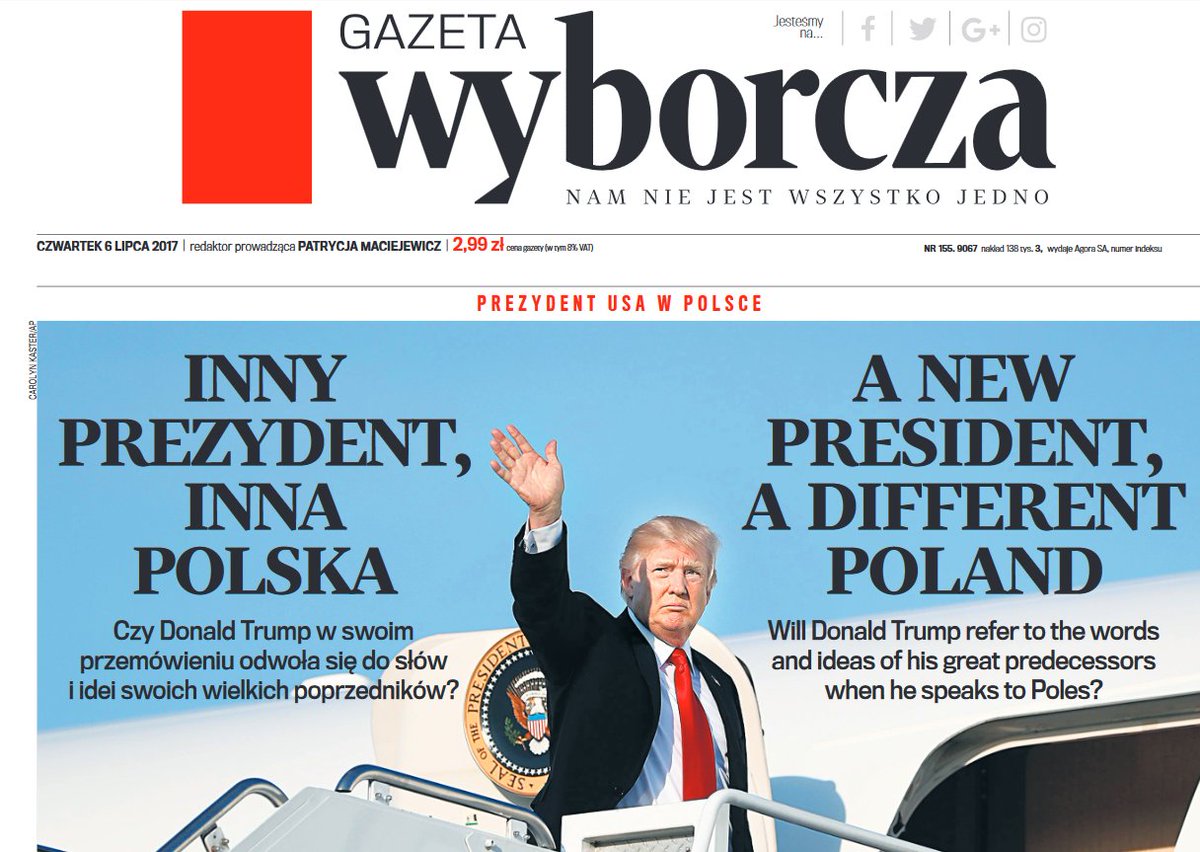 Like people in most nations, the Poles realize our last president was a politically correct token -- an insipid incompetent -- whose world view was shaped by the anti-capitalism of his father.
The world saw the empty suit we elected in 2008 and re-elected in 2012 as an opportunity for despots, and a nightmare for freedom.
The Donald is making America great again -- and the Free World cheers.
From the Daily Mail
:
The nation of Poland prepared a hero's welcome for U.S. President Donald Trump in advance of his Wednesday night arrival in Warsaw. But the Polish government executed a decidedly understated ceremony to greet Air Force One at Chopin Airport.
Lawmakers in the formerly communist nation see in Trump a mirror of their own brand of nationalism that has seen many Poles bristle against an iron-fisted European Union centered on Germany.
Among the European nations, Poland is one of the holdouts against the notion of resettling massive numbers of foreigners.
'The Polish government has the same position as Americans — we want strict restrictions on refugees," legislator Krzysztof Mróz told The Wall Street Journal.
For Trump's arrival, President Andrzej Duda sent his top aides to put on a far smaller affair than the all-out pomp and circumstance that awaited the U.S. leader in Saudi Arabia when he deplaned on his first foreign presidential trip six weeks ago.
While the accompanying American press nattered on about their phantom menace -- a Russian steal of the election -- Radio Poland reported the news.
From Radio Poland
:
US President Donald Trump said during a visit to Warsaw on Thursday that America has "never been closer to Poland".
His comments came after face-to-face security and trade talks with Polish President Andrzej Duda. Trump said: "The president and I concluded a productive meeting in which we reaffirmed our enduring bonds of friendship [which] have united our citizens for a long time. We've never been closer to Poland, I think, than we are right now."
Duda said Trump's visit underlined the strength of ties between Poland and the United States. Duda said: "I am extremely pleased with this visit to Warsaw, which is one of the first international visits by the president, because it highlights our ties and the high quality of the alliance between Poland and the United States."
He added: "It also demonstrates that we are and both consider ourselves to be loyal partners, as those who work together on many levels" including in NATO. Polish politicians have been hoping for a Trump commitment to the long-term deployment of US troops in Poland, which is worried about regional security following the Russian annexation of Crimea in 2014.
Trump told reporters: "Poland's been right there with us, training Iraqi special forces and flying reconnaissance missions, and just about any time we requested they were there."
He added: "Brave Polish soldiers have fought and worked side by side in Iraq and Afghanistan and on behalf of all Americans I want to solute you, I want to thank you."
FDR sold out the Poles in World War II for Soviet aid in defeating Germany.
And they know Obama would sell them out on a minute as well.
But they are willing to trust us a third time.
Please don't let them down, Mister President.
Caution: Readers occasionally may laugh out loud at the media as they read this account of Trump's nomination.
It is available
on Kindle
, and
in paperback
.
Caution: Readers occasionally may laugh out loud at the media as they read this account of Trump's election.
It is available
on Kindle
, and
in paperback
.
Autographed copies of both books are available by writing me at
DonSurber@GMail.com
Please follow me on
Twitter
.
Friend me on Facebook.