In 2008, Barack Obama carried North Carolina, Michigan, Ohio, Pennsylvania, and Wisconsin.
In 2016, President Trump flipped those five states on his way to a 30-state victory, the most states won in 20 years.
Now those five states are in the running to land a $10 billion in a display-making factory.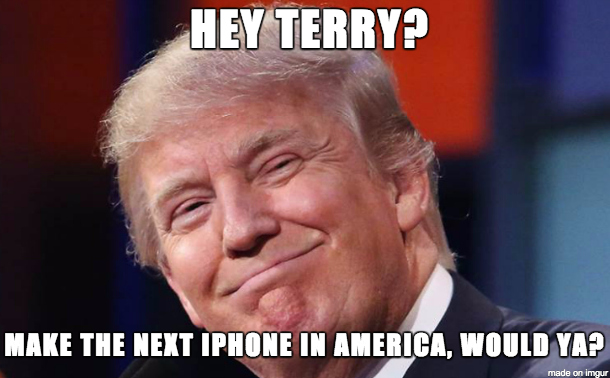 President Trump gets credit for this one.
From Nikkei on November 18
:
TAIPEI -- iPhones might one day soon carry "Made in America" labels.
Key Apple assembler Hon Hai Precision Industry, also known as Foxconn Technology Group, has been studying the possibility of moving iPhone production to the U.S., sources told the Nikkei Asian Review.
"Apple asked both Foxconn and Pegatron, the two iPhone assemblers, in June to look into making iPhones in the U.S.," a source said. "Foxconn complied, while Pegatron declined to formulate such a plan due to cost concerns."
Foxconn, based in the gritty, industrial Tucheng district in suburban Taipei, and its smaller Taiwanese rival churn out more than 200 million iPhones annually from their massive Chinese campuses.
That came a day after Tim Worstall wrote in Forbes
:
"Trump Can't Make Apple's iPhone Manufacturing Come Back -- And It Wouldn't Help If He Could."
I mocked Worstall then
.
I mock him now.
Labor costs seem higher in the United States because of higher wages, but productivity reduces the amount of labor the manufacturer purchases.
Liberals don't get that.
President Trump does. He's built and renovated buildings, casinos, resorts, and yes, golf courses over the years. He gets labor costs -- and the need to get good quality. If you'll notice, the construction trades unions back him. Over the years, he's given them a fair shake.
From Reuters today
:
Foxconn, the world's largest contract electronics maker and a major Apple Inc supplier, plans to invest more than $10 billion in a display-making factory in the United States and will decide on the location of the plant next month.
The Taiwan-based firm has been eyeing U.S. investments for some time and its CEO, Terry Gou, had previously said the company hoped to spend over $7 billion to set up a display-making plant in the country - which has no panel-making industry but is the No.2 market for televisions.
Foxconn, formally known as Hon Hai Precision Industry Co, is currently considering Wisconsin, Ohio, Michigan, Pennsylvania and North Carolina as possible locations, Gou told reporters after the company's annual shareholders meeting on Thursday.
"In July we will make a conclusion," Gou said, adding the company would invest the money over five years.
Tired of winning?
Me neither. It's still a novelty for a Cleveland sports fan.
On November 8, 2016, the American people said, "Trump the Establishment!"
Now read the book that explains how and why the press missed this historic election.
It is available
on Kindle
, and
in paperback
.
And then read the original, "Trump the Press," which chronicled and mocked how the media missed Trump's nomination.
It is available
on Kindle
, and
in paperback
Autographed copies of both books are available by writing me at
DonSurber@GMail.com
Please follow me on
Twitter
.
Friend me on Facebook.