President Trump hosted Xi Jinping for trade talks this weekend. This was a victory for the United States, as China offered trade concessions rather than face sanctions from the Trump administration.
This was validation for Donald Trump, who proved critics of his rhetoric wrong.
What did the American media report? "
Trump offers Xi steak, not a Big Mac, at Mar-a-Lago
."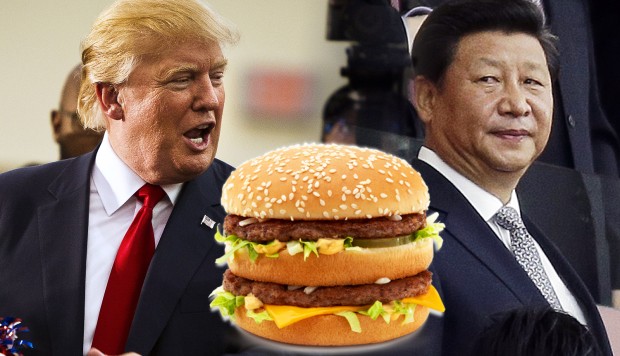 Well, these are the same village idiots who said on Election Day
Hillary had a 95% chance of winning
.
When it comes to the media's coverage of Trump, you are better off believing in the Easter Bunny, kids. At least you get candy out of the deal.
China's media is run by the Communists, not the Democrats, which makes China's media more credible.
Or at least less lefty.
From Reuters (a Canadian-owned British news organization)
:
Chinese state media cheer Xi-Trump meeting, say confrontation not inevitable
Not a word about Big Macs.
More from the same report:
Trump had campaigned with strident anti-China rhetoric and had angered Beijing before taking office by talking to the president of Taiwan, the self-ruled island Beijing claims as its own.
But the two sides avoided any diplomatic gaffes at Trump's Mar-a-Lago resort in Florida that would have tarnished the meeting in the eyes of the protocol-conscious Chinese.
China is pleased.
The Financial Times saw Trump's victory,
Reuters reported
:
China offers concessions to avert trade war with U.S.: FT
Concessions.
Of course. That billion-dollar-a-day trade deficit in China's favor keeps its economy going -- and the communists in power. Make no mistake, Xi is the world leader of the Communist Party, as well as head of China itself.
The concessions are in beef imports and allowing American insurance companies and other financial institutions to set up shop there. Xi also promised action on North Korea.
So what did the American press say?
From CNN
: "Trump's quick wins on China trade won't wipe out the deficit."
From CNBC
: "Trump-Xi meeting concluded without gaffe, but criticism soon followed."
From USA Today
: "Trump touts progress but no breakthrough after meeting with China's Xi."
From the Associated Press
: "Trump, Xi showdown fails to materialize at Mar-a-Lago."
Hello? President Trump got concessions -- unlike Obama.
The news media moguls think this lousy coverage hurts President Trump. It doesn't. It hurts the news media's credibility. As long as they get ratings, they do not care if they pump out shoddy products.
The original, "Trump the Press" chronicled and mocked how the media missed Trump's nomination.
It is available
on Kindle
, and
in paperback
.

Then came "Trump the Establishment," covering the election, which again the media missed.
It is available
on Kindle
, and
in paperback
.
Autographed copies of both books are available by writing me at
DonSurber@GMail.com
Please follow me on
Twitter
.