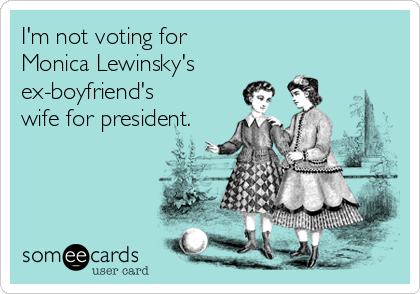 Hillary Clinton has a big problem called Monica Lewinsky, who is a bigger problem for Hillary than her husband. Many Americans did not want a philanderer as president, but many more do not want a cuckold as president because that is a sign of weakness. We'll take an alley cat over a mouse.
Enter Hollywood to rewrite history.
From the Daily Mail
:
Heather Locklear made a triumphant return to television on Monday's premiere of Too Close To Home.
The 54-year-old actress portrays a tough first lady in the Tyler Perry drama that is the first scripted series on TLC.
A preview clip from the eight-part series showed Locklear's character Katelyn confronting Anna, played by 27-year-old Danielle Savre, following an affair with the US president.
'So, this is how he keeps you. You must be really good,' Katelyn told the White House intern with a dubious past in Alabama.
I like the whole slut-shaming of Lewinsky. But purging history of Hillary's role as a doormat is that important. So TLC busts out its first scripted series to save The Hillary.
Producer-writer-actor Tyler Perry is best known for comedies featuring nearly all-black casts. This one is an eight-part melodrama with an all-white cast. Apparently the idea of having a black first lady and president is a foreign notion to Mister Perry -- or maybe it would hit Too Close To Home.
Coming up next on E! --
Not Without My Ambassador
, the story of a feisty hard-nosed secretary of state played by Linda Hamilton, who goes behind enemy lines to save a kidnapped Ambassador Ben Gazzy. George Lucas debuts as a television producer.
***
"Trump the Press: Don Surber's take on how the pundits blew the 2016 Republican race" is available as a paperback. Please order here.
The Kindle version is available here.