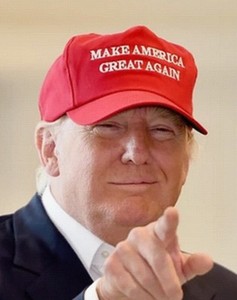 Donald Trump: "Make America Great Again."
The reaction in Washington is eye-opening.
"Look, this is a campaign that's run on know-nothing xenophobia. It will damage the party." --
Charles Krauthammer
.
"He's appealing entirely to white people. He'd need 70 percent of the white vote. It would destroy the Republican party by making it the party of white people." --
George Will
.
"He's effectively vowing to be an American Mussolini, concentrating power in the Trump White House and governing by fiat. It's a vision to make the last 16 years of executive abuse of power seem modest." --
David Boaz, executive vice president of the Cato Institute
.
"A diet, caffeine-free Marxist (really, the only thing wrong with being a Marxist is being a Marxist); a driven, leftist crook; and an explosive, know-nothing demagogue — all are competing to see who can be even more like Mussolini than is Obama. But in the caudillo department, surpassing even our own Evita, the Donald wins." --
novelist Mark Helprin
.
"Sure, call Trump a Nazi. Just make sure you know what you're talking about. The inventor of Godwin's Law about Hitler comparisons on the Internet says they're not always inappropriate." --
headline for a column by Michael Godwin
.
I used to think they dislike him because he threatens their livelihoods, because many of them and their friends are human leeches. But when I hear or read slams about the "lowest common denominator" and appealing to the uneducated, I realize the hate for Trump is more than a fear of losing their job; they live in Washington and loathe the rest of us.
"Well, Doctor, what have we got — a Republic or a Monarchy?"
Benjamin Franklin: "A Republic, if you can keep it."
We have not kept it. 'Tis time to restore our Republic, and Make America Great Again.