Last night, America saw fascism. An organized group of thugs, likely paid for by the billionaire plutocrats who fund Move On, succeeded in denying Trump the right to speak at a rally in Chicago.
They used the threat of violence.
But today, Trump defied fascism and spoke at several rallies.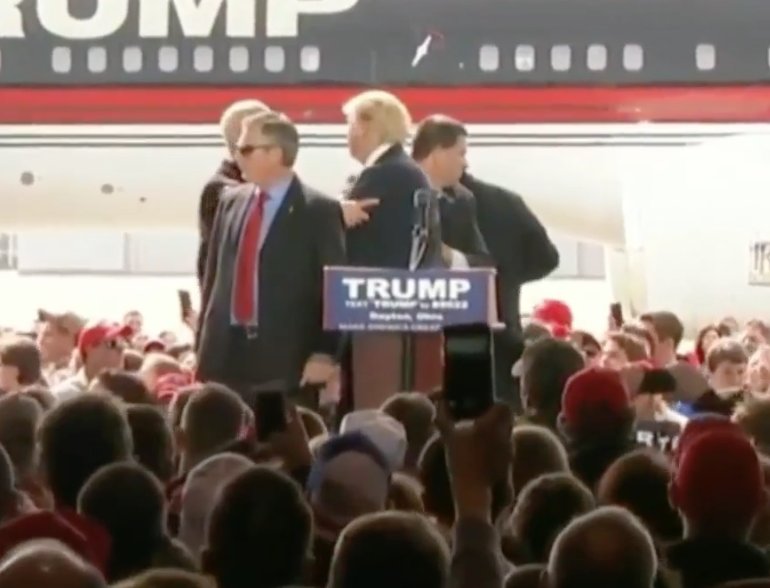 From NBC
:
A Donald Trump rally took a dramatic turn Saturday when a disturbance broke out behind him — causing Secret Service agents to jump on stage and form a wall around the candidate amid the commotion.
A campaign spokeswoman said that a man at the Dayton, Ohio, event "attempted to breach the secure buffer and was removed rapidly and professionally."
The suspect was identified as Thomas Dimassimo, 32, and was charged with disorderly conduct and inducing panic — both misdemeanors, Chief Mike Etter of the Dayton Airport Police Department told NBC News.
Dimassimo jumped the bike racks and tried to climb onto the stage, but was stopped by Secret Service stationed there, Etter said. He was being held at the Montgomery County jail in Dayton.
Trump is putting his life on the line by continuing to campaign. He opposes open borders, free trade, and political prostitution. This threatens the system. This is why there is widespread opposition among the hoity toity, and support among the hoi polloi.
The media ain't helping, as it reports his reaction to organized protests, not the fact that he continually faces this organized effort to shout him down.
Many people in journalism should be ashamed of blaming Trump for an organized effort to shout him. His "rhetoric" had nothing to do with Bill Ayers and company threatening him and his supporters with violence if he spoke.