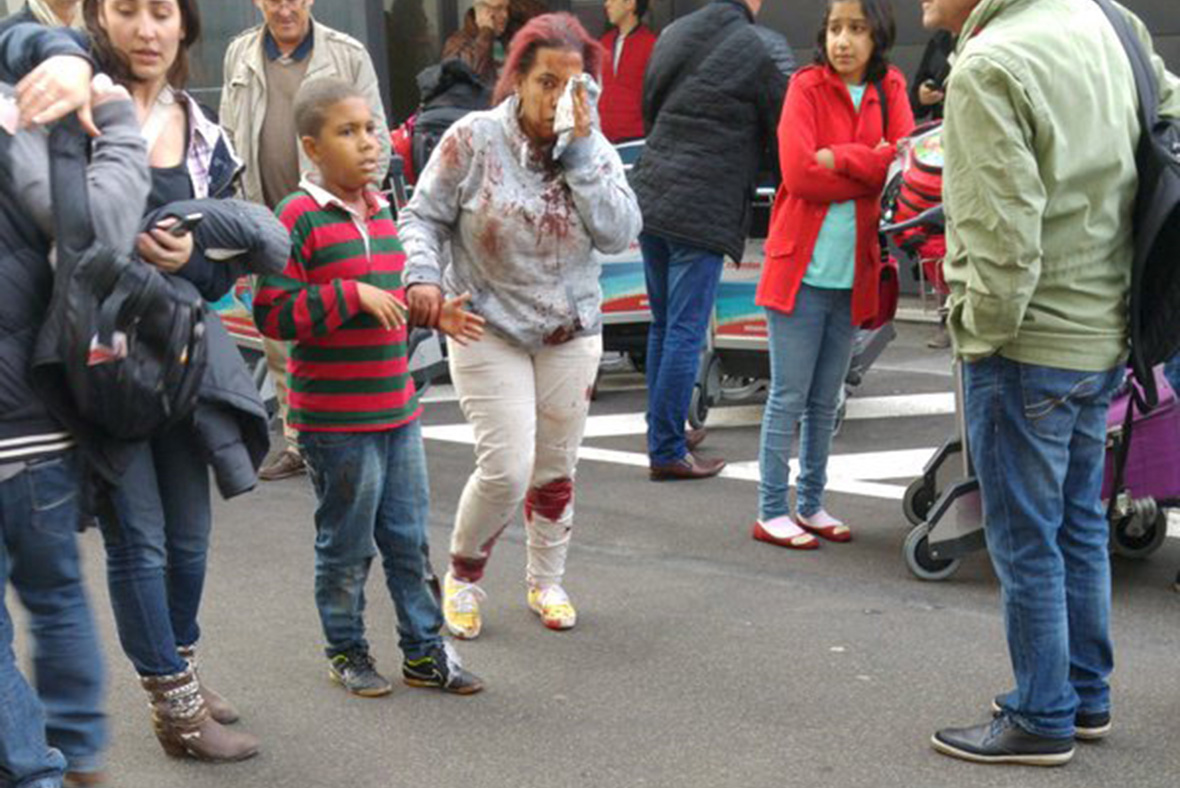 Brussels is on lockdown after Muslim terrorists blew up the subway system, killing 34 people. The bombing should end the European Union once and for all. A government that cannot protect its borders is useless. Europe needs to go back to having a Common Market and allow nations to be sovereign again.
In the United States, the presumptive next president reiterated his call for closing the borders.
From CNBC
:
Donald Trump said Tuesday that authorities interrogating suspected Paris terror suspect Salah Abdeslam should "do whatever they have to do" to get information in light of the deadly attacks in Belgium.
Trump said on NBC's "TODAY" if he were elected president he would make sure the United States has "strong borders," and said people looking to come into the country would need "absolute perfect documentation."
He and other presidential candidates reacted to the deadly explosions that rocked the main Brussels airport and the metro system near European Union buildings.
Brussels was on lockdown, with Tuesday's blasts coming four days after the arrest of Abdeslam.
From CNN
:
Donald Trump reacted to the explosions that rocked Brussels Tuesday morning, describing the scene as a "disaster" and warning that "this is just the beginning."
The Republican front-runner, who has made immigration and security issues central to his 2016 presidential bid, discussed the reported suicide attacks in an interview on Fox News' "Fox and Friends."
"I will tell you, I've been talking about this a long time, and look at Brussels," Trump said. "Brussels was a beautiful city, a beautiful place with zero crime. And now it's a disaster city. It's a total disaster, and we have to be very careful in the United States, we have to be very careful and very vigilant as to who we allow in this country."
From CBS
:
The 2016 presidential candidates have been responding to the Brussels terror attacks.
"I would be extremely careful about people from the Middle East coming into our country. I would be extremely careful as to what's going on," Donald Trump told CBS News. "You have an ISIS problem that's a massive problem. They want to come in, they want to do big damage, and I would be extremely careful about that."
Trump added he would "absolutely" question people arriving from the Middle East at airports.
On Twitter, Trump said "Do you all remember how beautiful and safe a place Brussels was. Not anymore, it is from a different world! U.S. must be vigilant and smart!"
The network then quoted statements issued by the rest of them.
Who cares?
They are irrelevant, including Clinton who held the title of Secretary of State for four years. As of 10 a.m., no word from President Obama. Not one. Apparently standing in front of the memorial to mass murderer Che in Cuba tuckered the man out. He is so tired he could not issue the rote statement that this is not what Islam is and that we should not cave in to our instincts to do something rational because that is what these terrorists want us to do. Guess apologizing to Castro's brother was just too tiring.
Trump identified this problem early on and endured the wrath of an out-of-touch Washington press who called him xenophobic, racist and Islamophobic.
Forget the polls. Go by the pols. There is only one president now. And he lives in Trump Tower.
UPDATE: From Havana, Obama gave his planned speech calling for the United States to accept Cuba as a communist dictatorship, but he did say:
"To president Castro, to the people of Cuba, thank you so much for the warm welcome. It is an extraordinary honor to be here today. I want to comment on the terrorist attacks that have taken place in Brussels. The thoughts and prayers of the American people are with the people of Belgium and we stand in solidarity with them. We will do whatever is necessary to support our friends and ally Belgium in bringing to justice. The world must unite. We must be together, regardless of nationality, or race or faith, in fighting against the scourge of terrorism. We can and we will defeat those who threaten the safety and security of people around the world."
This came a day after posing prominently before a tribute to the terrorist Che.