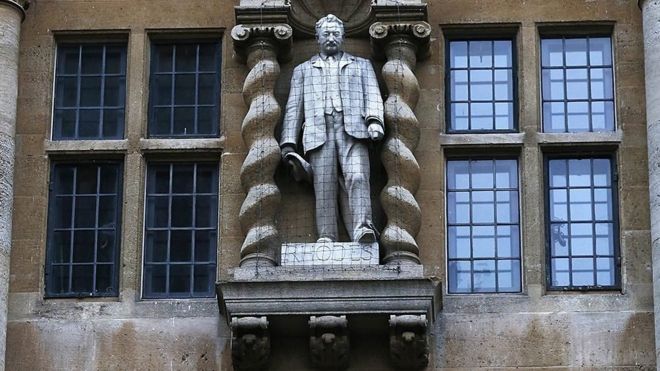 From the Daily Telegraph
:
Oxford University's statue of Cecil Rhodes is to stay in place after furious donors threatened to withdraw gifts and bequests worth more than £100 million if it was taken down, The Daily Telegraph has learnt.
The governing body of Oriel College, which owns the statue, has ruled out its removal after being warned that £1.5m worth of donations have already been canceled, and that it faces dire financial consequences if it bows to the Rhodes Must Fall student campaign.
A leaked copy of a report prepared for the governors and seen by this newspaper discloses that wealthy alumni angered by the "shame and embarrassment" brought on the 690-year-old college by its own actions have now written it out of their wills.
The college now fears a proposed £100m gift - to be left in the will of one donor - is now in jeopardy following the row.
The donors were astonished by a proposal to remove a plaque marking where Rhodes lived, and to launch a six-month consultation over whether the statue of the college's biggest benefactor should be taken down.
But Oriel College confirmed in a statement to the Telegraph: "Following careful consideration, the College's governing body has decided that the statue should remain in place."
So the ingrates at the college failed.
We keep forgetting students are in college to learn, not teach.
Rhodes is one of the millions of dead white males who over 500 years civilized the savages in Africa and the Western Hemisphere. Rhodesia was better as a colony than it is as Zimbabwe under Mugabe. Removing the statue denies the improvement to Africa by Rhodes and others. Demonizing Rhodes is the same as saying Mugabe is better for Africa. It is that simple.
The West should stop apologizing for bringing a better life to the world.