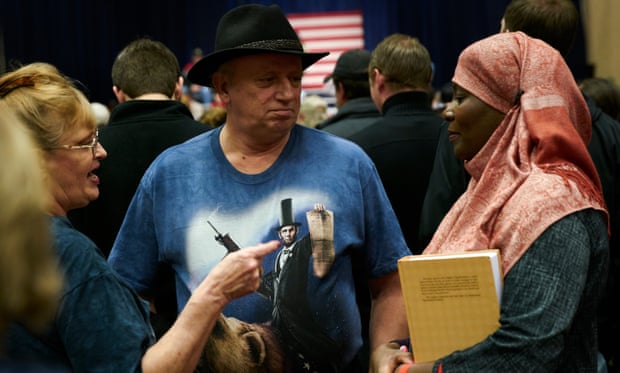 Kaddie Abdul, "an IT data engineer working in Silicon Valley," decided to drive four hours to a Trump rally in Nevada to show how racist "those people" are. She wore her Muslim garb, held her Koran, and waited for someone to attack her. No one did. A few people gave her an odd look, but nary a nibble.
Darn it.
Apparently the Guardian in Britain had paid for her gasoline, so she had to write something, so she wrote: "I went to a Trump rally in my hijab. His supporters aren't just racist caricatures."
Actually, she meant "just aren't racist caricatures."
The article is itself racist, portraying Trump supporters as a bunch of hick white people who want to kill Muslims.
From the article
:
It is important to give people that may not have ever met or interacted with a Muslim an opportunity to meet her and learn about Islam from someone that actually practices it. And it it important, at a time when people like me too often face discrimination and hatred living our daily lives, to be polite, and yet be visible and present when we are the subject of political speeches.
And nothing bad happened to me at the rally: there were some hard stares and dirty looks, but no outright rude behavior. I spoke to several lovely people and had the type of informative and substantive discourse that one should expect at a political event. It was good to see that the bullies and thugs who have been fixtures at several other Trump rallies had taken the day off; maybe they were just too shocked to say anything directly to me.
Yes, they were so racist that they did not do anything racist to her.
She also wrote, "Before this weekend, I'd never staged any sort of civil disobedience act; before this weekend, I had been perfectly content to never attend a Trump rally."
Which shows she also does not understand the concept of civil disobedience, which means defying a law in a political protest and suffering whatever punishment comes. She seems to think trolling a rally makes her Gandhi or Martin Luther King.
Unattacked and disappointed, Abdul wrote:
His supporters are people, not caricatures. They feel marginalized economically, politically, and socially; they see a world different from the one they think should exist. Many non-Trump supporters are also concerned about the current economic and political state of our planet and its implications for a stable future for our children.
I am so glad that she realizes his supporters are people, too. There is a certain lack of self-awareness that allowed her to stereotype and stigmatize an entire group of people based on little knowledge. But she has taken the first step by admitting Trump supporters are human. What next? Will she ever eat a meal with one? Invite them to her home? Allow them to date her daughter?
Probably not, for she ended her column:
Yes, what I did could have been dangerous: the Trump campaign, like many movements, has been dogged by its share of mischief makers. The thugs and bullies who have hurt other dissenters are a small, but very real, part of the ultra-nationalism that vague, implausible rhetoric like Trump's attracts.
But it was worth the risk to me to show them that their insecurities about Muslims was unfounded. It was worth it to humanize Muslims for them. And it was worth it, to me, to recognize their humanity, too.
But what she did was not dangerous. Going outside without a male escort in Saudi Arabia is dangerous for a woman. The only physical danger in driving to Nevada to troll Trumpkins was the drive itself -- something she will not be able to do when she makes her pilgrimage to Mecca.
Trump supporters did not gang rape her because she was Muslim. They did not beat her because she was Muslim. They did not to a damned thing to her -- and she should have known they would not. There are no thugs or bullies at these rallies. They are a fiction, just like the fiction that the Tea Party was racist.
But what is a fact is that in Europe, Muslim hordes are raping European women because of their race and religion.
This is America, the largest Christian country in the world. We accept all religions. It is the Muslim countries -- Saudi Arabia, Iran, etc. -- that are the bigots with thugs and bullies who rape, who beat, who behead. They are the racist, ultra-national, religious bigots.
As we learned on New Year's Eve, those nations are exporting their armies into Europe to rape, kill and spread fear.
Trump wants to stop that.
That is why she and Rose Hamid and others are trolling Trump's rallies. They want to undermine Western resistance. And when they don't get the reaction they desire -- when the facts show them wrong -- they cling bitterly to their stereotypes, nevertheless.