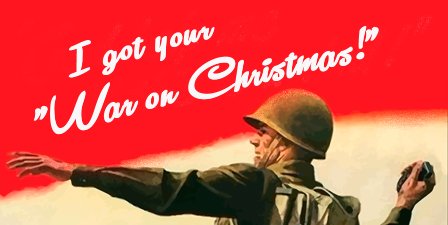 Just a reminder, at least 307,000 veterans now have died waiting for VA care, according to the GAO.
Instead of being ashamed, the unionized, Civil Service-protected, overpaid staffers at the VA hospital in Salem, Virginia, is banning Christmas.
From WSPA, a memo to the VA staff in Salem
:
The Salem VAMC Executive Leadership Team wishes to extend our wishes for a happy holiday season in a manner that is welcoming to all. To that end, public areas may only be decorated in a manner that is celebratory of the winter season. Displays must not promote any religion. Please note that trees (regardless of the types of ornaments used) have been deemed to promote the Christian religion and will not be permitted in any public areas this year.
Employees are permitted to engage in private religious expression in their personal work areas that are not regularly open to the public. Religious expression will be permitted as long as it does not interfere with carrying out of official duties and responsibilities. Items must be displayed in a manner such that the viewing public would reasonably understand the religious expression to be that of the employee acting in their own personal capacity and not of the government itself. If an employee's supervisor has previously granted them permission to listen to music in their personal work area, they should be reminded that music travels and should be secular (non-religious) and appropriate to the work environment.
Make the Grinches work on December 25. If they refuse to honor Christmas -- the legal name of the holiday -- then they forfeit the privilege of having this day off.