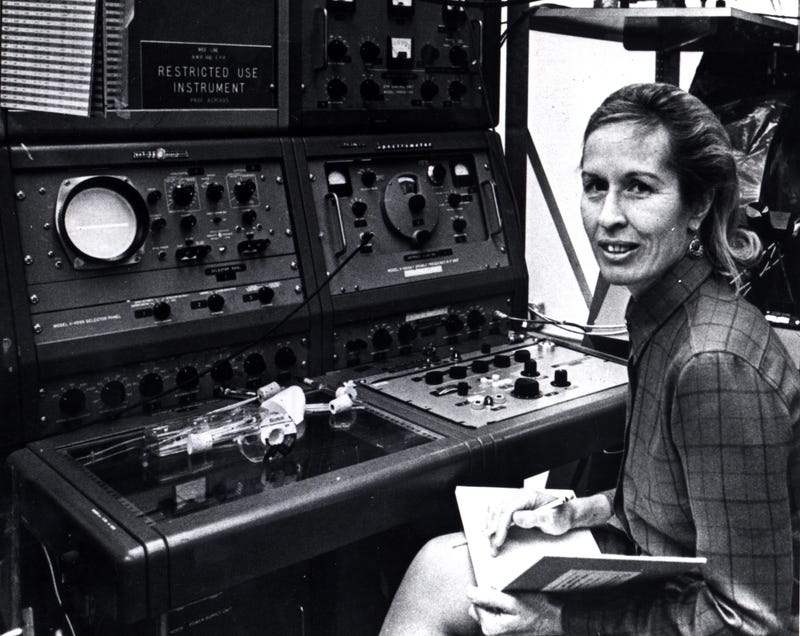 From the Manhattan Project to the space program, Ellen Cleminshaw Weaver not only helped pave the way for science, but for women.
Born on February 18, 1925, in Oberlin, Ohio, a daughter of James Morrison Cleminshaw and Mildred Riche Cleminshaw, she met and married physicist Harry E. Weaver Jr. while she attended Flora Stone Mather College at Western Reserve University in Cleveland, Ohio, in 1944. There was a war going on. Her husband worked in Oak Ridge, Tennessee, on the Manhattan Project, at what was called the Clinton Engineer Works. She followed and got a job as a chemical analyst. She took two classes at the University of Tennessee, which allowed her to graduate with her classmates at Western Reserve in 1945, receiving a degree in chemistry.
Her duties at Oak Ridge were to shield the phosphorus decay products of uranium fission. She built barriers of aluminum and led, but had no Geiger counter to monitor to see if her barriers worked, so she devised her own.
Smart and feisty at age 20, she confronted management when she learned that women scientists were paid less than men, and were paid hourly and not salary. Unsatisfied with the you're-lucky-we-hire-women attitude of government officials, she took it up with the president of Monsanto Chemical Company, which was the contractor. He readily agreed to place them on salary, and to raise the pay to $200 a month. However, the raise was too great, and General Leslie Richard Groves, who oversaw the project, refused to approve a raise their pay to $200 a month because of inflation concerns.
After the war, she worked for Standard Oil of Ohio for a while before the Weavers moved to California to pursue their academic careers. She received a master's in biological studies from Stanford, and a doctorate in genetics from the University of California at Berkeley. She also had three children with her husband -- Lynne, Mark, and Tom.
She worked for NASA before landing a part-time professorship teaching plant physiology at San Jose State University. Years later, she served as Director of the San Jose State University Foundation. She also served as Chairman of the Board for Sempervirens Fund and Councilor for The Save the Redwoods League.
Her husband's work, however, would led to Ellen Weaver's best contribution to science at NASA. Harry Weaver was a pioneer in electron paramagnetic resonance imaging, developing an EPR spectrometer. As a biologist, Ellen Weaver knew the importance of chlorophyll in photosynthesis, in which the nutrients carbon dioxide and water convert sunlight into food. Using the EPR spectrometer, scientists can detect chlorophyll activity.
Working with John Aversen at NASA, in the 1970s she developed the Coastal Zone Color Scanner, which allowed scientists to determine the production of plankton in the various areas of the ocean. The fear was that pollution was making dead zones in the ocean (which is true near where the Mississippi flows into the Gulf of Mexico).
In a newspaper interview published by Copley newspapers on March 10, 1973, Ellen Weaver said, "In a world not only hungry, but far behind in providing adequate protein to its people, the oceans are vital."
On October 24, 1978, NASA launched Nimbus 7, a one-ton satellite that began mapping the chlorophyll levels in the ocean, as well as six other scientific experiments.
Ellen Weaver died on May 14, 2011, in her home in San Rafael, California, at age 86, a pioneer in science and for women.
***
I am publishing the best of these tales, in Kindle and on Amazon.
Volume I covering American history from the 16th through the 20th century is here
. And
Volume II on The Capitalists is available here
.
Suggestions are welcome. Email me at DonSurber@GMail.com