John Basilone was a hero of the Battle of Guadalcanal, the first ground campaign between Japan and allied forces in World War II. Lena Mae Riggi was a woman Marine, a cook who made sergeant. He was at Camp Pendleton trying to get back to the frontlines after receiving the Medal of Honor for his heroics. She caught his eye, but she really wasn't interested in a Marine boyfriend, even if he was a celebrity who had appeared in Life magazine and on newsreels.
His was an earned celebrity.
"Basilone had a machine gun on the go for three days and nights without sleep, rest, or food. He was in a good emplacement, and causing the Japanese lots of trouble, not only firing his machine gun, but also using his pistol," Nash W. Phillips, of Fayetteville, North Carolina, recalled years later. Phillips was an Army Private First Class at the time.
Gunnery Sergeant Basilone had served three years in the Army and two in the Marines when World War II erupted.
Born on November 4, 1916, in Buffalo, New York, Basilone was the sixth of the 10 children of Salvatore and Dora Bencivenga Basilone. His father had emigrated from the province of Benevento, Italy, as had his mother's parents.
John Basilone at 15 decided against going on to high school. He worked as a caddy. In 1936, at age 20, he entered the Army. Sent to the Philippines, Basilone became a boxing champion, nicknamed Manila John. After his three-year enlistment ended in an honorable discharge, he soured on life as a civilian. He wanted to go back to the Philippines and decided the Marines were his fastest way to get there, and joined in 1940. he wound up at Guantánamo Bay, Cuba, which 20 years before Castro was not a bad assignment.
Then came Pearl Harbor. In the summer of 1942, the Allies decided to follow up their naval victory the Battle of Midway by confronting the Japanese in the Solomon Islands of Guadalcanal, Tulagi and Florida Island. As a member of the 1st Battalion, 7th Marine Regiment 1st Marine Division, Basilone was among the first troops to land on Guadalcanal. Two months later, the Japanese attacked Henderson Field, an airstrip under construction.
The Japanese did not send an ordinary unit in. They sent the Sendai Regiment. Members crawled atop barbed wire and served as human bridges for the attack forces.
The Marines, meanwhile, suffered malaria. But Basilone became a one-man Sendai Regiment. He and a small group of Marines held off 3,000 Japanese.
"Basilone was everywhere at once, clearing jams, calming nervous gunners, replacing parts, and repositioning guns … he became the glue that bound Company C together," Eric Hammel in Leatherneck magazine for the 50th anniversary of the Basilone's heroics.
The Japanese crossed their human bridges and began lobbing grenades, firing machine guns, and using mortar. Basilone had two machine gun sections of about 15 men. For the next two days, they fought without a break as wave after wave of Japanese attacked. Basilone maintained a steady stream of fire until reinforcements relieved him. He was down to his last two men when backups arrived. When ammunition ran low, he used his pistol.
The Medal of Honor was indisputable. His division commander, General Alexander Vandegrift, broke the news to him. Bastilone told him that was nice, but he did not want to go home and sell war bonds. The general had to talk him into it. The Medal of Honor citation read:
For extraordinary heroism and conspicuous gallantry in action against enemy Japanese forces, above and beyond the call of duty, while serving with the 1st Battalion, 7th Marines, 1st Marine Division in the Lunga Area, Guadalcanal, Solomon Islands, on 24 and 25 October 1942. While the enemy was hammering at the Marines' defensive positions, Sgt. BASILONE, in charge of 2 sections of heavy machine guns, fought valiantly to check the savage and determined assault. In a fierce frontal attack with the Japanese blasting his guns with grenades and mortar fire, one of Sgt. BASILONE'S sections, with its gun crews, was put out of action, leaving only 2 men able to carry on. Moving an extra gun into position, he placed it in action, then, under continual fire, repaired another and personally manned it, gallantly holding his line until replacements arrived. A little later, with ammunition critically low and the supply lines cut off, Sgt. BASILONE, at great risk of his life and in the face of continued enemy attack, battled his way through hostile lines with urgently needed shells for his gunners, thereby contributing in large measure to the virtual annihilation of a Japanese regiment. His great personal valor and courageous initiative were in keeping with the highest traditions of the U.S. Naval Service.
But Basilone believed all his men deserved the medal, and had the ceremony held on the field rather than at the White House.
"Only part of this medal belongs to me," he said at the ceremony. "Pieces of it belong to the boys who are still on Guadalcanal."
The military wanted to use him to raise funds and sent him on war bonds drives. He wanted to return to action. They offered him a commission and a desk job.
"I ain't no officer, and I ain't no museum piece," Basilone said. "I belong back with my outfit."
And so, instead of Washington, he wound up at Camp Pendleton. There, he taught machine gunning.
"He never barked like the other gunnery sergeants but ruled like a wiser, older brother looking after his younger siblings, with humor and a style all his own. Under the hot California sun, with our faces stuck in the dust of Camp Pendleton, he could pick up a draggy machine gun drill with 'Awright, ya goldbricks. Ya cut the time on settin' them guns up or don't expect no liberty come Friday!' And we did it because we knew he was the best machine gunner in the Corps and we wanted to be like him," said William Douglas Lansford, a Marine from Los Angeles.
They loved him. He would too fell in love with a Marine.
Lena Mae Riggi was born on March 7, 1913 in Portland, Oregon, to Italian immigrants. She left home to attend business school, but joined the Marines instead. He father disowned her. At 31, she was a field cook. Her attitude was she could do anything a man could. It was an attitude that grabbed Bastilone's attention.
"I saw her as I came down the serving line. She was dark -- Italian or Spanish kind of dark. Black hair, dark eyes, and she walked around like she owned the place," Basilone recalled.
She was gorgeous, a brunette with a wonderful smile. He was handsome as well. In another universe, they were Hollywood movie stars. But here, in this universe, there was a war going on.
"At first it was just a look between us. There was nothing on it. No wink or smile like we knew something special between us. It was just her looking at me from a distance taking stock of me and me looking back at her. I nodded and she might have nodded, or not, but she wasn't falling all over herself, to get to know me. I liked this girl. She was tough. And she was a sergeant, the rules against fraternizing didn't apply," he said.
But she was not interested. Yes he was handsome. Yes he was a hero.
"Sergeant Lena Riggi 'heard all from her lady friends about me. They went on and on about what a hero I was, how brave I was and that I knew all the movie stars.' Sgt. Riggi waited for the gossips to tire themselves out, looked at them and said, 'So what?' She was the girl for me. When she saw me again she pretended like no one else told her a thing about me and that was just the way I liked it," Basilone said.
They did not have time to dillydally. He knew he would be shipped out by summer's end. He asked her to marry him. She agreed. They set the date for July 10, 1944. They married on July 7. Why wait?
They did not have much time together as husband and wife. His division went to Hawaii. They promoted Lansford to sergeant and gave him an assignment in intelligence. He was no longer one of Bastilone's Boys. But he got to visit them a few weeks before Iwo Jima began.
"As I approached their tent area I could see the whole goofy crew giving one another haircuts with the company tools. John, his arms covered with hair, stood back surveying a perfectly grotesque job he'd just performed on another guy," Lansford wrote years later in the Los Angeles Times.
Basilone admired his work and said, "Not bad. Mohawk style — oughta scare the hell outta some poor Jap."
Basilone had shaved all his hair off and told Lansford, "It'll be cleaner. There's no barber shops on Iwo Jima."
Lansford wrote, "The words echoed in my ears long after I'd left him. Iwo Jima. So that was Island X. Then I couldn't help thinking: Shortly before leaving Pendleton, John had married Sgt. Lena Riggi, a pretty female Marine. So why wasn't he back in Pendleton? His answer had always been the same: 'I'm staying with my boys. They need me.' Perhaps it was the only answer that mattered."
The six-week Battle of Iwo Jima began on February 19, 1945. Basilone did not survive the day. They landed on the beach. The Japanese quickly pinned his men down. Basilone again rose to the challenge, throwing grenades and demolitions at a Japanese stronghold. Then he aided a Marine tank that was trapped behind enemy fire. Shrapnel from an enemy mortar killed him. He received the Navy Cross posthumously, becoming only enlisted man to receive both the Medal of Honor and the Navy Cross in the war.
On her 32nd birthday three weeks later, Lena Mae Riggi Basilone received a telegram, a terrible, terrible telegram, "Deeply regret to inform you that your husband, Gunnery Sergeant John Basilone, USMC, was killed in action February 19, 1945 at Iwo Jima, Volcano Islands, in the performance of his duty and service to his country. When information is received regarding burial, you will be notified. Please accept my heartfelt sympathy."
Her heartbreak can still be felt today. She received $10,000 in insurance money as his next of kin, but she gave the money to her family.
Her father reconciled with her over a cup of coffee.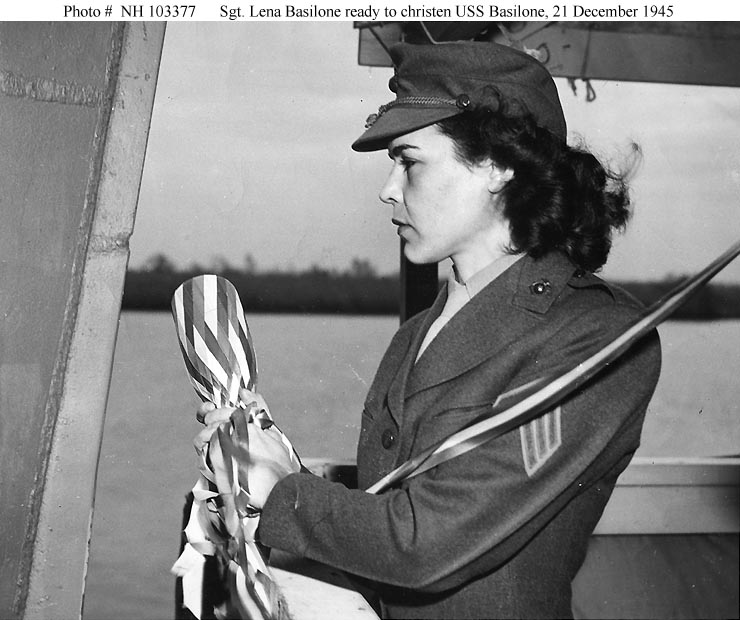 She made one public appearance when they named a ship after her husband. Then she left the Marines -- the war was over -- and went to work for an electric company, and moved to Lakewood, California. She died 54 years later on June 11, 1999. She never remarried.
They earlier had offered to bury her at Arlington, but she declined the honor, saying, "I didn't want to cause trouble for anyone."
But she spent most of the rest of her life working for Women's Marine Association, the American Veteran's Auxiliary, and the Long Beach Veteran's Hospital. John Basilone took care of his Marines in battle, she took care of them when they came home.
If that's not a Marine love story, nothing is.
***
I am publishing the best of these tales, in Kindle and on Amazon.
Volume I covering American history from the 16th through the 20th century is here
. And
Volume II on The Capitalists is available here
.
Suggestions are welcome. Email me at DonSurber@GMail.com