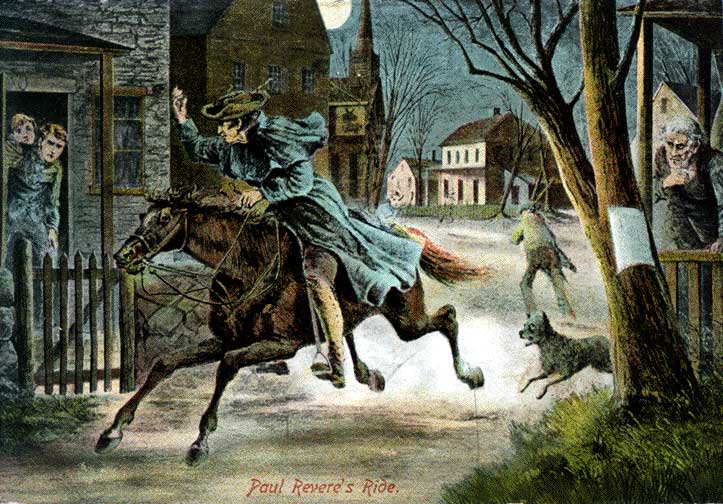 His engraving of the Boston Massacre angered Americans against the British. He participated in the Boston Tea Party. And on the 18th of April in 1775, Paul Revere rode into history, a symbol for Americans rallying to fight for freedom.
However, he and his ride were largely forgotten for a nearly century, until Henry Wadsworth Longfellow used Revere's feat to rally the nation again.
Born on December 21, 1734, in the tough North End of Boston, his father was Apollos Rivoire, a French Huguenot who Anglicized the family name. Rivoire was 13 when he landed in Boston and became an apprentice to John Coney, who at the time was the best silversmith in Boston. After his apprenticeship, Rivoire opened his own shop, and in turn apprenticed Paul, his oldest surviving son, at age 12. This proved crucial to the family's survival, as Rivoire died when Revere was 19, and Revere took over the business, taking care of his mother and siblings. At 21, he enlisted to fight in the French and Indian War.
The next year, he returned to Boston and married Sarah Orne. She died after the birth of their eighth child. Revere promptly married Rachel Walker, who took care of his brood and gave him eight more children. Only 11 of his 16 children survived infancy and childhood. Such was the pioneer life.
His family lived in a townhouse at 19 North Square. His home still stands and is Boston's oldest building, built in 1680 to replace another house on the same site, which was destroyed in the Great Fire of 1676.
Revere was good at his craft, making tea sets and silverware, as well as engravings. He made business cards, posters, and bills of fare for taverns. He also performed dental work, making false teeth from ivory. (No, George Washington was not a customer.) Revere also rang the bell at Old North Church.
His silver customers were fellow artisans and the well-off. The imposition of the Stamp Act in 1765 hurt the Boston economy, which adversely affected his customers and his business, hence his opposition. This led to an interest in politics.
At 25, Revere had joined the Freemasons. He also knew his fellow artisans as well. While he continued to do well, he knew others who suffered. In 1766, the St. Andrews Lodge of Freemasons -- his lodge -- bought the Green Dragon Tavern to serve as their headquarters. They used the first floor for their meetings, as did the Sons of Liberty and other groups. But the basement of the Green Dragon became the headquarters of the revolution. Revere was very active in the Masonic lodge, and at 35, he became the lodge's Worshipful Master on November 30, 1770.
By then, Revere was known for his engraving of the Boston Massacre -- largely propagandistic. Indeed, his friend and fellow Patriot, John Adams, defended in court eight of the soldiers charged in the massacre. Revere drew a more accurate depiction for Adams, and six soldiers were acquitted.
And while Revere's involvement in the Boston Tea Party was well known, he never disclosed this as the men had agreed not to tell. He kept his word, as did Benjamin Edes, the publisher who organized this protest.
Revere became a spy, using his connections to the well-to-do, as well as his fellow artisans. The Patriots learned the British were about to move on the Sons of Liberty Dr. Joseph Warren, the young and bright revolutionary leader, ordered Revere to warn Samuel Adams and others when the British made their move.
Longfellow's account was quite accurate on this point:
He said to his friend, "If the British march
By land or sea from the town to-night,
Hang a lantern aloft in the belfry-arch
Of the North-Church-tower, as a signal-light,--
One if by land, and two if by sea;
And I on the opposite shore will be,
Ready to ride and spread the alarm
Through every Middlesex village and farm,
For the country-folk to be up and to arm."
Revere knew that belfry well. And so it went that fateful night. Historians doubt that Revere cried, "The British are coming," because that would have warned the Loyalists as well as the Patriots. Also, it would have attracted the attention. Revere had been on at least 18 similar midnight rides to relay information to other Patriots.
Yes, William Dawes rode with him, and others later joined him on his journey -- some accounts say as many as 40 other people heard him and then rode to warn others. But that may have been his plan.
The British caught him before he reached his destination of Concord. The British seized his horse, Brown Beauty, which he had borrowed from John Larkin, a merchant in Charlestown. The soldiers made Revere walk home, a journey of 15 miles. But his walk took him to Lexington, where he watched the Patriots square off with the British and the firing of the shot heard round the world.
The British siege of Boston kept Revere from going home. He stayed with friends in Watertown.
Later, Revere was part of the ill-fated Penobscot Expedition, in which one thousand Patriots and 44 ships went to Maine (which was part of Massachusetts until 1820) with the hopes of invading a 14th colony the British had just created in Maine called New Ireland. The expedition was an expensive and humiliating defeat for the Americans, who were forced to destroy all their ships. It was the worst naval defeat for the nation until Pearl Harbor 162 years.
Exonerated in a subsequent court martial, Revere's military career died on that battlefield.
His work as a silversmith continued and he enjoyed great success. After the war, he opened a foundry in 1788, which made bolts, spikes and nails for North End shipyards. He even made brass fittings for the U.S.S. Constitution, as well as cannon and bells. In 1801, at age 66, he opened the nation's first copper rolling mill in Canton, Massachusetts. His Revere Copper and Brass, Inc., which is still in business today more than two centuries later selling Revereware pots and pans.
And his work can be seen in Boston, for he won the contract in 1803 for the dome of the new Massachusetts State House in 1803.
A part of him is also under the State House as he and Samuel Adams buried a time capsule inside the cornerstone.
He died on May 10, 1818, at age 83 in his beloved Boston. He left a home, a company, and money to his five surviving children. To his nation, he left his spirit. Longfellow knew this. A New Englander, Longfellow likely grew up hearing the tale. Longfellow delved deep in his nation's history, and his "The Song of Hiawatha" made his name and his fortune. As the civil war seemed inevitable, Longfellow struggled with Paul Revere's ride. He wanted to warn Northerners of the dangers that lay ahead.
" 'Paul Revere's Ride' was published in the January 1861 issue of The Atlantic, which appeared on newsstands on Dec. 20. It was read as a rallying cry for the Union. It is a poem about waking the sleeping, and waking the dead," Harvard historian Jill Lepore wrote in the New York Times on December 18, 2010, on the occasion of the 150th anniversary of its publication.
We revere Paul Revere for the same reason we revere freedom. He was an ordinary citizen who became extraordinary when duty called. We like to think that we could do the same if the need arose.
***
I am publishing the best of these tales, in Kindle and on Amazon.
Volume I covering American history from the 16th through the 20th century is here
. And
Volume II on The Capitalists is available here
.
Suggestions are welcome. Email me at DonSurber@GMail.com.