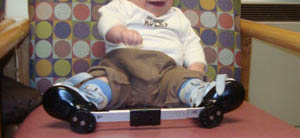 Each year, nearly 200,000 children are born with clubfoot, which renders them unable to walk if left untreated. Throughout the 20th century the treatment was a painful seres of surgeries and casts that often left the child with a limp, stiff ankles, and a lot of pain.
But a surgeon who learned his trade as a doctor in the Spanish Civil War came up with a non-surgical method that was better, and thanks to the Internet, the norm.
Born on June 3, 1914, in Minorca, off the coast Spain, Ignacio Ponseti's father was a watchmaker. As a lad, Ponseti helped his father, which was good training for his later career in medicine. His family apparently was well off, as they moved to Barcelona where he saw Picasso's art and heard Casals' cello. On July 16, 1936, Ponseti graduated from the University of Barcelona medical school. The next day, the Spanish Civil War erupted. He joined the Republican Army as a military surgeon.
After Franco's Army won, Ponseti faced imprisonment. He spent three days setting the fractures of 40 men, then with the aid of smugglers, he put the men on mules and they crossed the Pyrenees to France and freedom from fascism.
Ponseti headed for Mexico where he became a village doctor in Juchitepec, which is south of Mexico City. After two years, Dr. Juan Farril of the University of Mexico recommended Ponseti to Dr. Arthur Steindler of the University of Iowa. However, Ponseti left Spain without his diploma and he spoke no English.
Carl Emil Seashore, the dean of the graduate school, took care of the matter. He had been born Carl Emil Sjöstrand on January 28, 1866, in Mörlunda, Sweden. The family moved to Iowa when he was 4 and Americanize their surname to Seashore, even though they lived in the one state that is furthest from a seashore. Doctor Seashore was an expert in the psychology of stuttering and had developed the Seashore Tests of Musical Ability in 1919, which is still used in a modified version a century later.
Arthur Steindler was born in Vienna, Austria, on June 22, 1878, where he received his medical degree in 1902. He emigrated to Iowa and established the University of Iowa's orthopedics department and saved the University of Iowa Hospital from budget cuts in 1915. In fact, he lobbied legislators to have the state pay the tab for"any child under age sixteen afflicted with some deformity or suffering from some malady that probably can be remedied."
He developed a surgical treatment for clubfoot in 1921 which came into widespread use. But 20 years later, he tasked Ponseti with reviewing the treatment. Ponseti found the children suffered limps and other problems as adults. After studying the feet of infants, Ponseti developed a less intrusive and non-surgical method which called for the manipulation of the foot and casting it in plaster, then going back a few weeks later and manipulating the foot again. This was like Steindler's process but without the surgery. Steindler encouraged him.
"Physicians have been doing manipulation for clubfoot since Hippocrates, but they did not know how the joints moved," Ponseti said in 2007. "They just tried to smash the bones into position. You have to be able to feel every one of the bones with your hands. It's a little bit like playing the piano.
Ponseti's method required skill and used the techniques he had learned working on those watches. It was less expensive and could be performed by trained people who were not surgeons. But while his method became the gold standard, surgery remained overwhelmingly in use. He retired from the university, but continued to advocate for manipulation instead of treatment.
In 1996, two things happened that turned the tide. At 82, he published, "Congenital Clubfoot: Fundamentals of Treatment" -- and the Internet reached the middle class. Concerned parents of infants with clubfoot used the worldwide web to spread the word of this nonsurgical treatment. The Ponseti method took off as the 21st century began. He traveled to developing countries where 80 percent of the 200,000 cases of clubfoot annually are. That is in line with the developing world's share of births.
Grateful parents began sending him T-shirts with the footprints of their children. This touched him deeply. He had changed the world.
Doctor Ponseti died on October 18, 2009, at age 95, from a stroke in his office at the University of Iowa. He should have been one of the leading surgeons in Spanish history, but fascism sent him to America, where he figured out a way to help babies with clubfoot walk without surgery.
***
I am publishing the best of these tales, in Kindle and on Amazon.
Volume I covering American history from the 16th through the 20th century is here
. And
Volume II on The Capitalists is available here
.
Suggestions are welcome. Email me at DonSurber@GMail.com.