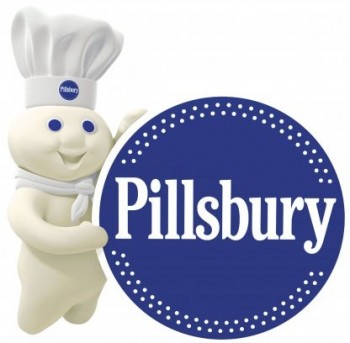 After the Civil War, Minnesota became a hotbed of the flour industry. In 1869, Charles Alfred Pillsbury sold his share of a dry goods store in Quebec to join the fray. Despite having no experience in milling, Pillsbury along with rival Cadwallader Colden Washburn, revolutionized the flour industry. (Cadwallader is the name of a 7th century Welsh king.)
Born on December 3, 1842, in Warner, New Hampshire, Pillsbury graduated from Dartmouth in 1863 and headed for Canada, perhaps to avoid service in the Civil War. He worked for a dry goods store in Montreal, eventually becoming a partner. But when his uncle, John Sargent Pillsbury, asked Charles Pillsbury to come to Minnesota to save his flour mill in 1869, Charles Pillsbury sold his share of the dry goods store and invested in the mill.
The mill was one of several mills that used the Falls of Saint Anthony on the Upper Mississippi River for power. Washburn had set the whole thing up after he acquired control of the Minneapolis Mill Company. He supplied the power and companies set up the various mills for cotton, wool, lumber, grist, and of course, flour.
Born on April 22, 1818, in Livermore, Maine, Washburn was a land speculator, banker, and investor, who later became the 11th governor of Wisconsin. (Pillsbury's uncle and business partner, John Pillsbury, served three terms as governor on Minnesota.) Washburn also formed the LaCrosse Lumber Company in 1871.
But it was his flour mills where Washburn made his lasting fame and biggest fortune. In 1866, after returning from service in the Civil War, he built a mill people said was too big to turn a profit. But it did and in 1874, he built an even bigger one, the Washburn A Mill. But an explosion and fire destroyed the building on May 2, 1878. He rebuilt it. His company would eventually become General Mills.
Meanwhile, in 1869, the Pillsbury company produced a paltry 200 barrels of flour a day, as one of the many small, old-fashioned flour mills in the area. Charles Pillsbury considered the situation, and decided to modernize. He replaced the big heavy burr stone by importing a rolling steel process from Hungary, becoming the first American company to do so. Meanwhile, Edmund LaCroix, a French inventor, had developed the middings purifier fro Washburn. It was a device that made spring wheat (planted in the spring, harvested in the summer) as desirable in flour as winter wheat (planted in the fall, harvested in the spring). Pillsbury bought the technology and along with the rolling steel, production increased 50-fold to 10,000 barrels a day of wheat from any season.
Pillsbury also was a great marketeer. He called his flour "Pillsbury's Best," as if there were a Pillsbury's Not As Good. But he backed his claim of high quality by purchasing the Millers Association, which in turn supplied only high quality wheat. He formed a grain elevator company, and was instrumental in creating a railroad to bring wheat to the mills in Minneapolis.
He also marketed his flour to England, eventually attracting investors who bought him out in 1889.
As a manager, he introduced profit-sharing and was liberal in paying workers.
Pillsbury stayed as manager until his sudden death from heart problems on September 17, 1899. He died too young to enjoy it or to indulge in philanthropy, but his sons used the family fortune wisely.
His uncle, John Pillsbury, is considered the "Father of the University of Minnesota," having saved it from bankruptcy as a state senator.
But his nephew Charles Pillsbury and rival Cadwallader Washburn did more for Minnesota by building a successful business that sold to the world wheat grown in that state and the Dakotas.
***
I am publishing the best of these tales, in Kindle and on Amazon.
Volume I covering American history from the 16th through the 20th century is here
. And
Volume II on The Capitalists is available here
.
Suggestions are welcome. Email me at DonSurber@GMail.com.