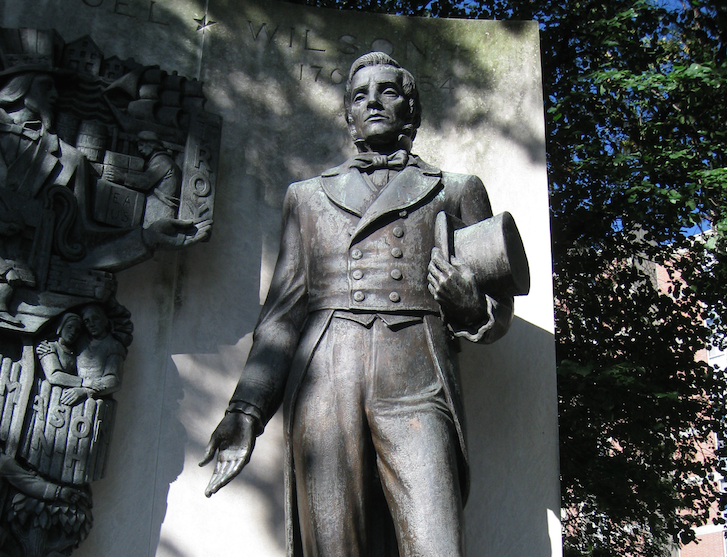 When he was 14, Samuel Wilson left his home in New Hampshire and joined the Continental Army in 1781. The war was winding down, and he was too thin for the infantry. They had him guard the cattle from being poisoned by the enemy.
That seemingly duty of small importance led to the eventual creation of the national mascot, Uncle Sam.
Born on September 13, 1766, in Menotomy, Massachusetts, to Edward and Lucy Wilson, Samuel Wilson was of Scottish ancestry. His family moved to Mason, New Hampshire, a few years later. On March 2, 1781, he enlisted. Many accounts say he was 15, however, his 15th birthday came more than six months later. His duties of tending the cattle were in keeping with his age. He also learned to slaughter animals, and to package meat. That's not exactly Teddy Roosevelt charging San Juan Hill but soldiers cannot go into battle on empty stomachs.
In 1789, he followed his older brother, Ebeneezer, and moved to the frontier town of Troy, New York. He became a successful brick maker. People had been importing them from the Netherlands, the ancestral home of many of the settlers.
On March 8, 1793, the brothers launched a new enterprise, E. and S. Wilson, butchers. Their slaughterhouse stood between Congress and Jefferson streets in Troy. Samuel Wilson later became the town's assessor and its road commissioner in 1808. The brothers built a dock on Ferry Street. When the War of 1812 erupted, they landed a contract to supply meat to the Army.
The company marked the barrels of food U.S., for the United States. But soldiers began referring to the food as Uncle Sam's. The name stuck. Uncle Sam became the nickname for the federal government. A war veteran wrote, "The Adventures of Uncle Sam: In Search After His Lost Honor," in 1816. The story glorified was a meat inspector from Troy that undoubtedly was Samuel Wilson. A story in the New York Gazette on May 12, 1830, cemented the Samuel Wilson legend.
A better model for Uncle Sam is difficult to imagine. He was a hard-working, honorable man who provided a good service to his customers.
The nation had many mascots then. Columbia was a dame in an Athenian robe that was red, white and blue. Brother Jonathan represented freedom, but eventually morphed into Johnny Reb when the Civil War broke out.Satirist Frank Bellew's depiction of Uncle Sam in 1852 made a bit of a celebrity of Samuel Wilson, two years before his death on July 31, 1854, at age 87, in Troy.
But Uncle Sam was just beginning to rise. Political cartoonist Thomas Nast began depicting Uncle Sam in red, white and blue, and a top hat, in Harper's Weekly during the Civil War. And James Montgomery Flagg's "I Want You" Army recruitment poster for World War I cemented Uncle Sam in the minds of everyone. Old and skinny, and willing to knock your head off for freedom.
In 1961, Congress officially recognized Samuel Wilson as the original Uncle Sam. For the bicentennial in 1976, the people of Arlington, Massachusetts erected a monument to him. The statue depicts a young, well-groomed Samuel Wilson holding a top hat. Next to the statue is a bronze relief depicting him on horseback as a young man, behind a picket fence as an adult, and as the cartoon character in his old age.
And the lesson for any soldier is simply this, no matter how small and seemingly unimportant an assignment may be, it can lead to something bigger. The boy who guarded cows became our national mascot.
***
I am publishing collections of the best in this series of Exceptional Americans, with the second volume published on September 1. Here are the links to both "
Exceptional Americans 1
" and "
Exceptional Americans 2
."