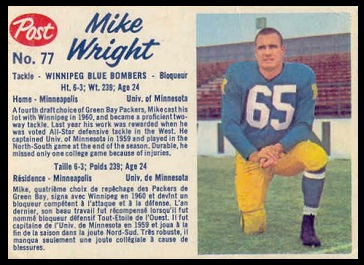 Mike Wright was 6-foot tall in seventh grade. He excelled at baseball, basketball, and football, where he played tackle on both sides of the line at a time when there were still 60 Minute Men in the game. He turned down the opportunity to play for Vince Lombardi, opting for the Canadian Football League. And playing football in college and the pros taught Michael William Wright the teamwork and leadership skills that would lead to his 20-year reign as a CEO of a major grocery and drug store chain.
Not bad for the son of a construction worker whose wife also had to work part time to support the family.
Born on June 13, 1938, in Minneapolis, Minnesota, Wright's story really began 15 years earlier when his paternal grandfather, a lumberjack, drowned when his team of horses fell through the ice in the St. Croix River. This forced Wright's father to drop out of school in eighth grade to work to support his mother and siblings. He became a lumberjack and vowed that his children would go to college. Later, he worked for a construction team in a power plant. His wife worked retouching photos for 15 cents a photo.
Mike Wright was lumberjack big by the time he became a teenager. He already had his first job in fifth grade, washing pots and pans at a bakery. He had paper routes, picked weeds for a nursery, worked as a golf caddy, and was grocery store carry-out boy. In high school, he worked each summer on an overhead line crew for the power company. He even served as the night watchman for the Ice Follies when it came to town.
But his love was sports. He led his eighth-grade team to win the Minneapolis Championship and the Twin Cities Championship. That led to a partial scholarship at Saint Paul High School. He hitch-hiked to the campus and back for two years until he bought a 1938 Dodge for $45. His high school football playing and scholarship led to offers from Stanford, Notre Dame, Dartmouth, Colorado, and other colleges. He chose the University of Minnesota, which was close enough that his parents could attend the games and see him play. He missed only one game due to injury in his college career.
While the Golden Gophers were pinchbeck in those days, Wright was an all-star, playing in the North-South All Star game. He also was an academic all-star, as he had his sights set on law school.
Lombardi's Green Bay Packers drafted him in the fourth round in 1960, but Wright headed north to play for Bud Grant and the Winnepeg Blue Bombers. They won the CFL's coveted Grey Cup in his second year. He and the rest of the team joined the Manitoba Sports Hall of Fame in 1994.
But law school beckoned and he left pro football at 24 after the 1962 season. Securing a law degree the next year -- he graduated with top honors -- Wright joined the prominent Minneapolis law firm of Dorsey and Whitney. After one year, the Army drafted him and unlike Lombardi, he could not turn them down. After two years, he was back at the law firm.
In March 1977, Wright switched to the corporate world, joining Super-Valu, an Eden Prairie, Minnesota, chain of supermarkets and pharmacies. The company named him senior vice president for administration and the next year promoted him to chief operating officer. In 1981, Wright became the CEO, running the company for the next 20 years.
He also served as chairman of the Federal Reserve Bank of Minneapolis while Super-Valu CEO.
That's some dumb jock.
"Athletics teaches you discipline, how to work hard to accomplish your goals, and how to succeed in a team environment. It also teaches you how to overcome the trials and tribulations of losing," Wright said in 1999. "Even though at times you lose, you don't quit, you keep trying. The competitive desire necessary in athletics is also necessary in business and in life. Athletics also teaches you how to put winning into perspective. Ultimately, in any endeavor, it's performance that counts. Anyone can compete, but it seems that those who work the hardest and perform the best on a consistent basis are the ones who usually succeed."
Certainly he has succeeded. Retiring at 63 in 2001, Wright served as a director of Wells Fargo, Canadian Pacific Railway, Cargill, S.C. Johnson and Son, and Honeywell International.
***
I am publishing the best of these tales, in Kindle and on Amazon.
Volume I covering American history from the 16th through the 20th century is here
. And
Volume II on The Capitalists is available here
.