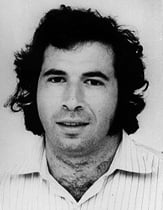 This profile should be about a man in his 70s who retired after a lengthy career as a jurist and civil rights attorney. But history compels me to profile David Mark Berger when he was 28.
Born on June 24, 1944, in Shaker Heights, Ohio, to a prominent Cleveland physician, Dr. Ben Berger, and his wife, Dorothy, David Berger was a good student and a good athlete. He had a brother, Fred, and sister, Barbara, whom he liked to tease. He attended Anshe Chesed Fairmount Temple in Beachwood, Ohio, and graduated from Shaker Heights High School in 1962. Tulane gave him an athletic scholarship.
"Weightlifting to (David), that was his No. 1 priority," his father told Cleveland Jewish News in 2012.
He was good at it. He may not have been big, but like an ant, he could lift more than his weight.
His father said, "I used to tell him 'You may not be the best weightlifter in the world, but you're certainly the smartest!' "
And he was smart. With the goal of a law degree eventually, he majored in psychology at Tulane, graduating in 1966. Three years later, he not only received his law degree from Columbia, but an MBA as well. Certainly Berger lived up to his first name, David, as he combined strength, intelligence, and faith.
In his junior year at Tulane, he won the NCAA weightlifting title in the 148-pound class. After graduating from Columbia, Berger competed in the 1969 Maccabiah Games, the Jewish Olympics. He won a gold medal as a middleweight weight-lifter.
This also qualified him to tryout for the Israeli Olympic team, which he made. He was one of 36 athletes and coaches to represent the Jewish state in the 1972 Olympics in Munich. There was some trepidation about this venue. Hitler had used the 1936 Berlin Olympics to put a facade of freedom on his terrorist state. Within a year, the Krystalnacht pogrom destroyed thousands of Jewish businesses. Within four years, Germany plunged the world into its most horrific war -- and began killing two-thirds of all Jews in Europe.
But they went anyway. American swimmer Mark Spitz competed in seven events -- winning gold each times. The magazines glossed over his Jewish faith, which given the background of Germany's past was a terrific accomplishment. He had won a total of 10 gold medals at the 1965 and 1969 Maccabiah Games.
During practice, Yosef Romano, Israel's best weightlifter, blew out his knee and was scheduled to return home on September 6, 1972. He played backgammon with Berger before returning home.
Romano never made it home. At 4:30 am. local time on September 5, 1972, Muslim terrorists broke into the Olympic complex and tried to take 11 athletes and coaches hostage. Romano fought back. They killed him. A standoff occurred. The next day, the usually well-drilled German Polizei bungled a rescue attempt. The terrorists threw a grenade which killed three hostages instantly; Berger died of smoke inhalation. The other five hostages were shot and killed.
Reporting on this awful event, ABC sportscaster Jim McKay said, "When I was a kid my father used to say, 'Our greatest hopes and our worst fears are seldom realized.' Our worst fears have been realized tonight. They have now said there were 11 hostages; two were killed in their rooms yesterday morning, nine were killed at the airport tonight. They're all gone."
A stunned world thought it could do nothing. It did not even give these 11 athletes and coaches a damned moment of silence for fear of upsetting other Arab states. After a few days, the Olympic resumed. President Nixon personally ordered an Air Force Jet to fly Berger home to Cleveland at his father's request. The other 10 Israelis were buried in Israel. The terrorists were given full military funerals in Libya.
His sister, then 22, and his brother, 25, were hiking in Austria when this occurred. She said 40 years later, "You're just kind of numb. Personally, I think it sort of drives the point home that anything can happen. Whether or not the odds are a million to one, it doesn't matter. The odds of my brother being killed at the Olympics, I can't even imagine what those odds are."
Berger likely would not have been angry.
"David would've been for world peace," his father said 40 years later. "That's what he always lived for. What he'd be now … he'd be one of those people that wouldn't be pessimistic about the whole idea that some day we can live in peace with other people."
But you wonder if had the world been harsher on these terrorists then -- if the United Nations has not allowed Yassar Arafat to speak there, bearing arms no less -- if the Western World remembering Nazi Germany had taken never again to heart, would we avoid the violence visited us today?
Liberal Democratic Senator Howard Metzenbaum arranged for a national monument to David Berger in Cleveland.
Metzenbaum was Jewish. We always leave it to the Jews to remember their sorrows. Only when we make them our own will we stop this madness.
***
I am publishing collections of the best in this series of Exceptional Americans, with the second volume published on September 1.
Which is better? "
Exceptional Americans 1
" or the new book, "
Exceptional Americans 2
"?
Buy both and tell me.