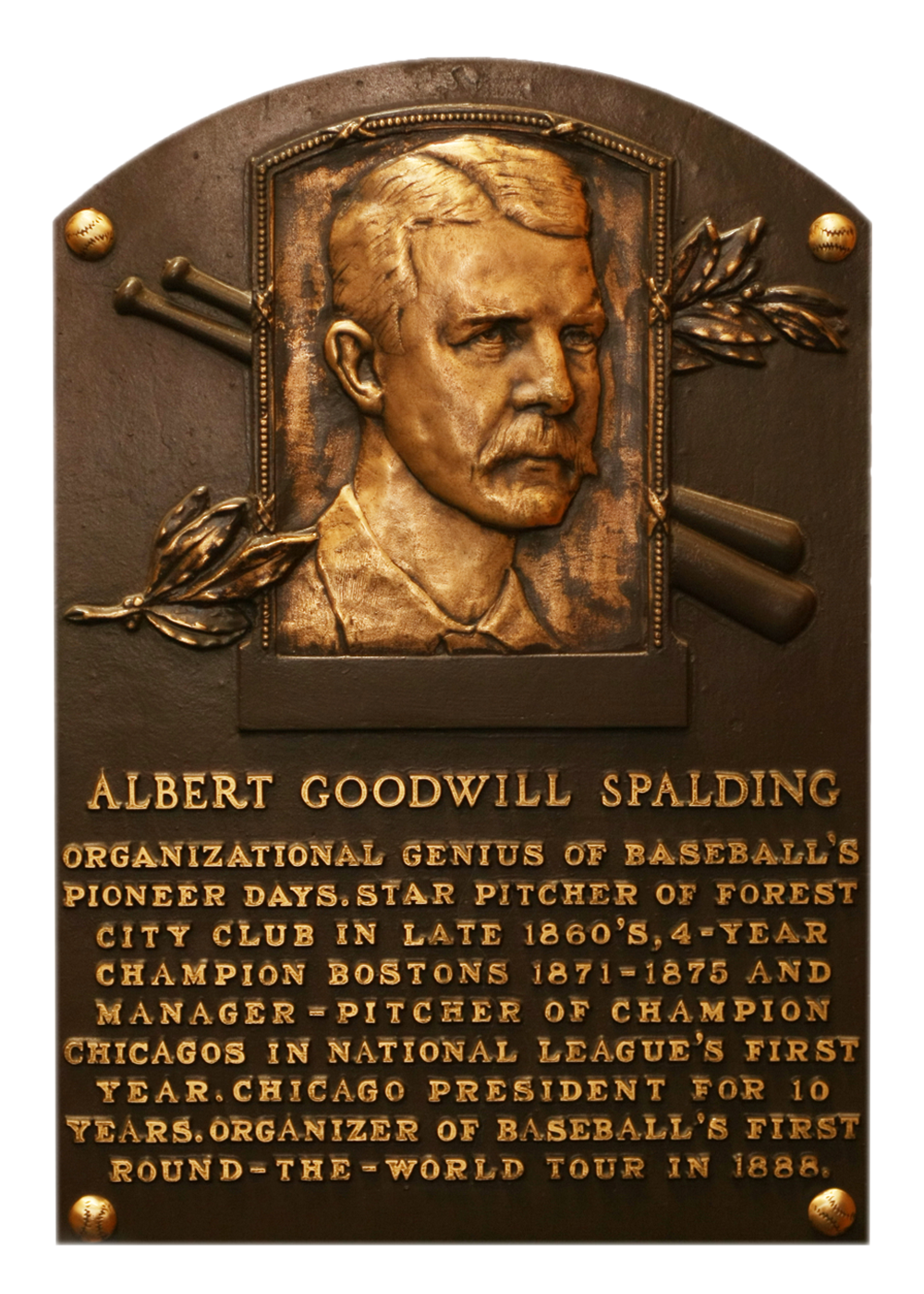 In the early 1870s, Albert Goodwill Spalding dominated professional baseball like no other pitcher ever dominated the game before or since. He won 252 game in six years. That is an average of 42 wins a year. Before the 1877 season. Spalding and William Hulbert, principal owner of the Chicago White Stockings (since renamed the Cubs), organized the National League with Spalding writing the rules. Spalding did not own a team. He had a better way of earning money; for the first century of the National League, his company had the exclusive contract to supply baseballs to the National League.
Francis Bacon was wrong. Knowledge isn't power; writing the rules is.
Born on September 2, 1850, on a farm near Byron, Illinois, Spalding was 8 when his father died. The family moved to Rockford, Illinois. Spalding turned to baseball to fill the emptiness he felt, and he was darned good at it.
But he needed to work at a young age and he moved to Chicago to work for a wholesale grocery. The business failed. Then he went to work for an insurance company. The business failed. He went back to Rockford to keep the books for a newspaper and an insurance company. Those businesses failed.
While the companies he worked for went bankrupt, he found success on the ballfield. As a pitcher and first baseman for the Rockford Forest Citys, he excelled. At a tournament in Chicago in 1867, he proved himself. The Washington Nationals demolished the host Chicago Excelsiors, 49-4. The next day, Spalding led the Forest Citys to a 26-23 victory over the Nationals. The Excelsiors offered the teenage boy $40 a week to play.
By 1871, a professional league of sorts formed and Harry Wright, manager of the first professional team, the Cincinnati Red Stockings, signed young talent and moved the team to Boston where they eventually became the Braves, not the Red Sox. Thus began his six-year dominance of professional baseball pitching. He went 19-10 that first season, on a team that went 19-11. That's right, he pitched nearly every inning, 257 1/3rd in all. He also batted .271 with 31 RBI.
Spalding had just begun to pitch. He went 38-8 in 1872, 41-14 in 1873, 52-16 in 1874, 54-5 in 1875, and 47-12 in 1876. His innings pitched totals were astronomical. In 1874, he pitched 617 1/3 innings.
He was a terrific hitter with a career batting average of .313 and 338 RBI in 411 games.
"In the pitcher's box, Spalding was in complete control, using a fine fastball and change of pace. He was a master at keeping hitters off balance, either by quick-pitching or by holding the ball while the batter fidgeted. In addition, he was a good batsman, adept at opposite field hitting, and a savvy fielder who helped perfect the dropped-popup double play," wrote baseball writer Robert Tiemann.
The infield flt rule later eliminated the dropped-popup double play,
But after joining the Chicago White Stockings in 1876, Spalding had one good year as a pitcher, moved to first in 1877 and retired after one game in 1878. He was done in by two things: the curveball and Spalding Sporting Goods. Oh, he could hit the curve, he just couldn't throw it.
Candy Cummings introduced the curve in 1867, but he did not get to develop it until the Brooklyn Stars acquired catcher Nat Hicks in 1870.
Born William Arthur Cummings on October 18, 1848, in Ware, Massachusetts, Cummings said he was inspired by how seashells move when thrown. The curve would help him to a 145-94 career on some mediocre teams.
"I began to watch the flight of the ball through the air, and distinctly saw it curve," Cummings said.
Physicists will tell you it is an optical illusion, but within a few years of his success, most pitchers added the curveball to their repertoire. Spalding could not.
Which was just as well. The sporting goods store he founded with his brother Walter in 1874 was growing like a weed. Spalding was the first pitcher to wear a glove -- advertisement for his company. By the time he was 27, playing baseball professionally was costing him money.
He published a baseball guide and after the 1888 season, he took the champion Chicago White Stockings and a team of all stars on a world tour, introducing the game to Australia, India, Egypt and a few European nations. In commonwealth nations, they first played the local cricket teams, usually winning. Then they would play baseball between the Chicago team and the all-stars. They returned triumphantly to America in the spring of 1889, to cheers as their ship sailed into New York harbor.
Spalding sponsored the trip to promote his company, but also to promote the game he loved. He once said, "There is nothing better calculated than baseball to give a growing boy self-poise and self-reliance, confidence, inoffensive and entirely proper aggressiveness, general manliness. Baseball is a man maker."
Those words came from a boy who had to learn to be a man without a father.
His company was not limited to baseball equipment. It made and sold fishing gear, bicycles, and after James Naismith invented the game in December 1891, basketballs, which remain its most notable product.
Spalding eventually moved to California, where he failed in a U.S. Senate race in 1910. He died a week after his 66th birthday in 1915.
In 1939, the old-timers committee selected him for the Hall of Fame. Fittingly, that was the same year Candy Cummings got in.
***
I am publishing collections of the best in this series of Exceptional Americans, with the second volume published on September 1.
Which is better? "
Exceptional Americans 1
" or the new book, "
Exceptional Americans 2
"?
Buy both and tell me.