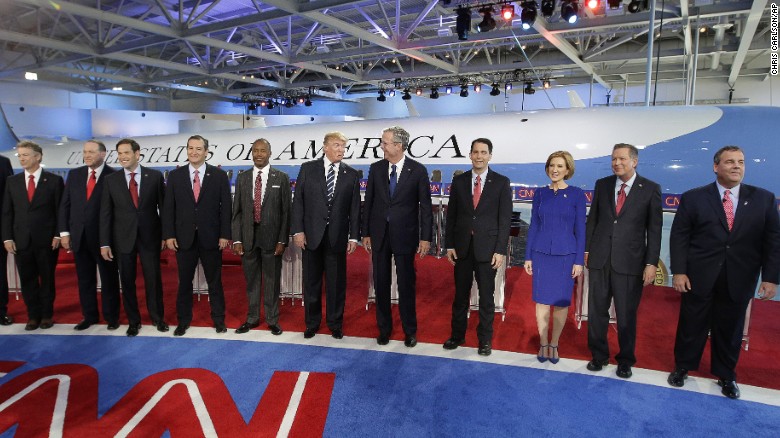 Suddenly the top Democrat in the House of Representatives wants the Democratic Party to hold presidential primary debates. She has 24 million reasons. That's how many people saw the debate on Fox News in August. That's how many people tuned into the debate on CNN this week.
Elections are all about visuals and numbers. The visual of 11 Republicans standing before Air Force One scared the heck out of her. Democrats got a historic drubbing in 2010 and 2014, and survived in 2012 only because of Trayvon Martin and the associated racial fear-mongering that went with that.
Democrats creamed Republicans in 2008 -- and averaged a whopping 8 million viewers per debate. This is triple that. Hence Pelosi's desperate call for debates.
From the Los Angeles Times
:
Hillary Rodham Clinton's rivals in the Democratic primary have been demanding for weeks that the party hold more presidential debates than the scant six that are planned, and on Friday they got a big boost when House Minority Leader Nancy Pelosi of San Francisco said she agrees with them.
Asked in an interview with The Times whether she would like to see more debates scheduled, Pelosi responded, "I would."
"Hillary does well -- I think they all do well on them -- and we should have more debates," Pelosi said. She said she does not have a specific number in mind, but that the 26 debates the Democratic candidates took part in during the 2008 primary was probably too many.
"They thought 26 was too many, and I think it is, and you probably should have something in between," Pelos said. "But I don't know that we're going to have more debates."
The debate schedule has become an increasingly awkward issue for the Clinton campaign as the first scheduled event, on Oct. 13 in Nevada, approaches. Clinton's primary challengers have suggested the schedule was designed by party insiders to favor the front-runner, who was so far ahead in the polls when it was drafted that there seemed to be little for her to gain in the race by sharing a stage with lesser-known opponents.
Now Pelosi may merely have answered a question that the Los Angeles Times blew out of proportion.
If so, she is dumb as a doorknob.
The buzz is all about Republicans, who will nominate a fresh new candidate.
Democrats have a choice between Biden (first elected to the Senate in the Vietnam War), Clinton (arrived in Washington when Fleetwood Mac was still current), and Bernie Sanders (turned a DeLorean into a time machine for Marty McFly).