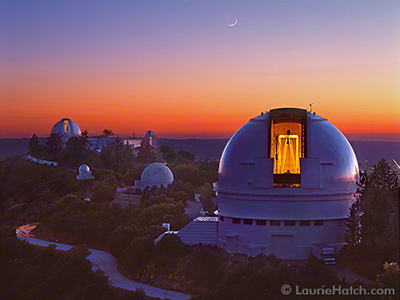 He was a carpenter's apprentice who fell in love the beautiful Barbara Snavely, the daughter of a well-to-do miller. One day in 1817, she told him she was pregnant. The next day, James Lick did the right thing and went to her father with a proposal of marriage. Henry Snavely sneered: "Have you a penny in your purse? When you own a mill as large and costly as mine, you can have my daughter's hand, but not before."
Scorned, the usually meek Lick stormed out of the room and at the doorway turned and told the man, "Some day, I will own a mill that will make yours look like a pigsty!"
Not only would he fulfill that promise, but James Lick would earn fortunes in Argentina, Chile, and Peru as a piano maker, after escaping capture by Portuguese pirates. He would introduce Ghirardelli Chocolate to San Francisco and become the richest man in California.
Born on August 25, 1796, in Stumptown, Pennsylvania, Lick's paternal grandfather emigrated from Germany and fought alongside Washington in the Revolutionary War. His father was a cabinet-maker and Lick followed in his footsteps. Lick lacked self-confidence, but after the ridicule by his girlfriend's father, that changed. Lick apprenticed under Joseph Hiskey, a prominent piano manufacturer of Baltimore, Maryland.
One day, a penniless boy, Conrad Meyer, came looking for a job. A kinship developed and Lick took him under his wing. When Lick started his own company, Meyer followed him. Lick headed for Buenos Aires, where he built a small factory. Despite not knowing Spanish, his business thrived. In 1825, he visited Europe, but on the way back to Argentina, pirates hijacked the ship. He became a hostage. They took him to Montevideo in Uruguay, but he escaped on foot.
He relocated his business to Chile and then Peru. He bought pianos from Meyer, and also sold hides. Barbara Snavely rebuffed his attempts to bring their son and join Lick in South America.
In Peru, Lick befriended Domingo Ghirardelli, an Italian expatriate. With the United States acquisition of California. Lick decided to return to America. He took with him his work bench, $30,000 in gold, and 600 pounds of Ghirardelli Chocolate. Lick arrived in San Francisco on January 7, 1848, just 17 days before James Marshall found a gold nugget at Sutter's Mill near Coloma and triggered the gold rush.
But after a week of prospecting for gold, Lick decided to become an investor. He sold his chocolates and bought land, which became quite valuable as the town grew from 1,000 inhabitants to 20,000 people in just two years. A lot he purchase for $3,000 he sold five years later to William Tecumseh Sherman for $32,000.
In the meantime, the prospectors loved the chocolate so much that Ghirardelli moved to San Francisco. And in 1854, Meyer's pianos won the first prize in the London International Exhibition, as he had established a huge factory in Philadelphia.
Everything seemed to be going well, except his girl re-married and he never met his son. In 1855, Lick used his immense wealth to build an ornate mill in his hometown, which was now named Fredericksburg. Townspeople correctly called it Lick's Folly. Barbara Snavely's father was long gone. And Lick's son, John, was now 37. He visited his father in California but it did not work out. Lick was a miser who had lived alone too long.
But Lick kept buying land throughout the Bay area. He bought Catalina Island, and land near Lake Tahoe and in Virginia City, Nevada. He planted orchards in Santa Clara County and built a large flour mill. In 1861, he built the Lick House, which was the most ornate hotel west of the Mississippi until the San Francisco Earthquake and Fire destroyed the building in 1906.
A stroke disabled him at age 77 in 1874, which changed his life. He set up a $3 million trust with instructions to use the money to build free public baths, an industrial school, a monument to Francis Scott Key, and other philanthropic ventures including an "old ladies home." But the grandest bequest was $700,000 to build and observatory with the most powerful telescope in the world.
Thus, Californians built the Lick Observatory atop Mount Hamilton, just east of San Jose. It has seven telescopes and was the first mountaintop observatory in the world.
Lick died on October 1, 1876, at age 80, in his room in his beloved Lick House hotel in San Francisco. In 1887, they reburied him under the future home of the Great Lick Refracting Telescope.
That is one heck of a tombstone -- as befits one heck of a life.
My first collection of "Exceptional Americans"
is available here
. And the
Kindle version is here
.
Volume 2's publication will be on September 1, my 62nd birthday.
It will be available here,
and on Amazon and Kindle.