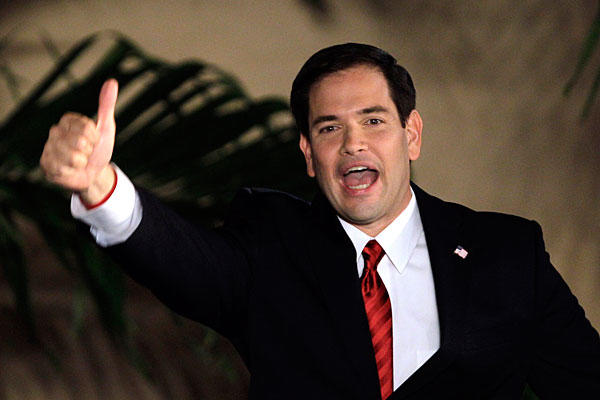 Before I get into just exactly what Republican Senator Marco Rubio said that ticked off the intolerant lefties who are pushing an anti-Christian agenda, let us go to the reader reaction to his words at The Advocate, which purportedly pushes a gay agenda but is really a garden variety liberal publication.
From Michael Marinsky, Philadelphia, Pennsylvania: "Mainstream Christianity and militant fundamentalism are two separate things" Tell that to Holocaust victims.
From Nathaniel Brown: "If Christians would stop broadcasting so much hate, fear, exclusion, etc. -- I dare say the rest of us might feel different. why can't Rubio and others like him look in the mirror? I'm a devout Christian, and they make me hate Christianity."
From Eric L. Floyd of Akron, Ohio: "Is Marco Rubio's middle name Hitler? His tactic of attempting to demonize a group of people to gain votes is a move out of the Nazi playbook. NO ONE has subverted any christian or oppressed them. I guess the fight for equal rights is not a christian value."
From Ron Faskowicz: "It becomes hate speech when a group or individual is singled out for this kind of speech intentionally. If you serve someone you cannot discriminate for example, a store or a dining establishment. The best advice would be keep your hate to yourself. It's pathetic that people feel it's alright to bash someone who isn't part of your religion. And the money wasted on protecting hate is absurd. When do we get to live in this century?"
From Kenzo Robinson: "The core problem is extreme religious politico's who actually believe they are going to get anywhere on a narrow religion based platform -- while aggressively pursuing their reality of the obliteration of separation of church and state."
More is here
.
So what did Marco Rubio say?
"We are at the water's edge of the argument that mainstream Christian teaching is hate speech because today we've reached the point in our society where if you do not support same-sex marriage, you are labeled a homophobe and a hater. So what's the next step after that? After they're done going after individuals, the next step is to argue that the teachings of mainstream Christianity, the catechism of the Catholic Church, is hate speech. That's a real and present danger."
And the commenters at The Advocate just proved his point.